How much do road accidents cost to fleet company ?
Accident management costs in 2013 were on the rise, increasing by up to 6.2 percent in some cases, over 2012 figures. The rising cost of raw materials, new-vehicle technologies, parts and labor, use of advanced materials, and additional components for parts assemblies have all contributed to an overall increase in cost.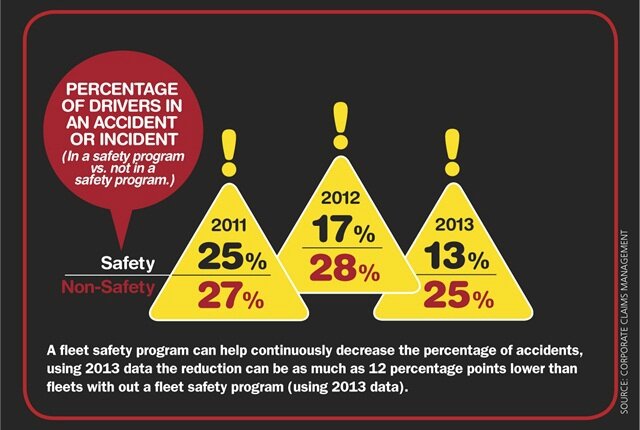 Illustration by Armie Bautista.
"Parts increases are passed from the manufacturer to the delivering dealer, to repair shops, thus the increases are included in the final repair price," according to Eliot Bensel, director, vehicle accident services and risk and safety for PHH Arval. "In addition, there is the use of advanced materials for weight reduction to improve fuel economy and meet tightening CAFE standards."
A fleet safety policy and program are two best practices a fleet can employ to reduce the occurrence and cost of vehicle crashes.
"More companies are implementing safety programs, including both general safety information and targeted training for accidents and MVR infractions," noted Jeff Fender, VP, sales and marketing for Fleet Response. "This is helping reduce both the number of preventable claims and the accident ratio, thereby reducing the overall accident management cost for companies."
Another best practice fleet managers are employing is the better use of data generated by their fleets. "We are seeing an increased use of data-driven recommendations to make best-in-class recommendations," noted Bensel of PHH Arval. "Vehicle specifications and the use of advanced technologies, such as reverse cameras, lane departure, and blind spot monitoring are also helping reduce preventable accidents."
read more : http://www.automotive-fleet.com/