Car insurance premiums could be just a fraction of current levels in five years' time as driverless vehicles are expected to "eliminate bad driving" by 2020.
Car insurance premiums could be just a fraction of current levels in five years' time as driverless vehicles are expected to "eliminate bad driving" by 2020.
Deaths and injuries caused by accidents are expected to virtually disappear and whiplash claims and car park disputes, which together account for 94pc of all insurance claims and cost insurers almost £3bn a year, could become a thing of the past as driverless technology will park our cars, brake automatically and swerve to avoid pedestrians and cyclists.
According to predictions by KPMG, the consulting firm, self-driving vehicles will save more than 2,500 lives and prevent more than 25,000 serious accidents per year on Britain's roads by 2030.
The hi-tech cars that will bring about these dramatic improvements are expected to be introduced to Britain's roads as early as 2018 to 2020, according to a gathering of industry experts held last week.
Insurers already offer a 10pc discount on cars with driverless technology, such as emergency braking systems, which typically cost between £300 and £1,000 to install.
But the technology is about to get more invasive. Cars could soon automatically take control if the driver is over the alcohol limit, for example, or is showing signs of being too sleepy to drive. Major carmakers are involved in this development, alongside technology firms such as Google.
Fully automated vehicles are expected to account for 90pc of cars on British roads within five years.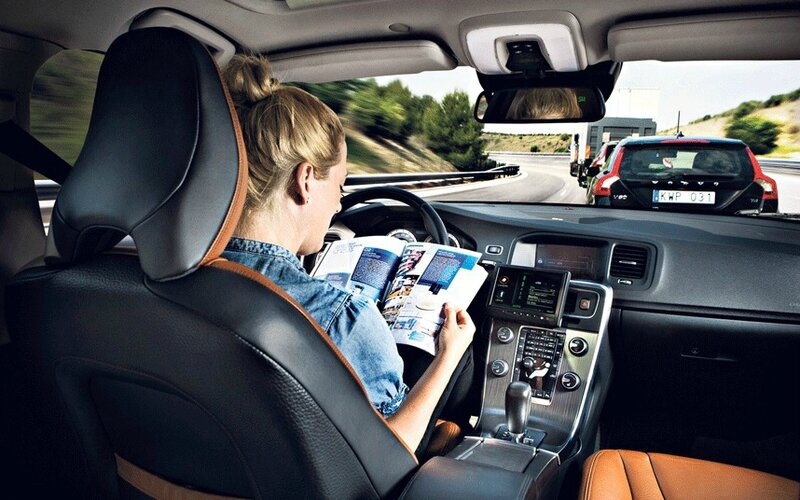 Who will be liable if a driverless car crashes?
Currently 71pc of all car insurance claims result from a vehicle reversing badly, and 23pc from parking incidents. Both are expected to be eliminated on roads with driverless cars.
Instead, "catastrophic crashes" – when a driverless car malfunctions – will account for most accidents, said Mr Avery director of safety research at Thatcham. "It's not yet certain who is liable when an accident occurs and the owner isn't driving," added Mike Hors of the SMMT (Society of Motor Manufacturers & Traders).
Graeme Trudgill of Biba said: "Liability is a very interesting conundrum. If we eliminate accidents caused by human error, we could move towards a model where people pay much cheaper insurance rates as the cost is shifted towards 'product liability'."However, if manufacturers are paying for the crashes that do occur, they will need to claw that cost back. This could be reflected in a higher cost for driverless cars."
Insurance priced by your driving habits
Currently, insurers work out premiums based on the driver's profile, their claim history, car and location. So you may pay a higher price depending on your age or occupation, for example, regardless of how well you drive.
But this could be about to change. Cars of the future will automatically track and record driving data, meaning customers with a record of safe driving could negotiate a lower premium.
Already 323,000 British motorists have cars with "black box" technology that tracks driving data and report this information back to insurers. Most are younger drivers, who can save as much as £1,000 a year by opting for a "telematics" policy.
"It's almost like a credit rating – the data should be easily accessible and understandable to customers, so that they can take this information to insurers and if they're a good, safe driver get a discount."But this could open the door for a new type of insurance fraud, warned Neil Mercia, from Axa, the insurer. "If one customer gives me 20,000 miles of driving data and another customer gives me 500, is it fair that I, as an insurer, treat them in the same way? "Data-sharing could potentially penalise customers who are honest with their driving habits, as bad drivers could "select the driving data they want to get a cheaper price at a cost to a more honest customer", Mr Mercia said.
The first move towards an automated future will take place in October when all new cars will be fitted with technology that automatically calls the emergency services in the event of a crash. New European rules will require all new cars to have the technology installed as standard. Then, by 2016, "black box" telematics will be installed in every new car.
Read more : http://www.telegraph.co.uk