When people imagine the future of self-driving cars, they might think of steering wheel-less pods with swivel chairs and a lounge-like cabin atmosphere. Just program your destination into the vehicle and take a seat, as blissfully unaware of the ensuing traffic as you would be on a train. But Volvo doesn't agree with that vision, at least at this point. Company executives maintained that people really do want to drive—they just don't want to drive when driving is boring.
Building on that belief, Volvo created what it calls "Concept 26," a re-imagined car interior with seats built for the autonomous vehicle customer who wants to drive a luxury vehicle sometimes, but who also wants to delegate the time spent commuting (26 minutes on average for the American driver, hence the name "Concept 26").
Volvo explained that the dual-function vehicle of the future, then, will not have swivel chairs (Tylman-Mikiewicz says that's in part because people always choose forward-facing seats in any type of moving cabin when they can, lest they get motion sickness). Instead, it will have a chair designed for free movement between reclining and upright positions, a massive hidden screen where the glove box normally is, and a touch screen tablet in place of the center console that moves laterally so as to always be within reach of the driver's hand.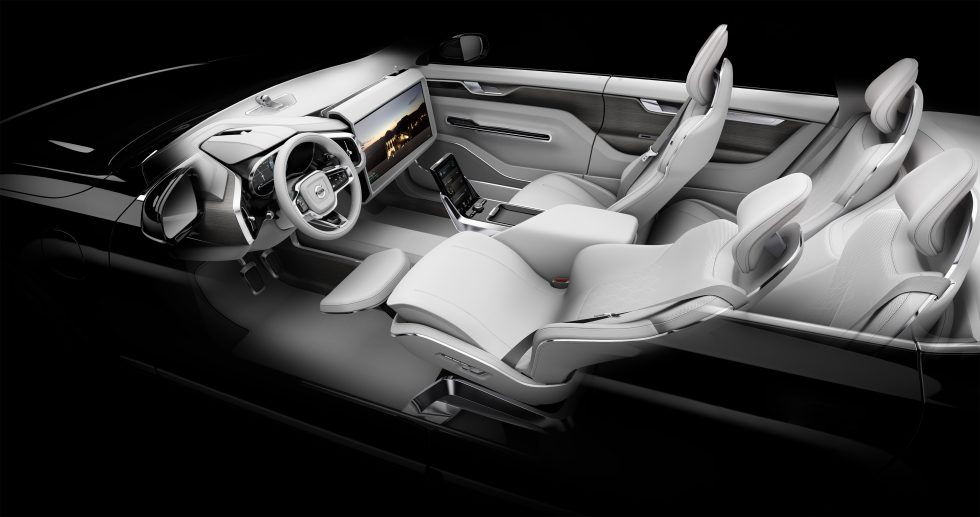 credit photo Volvo, Maggetti Productions, Inc., and Ashley Fishe
Doug Frasher, director of Advanced Research and Development at the Volvo Monitoring and Concept Center, said that the key to Volvo's new, autonomous-drive-friendly seats is that the seat bottom is split into two halves, a front panel primarily supporting the legs and a back panel supporting the pelvis. He said he got the idea while trying to solve what is known in the industry as "submarining"—the tendency to slide down the seat when you recline. With the two-panel seat bottom, the attitude of the pelvis can be controlled, keeping your butt from sliding forward in a way that's both uncomfortable and dangerous.
This particular prototype also showed some of the concept's software fleshed out. While the car is driving autonomously, passengers would have several "modes" to choose from like "create mode," which opens the seat to free mode so you can lean back and answer some e-mails; or "relax mode," which turns out the screen hidden under the glove box so you can watch a TV show if you choose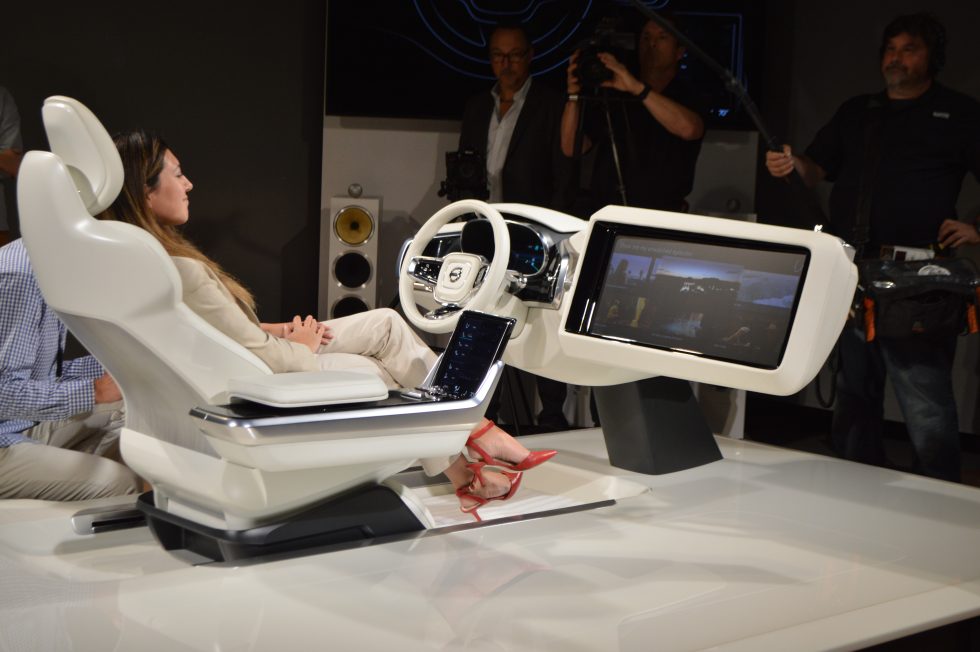 credit photo:Megan Geuss
Still, the concept shows that Volvo is taking its future in autonomous driving seriously, something that has been apparent in recent years as the company has bounded several strides ahead of many of its competitors when it comes to handing degrees of autonomy over to the car. Already, lane assist technology in the Volvo XC90 allows you to take your hands off the wheel on a highway at speeds slower than 30mph.
Volvo's leadership has also been vocally supportive of autonomous driving initiatives. As Volvo CEO Håkan Samuelsson said at a debate hosted at the Swedish Embassy in Washington in October, "When you drive manually, the driver is responsible. When it's automatic, we as the manufacturer are liable. If you're not ready to make such a statement, you're not ready to develop autonomous solutions."
Marcus Rothoff, Volvo's Autonomous Driving Program Director, told the group that the company is keenly aware that trust will be a major factor in deciding which companies win out as autonomous driving becomes more of a reality. "Trust cannot really be claimed, you have to earn that," Rothoff said, citing Volvo's recent assertion that no one will be killed or seriously injured in a Volvo by 2020.
For now, Rothoff said, the next step is to get fully autonomous Volvos out of the hands of engineers (who are already testing self-driving Volvos around Gothenburg) and into the hands of real people as part of Volvo's recently announced "Drive Me" program. This pilot program, which is set to commence in 2017, will get 100 drivers out on the streets in Gothenburg in autonomous vehicles.
While those cars almost certainly won't have Concept 26 in them as-is, the pieces of the concept interior are compatible with Volvo's Scalable Product Architecture (SPA), which allows the company to more quickly integrate autonomous features in new models. So derivatives of Concept 26 could show up, and Volvo hopes it will be sooner than later. As Tylman-Mikiewicz said to the group, "Volvo is not really here to play, we're here to disrupt."

Read more : http://arstechnica.com/cars/2015/11/hanging-out-in-volvos-concept-26-a-reinvented-seat-for-a-self-driving-car/