NEXYAD selected by BMW for the BMWtechdate : 2016 June 9
NEXYAD has been selected by BMW to present the onboard risk assessment module SafetyNex
check : http://www.bmw-techdate.fr/startups/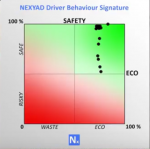 SafetyNex is the only proven and validated module that is able to estimate in real time the risk of accident.
Applications of SafetyNex are :
. Insurance companies : get the real profile of risk of drivers (today the onboard risk assessment based on "severe braking"
detection is completly wrong ... severe braking is NOT correlated to risk and it has been proven and published in scientific
papers). SafetyNex is real time and can warn the driver before the danger, then it may decrease the number of accidents
and cost loss. To read more about SafetyNex application to Insurance, here is the NEXYAD white paper :
http://nexyad.net/Automotive-Transportation/wp-content/uploads/2016/02/THE-ULTIMATE-SOLUTION-FOR-INSURANCE-COMPANIES-THAT-NEED-ONBOARD-RISK-ASSESMENT.pdf
. Car manufacturers : that always look for news services to provide to the driver ("my car takes care of my safety")
. Fleet managers : that want to know the risk and propose trainings to drivers that are dangerous
NEXYAD is member of MOVEO Groupement ADAS.
Read more about this BMW event : http://www.bmw-techdate.fr/startups/
#bmwtechdate #moveo #nexyad #SafetyNex #Risk #RiskAssessment