NEXYAD won the French Insurance "coup de coeur" (crush) special prize with their driving risk assessment smartphone App SafetyNex
30th Nov 2016, seven high-tech startups had to pitch in front of almost all French Insurance Companies. This was organized by the Cercle LAB (Laboratoire Assurance Banque), at ALLIANZ tower (Paris La Défense) : "colloque prospective annuel du cercle LAB".

NEXYAD was introduced to Cercle LAB by the competitiveness cluster FINANCE & INNOVATION.
It was an interesting challenge and the jury had to pick only ONE startup from seven talented ones, to give the special prize "coup de coeur des assureurs".

NEXYAD pitched on SafetyNex : a smartphone App for real time onboard driving risk assessment (and vocal alert), that can reduce accident rate by 20%.
Winner : NEXYAD !!!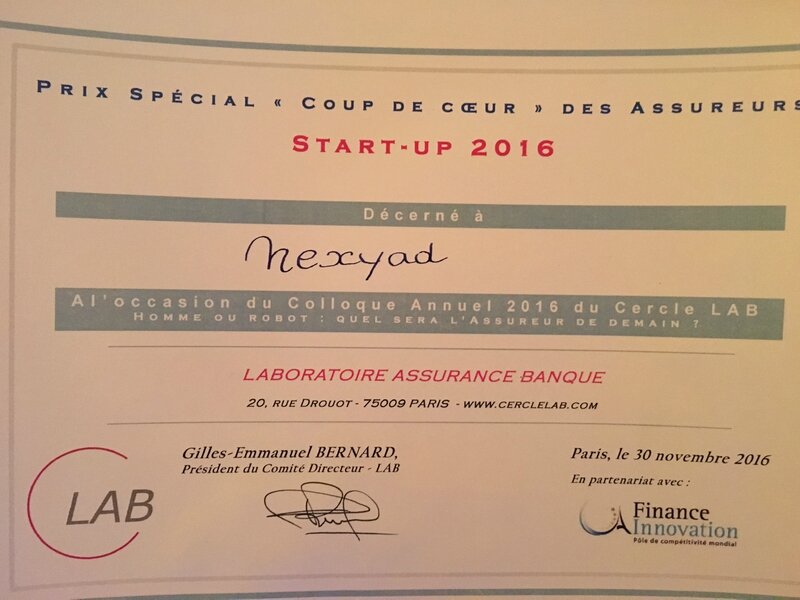 We thank all the insurers that came to this hight tech day that gave a broadchurch view on research and development for Insurance applications (artificial intelligence, deep learning, iot, blockchain, telematics, ...), we thank Pôle FINANCE INNOVATION, we thank Cercle LAB.
NEXYAD is member of MOV'EO, and FINANCE INNOVATION.
Read more about SafetyNex : http://www.safetynex.net