The ADAS Horizon Concept : electronic horizon for ADAS (ADASIS)
As a predictive sensor, digital maps enable drivers to anticipate the road ahead, effectively extending their horizon beyond what is immediately visible and thereby contributing to safer, smarter and cleaner mobility.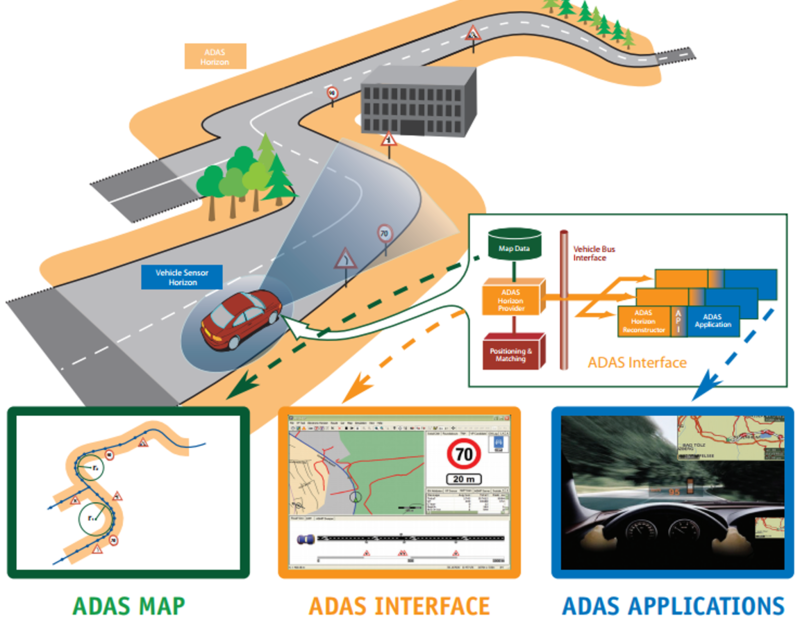 [Aisin AW] Since its founding in 1969, Aisin AW has placed emphasis on quality and innovation and endeavored to develop products that bring satisfaction to our customers under our corporate principle of "Quality Supremacy". We have grown to establish ourselves as the world's largest specialist manufacturer of automatic transmissions (ATs) by market share, and we were able to achieve the cumulative AT production mark of 100 million units in December 2012. We are also undertaking development of future drive systems such as hybrids and EVs for which there are high expectations. In 2004, we were the first component manufacturer to realize hybrid system mass production. Aisin AW is also a pioneer in the field of car navigation systems, succeeding in developing the world's first voice navigation system in 1992. We currently boast a top level production volume within the industry. Aisin AW will continue to move forward development of technologies aimed at working in harmony with nature and the environment, and also aimed toward the "informization" of the vehicle. Navimatic Goal: Doing a new Navimatic prototype based on NDS and the ADASIS protocol. Our Navimatic product is a car equipped with an automatic gearbox and a Navigation system. The navigation system enables to forecast the road ahead in order to drive the gearbox in a more efficient way (by taking curves into account). Current development: We can broadcast an EH between two PC. This EH is built on the basis of a NDS map, and broadcasted by using the ADASIS protocol. On the other side, we use the reference reconstructor to display information on the route ahead. Next development step: Incorporate the "Vehicule Control Judgment" algorithm on the receiver PC. This algorithm implements the first part of the intelligence needed to implement the Navimatic. It analyzes the road ahead and reports information to the gearbox ECU. Final step: Move everything in the car.
Read more : http://adasis.ertico.com/wp-content/uploads/sites/13/2014/09/ADASIS_Brochure.pdf