British Level 4 driverless pods are whizzing along ... er, a London path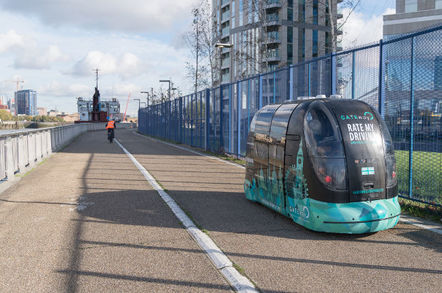 What's it like to ride in a Level 4 driverless car? About the same as sitting on the bus, really – until you think closely about what a driverless pod whizzing down a riverside cycle path is actually achieving.
The Register went for a drive in one of the driverless pods being trialled in Greenwich by the Gateway consortium. Their electric vehicles are driven by Fusion Processing's autonomous vehicle sensing and control system, named Cavstar.
Fusion's chief exec, Jim Hutchinson, spoke to us before our trip around the Greenwich Peninsula, describing the Gateway project as "the UK government funding UK business for UK customers".
"It has been a three-year journey," he said, "going from rudimentary control to now working with fusion totally free ranging. It's an R&D project; we're at the cutting edge."
Most intriguingly, the Gateway project, unlike many "autonomous" vehicle trials so far, runs without needing any dedicated roadside infrastructure. Though the area has been mapped by the team, all the required sensors – LIDAR, cameras, radar and ultrasound – is carried aboard the pods, with central monitoring of the vehicles backhauled over the local 4G mobile network.
Read more : https://www.theregister.co.uk/2018/03/20/driverless_pod_trial_greenwich_gateway/