Uber self-driving cars: everything you need to know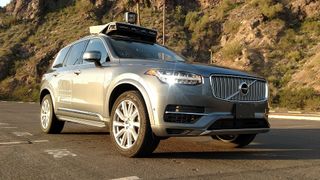 The National Transportation Safety Board (NTSB) has issued its preliminary report into the fatal accident involving an Uber self-driving car and a pedestrian in Arizona that happened in March.
The preliminary NTSB report reveals that while the self-driving car had an automatic emergency braking feature, this was disabled because the car was in "computer mode."
Uber disables emergency braking to prevent erratic driving behavior, according to the NTSB report, citing the ride-hailing service.
Though the car detected it needed to make an emergency braking maneuver 1.3 seconds before it struck the pedestrian who later died of her injuries, the system doesn't alert the driver to take control of the vehicle.
The report was issued one day after Uber announced it was shutting down its self-driving car program in Arizona.
You can read more on what's in the initial NTSB report here.
Original article continues below...
Uber started out as a service that was as appealing to potential drivers as it was to urban passengers weary of cabs: with your own car and some spare time, you could make some cash by ferrying folks to where they needed to go.
Lately, though, Uber has set its sights on replacing human drivers through its self-driving car program.
Few other firms have embraced this initiative with as much zeal and resources, and the San Francisco-based company had self-driving cars on public streets well before some of its most prominent competitors.
Below, we've compiled everything you need to know about Uber's self-driving car initiative.
How did it all start?
Following months of rumors and vocal support for automation on Uber's part, Uber first announced its intentions to amass a fleet of automatic cars in February 2015, which happened to be the same week that Google announced its own interest in autonomous car technology. (Pay attention, kiddos, for this is important later on.) Shortly after, Arizona Governor Doug Ducey invited Uber to test its cars in the state.
Read more : https://www.techradar.com/news/uber-self-driving-cars