Google sibling Waymo launches fully autonomous ride-hailing service
Alphabet's self-driving car firm beats Uber to be first to offer robot taxis without humans behind the wheel to take over in an emergency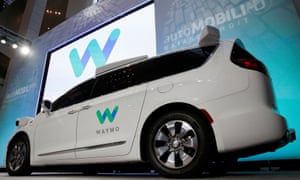 Waymo's self-driving Chrysler Pacifica minivans will start picking up passengers without a human behind the wheel, even for emergencies, in the next few months, as the Google-sibling steps up war with Uber.
Waymo, formerly known as Google's self-driving car, is launching a fully autonomous Uber-like ride-hailing service with no human driver behind the wheel, after testing the vehicles on public roads in Arizona.
Waymo, which is owned by Google parent Alphabet, said members of the public will begin riding in its fleet of modified Fiat Chrysler Pacifica minivans outfitted with self-driving technology in the next few months. Passengers will initially be accompanied in the back seat by a Waymo employee, but will eventually travel alone in the robotic car.
The service will first be available to those who are already part of the company's public trial already under way in Phoenix. Rides will be free to start with, but Waymo expects to begin charging for journeys at some point.
Read more : https://www.theguardian.com/technology/2017/nov/07/google-waymo-announces-fully-autonomous-ride-hailing-service-uber-alphabet