Advanced Driver Assistance Systems (ADAS) Market Size, Share & Trend
The global Advanced Driver Assistance Systems (ADAS) market size was estimated at USD 14.15 billion in 2016. Increasing demand for these systems in compact cars is anticipated to be a key factor driving market growth. Additionally, increasing government regulations for mandatory implementation of ADAS in vehicles is anticipated to grow the demand for these systems over the forecast period.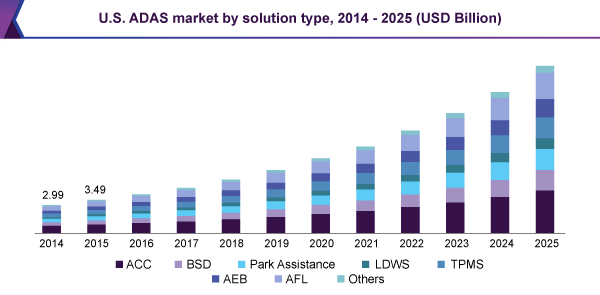 The rising demand for advanced systems such as drowsiness monitoring, night vision, and road sign recognition system is expected to impact the overall industry over the next seven years. The demand for traditional ADAS systems such as adaptive cruise control, autonomous emergency braking system are anticipated to grow exponentially owing to increased government regulations to reduce road accidents and improve road safety. For instance, the European Union has passed a bill which mandates the implementation of adaptive cruise control systems in heavy commercial vehicles by 2020, which is further projected to spurs the industry demand for these systems in European countries.
The market has high growth potential, however the lack of awareness of these system among most of the vehicle owners decelerates the market growth. Additionally, high cost of these systems which ultimately increases overall cost of cars is considered to reduce preference of car owners to adopt such systems.
Solution Type Insights
The report has been segmented based on type of ADAS solutions into adaptive cruise control, blind spot detection, park assistance, lane departure monitoring system, tire pressure monitoring system, autonomous emergency breaking, adaptive front lights and others. Among all these solution types, TPMS captured highest market share in 2016, owing to its low price which enables aftermarket adoption by small and medium car owners. Moreover, adaptive cruise control market is expected to grow at significant CAGR of 19.0% over the forecast period, owing to government regulation for mandatory fitment in cars manufactured in the U.S. and Europe.
The high cost of installation, lack of awareness among low and medium end customers regarding the importance and functionality of these systems in improving driver safety has hindered the ADAS industry growth over the past few years. In order to cope up with this issue, automotive manufacturers are marketing these systems on large scale. Moreover, government across various regions are also offering subsidies to automotive manufacturers for implementing safety systems in cars.
Component Insights
Based on component type, the market has been segmented into processor, sensors, software and others. The working of ADAS is primarily dependent on sensors and their functional accuracy, various sensors such as RADAR, LIDAR, camera, ultrasonic and other sensors work together in order to perform desired safety and assistance function. Among different sensor types, Lidar sensors are expected to gain high traction owing to its crucial importance in automation of vehicles.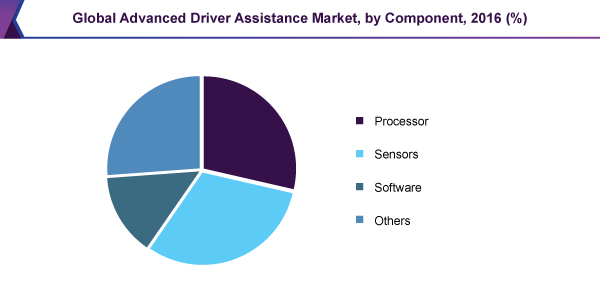 To learn more about this report, request a free sample copy
The demand for ADAS processors is expected to witness high growth over next eight years. The growth can be attributed to the complex algorithms of the ADAS functionality, companies such as Intel Corporation are working on the ECU consolidation in order to lower the number of ECU used for each function separately. Further, it is expected that upon consolidating the ECUs, the total cost of the ECUs that are used in a vehicle could reduce up to 20% depending upon the number of stages involved in the consolidation.
Vehicle Type Insights
Based on types of vehicles, the market has been classified into passenger cars and commercial vehicles. ADAS is implemented majorly in high-end luxury cars owing to the high price of these system, thus there is significantly less adoption within the commercial vehicle sector.
Among different commercial vehicles, the light commercial vehicles captured largest share in 2016. However, the European Union has directed automotive manufacturers to implement basic ADAS functions such as lane departure warning system, adaptive cruise control and autonomous emergency breaking in all heavy commercial vehicles by 2020, which is expected to rise the demand for ADAS in heavy commercial vehicles over the forecast period.
Read more: https://www.grandviewresearch.com/industry-analysis/advanced-driver-assistance-systems-adas-market