Driverless pods plot new course to overtake humans
In a little over two years, a fleet of driverless cars will make its way from Oxford to London, completing the entire journey from start to finish without human intervention, including on urban streets and motorways.
Organisers of the government-backed project, announced on Monday, still expect to have a human in the driving seat. But as the cars communicate, update on hazards, and automatically react, is the time coming when a human driver is not just redundant but an active danger?
A driverless transport trial started this month in Greenwich, south-east London, with members of the public invited to climb aboard Harry – a version of the pod vehicles used at Heathrow's Terminal 5, souped-up with lasers, sensors and £20,000 worth of autonomous technology.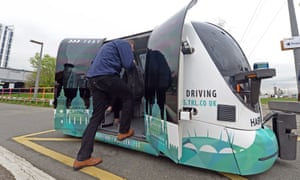 read more : https://www.theguardian.com/technology/2017/apr/25/autonomous-car-projects-plot-course-uk-driverless-future