26 mai 2019
Driverless cars working together can speed up traffic by 35 percent, find researchers
The researchers from the University of Cambridge are observing how the traffic flow changed when cars are working together. For this the researchers have programmed a small fleet of miniature robotic cars to drive on a multi-lane track.
When the cars were not driving cooperatively, any cars behind the stopped car had to stop or slow down and wait for a gap in the traffic, as would typically happen on a real road. A queue quickly formed behind the stopped car and overall traffic flow was slowed.
However, when the cars were communicating with each other and driving cooperatively, as soon as one car stopped in the inner lane, it sent a signal to all the other cars. Cars in the outer lane that were in immediate proximity of the stopped car slowed down slightly so that cars in the inner lane were able to quickly pass the stopped car without having to stop or slow down significantly.
Additionally, when a human-controlled driver was put on the 'road' with the autonomous cars and moved around the track in an aggressive manner, the other cars were able to give way to avoid the aggressive driver, improving safety.
Read more : http://www.telematicswire.net/vehicle-telematics-vehicle-information-technology-and-navigation/driverless-cars-working-together-can-speed-up-traffic-by-35-percent-find-researchers/?utm_source=feedburner&utm_medium=email&utm_campaign=Feed%3A+TelematicsWireNews+%28Telematics+Wire%29
25 mai 2019
Artificial Intelligence for Automotive Applications
Artificial intelligence (AI) systems, which use data and algorithms to mimic the cognitive functions of the human mind, and have the ability to learn and solve problems independently, are rapidly being deployed across a variety of industries and use cases. The automotive industry is among the industries at the forefront of using AI to mimic, augment, and support the actions of humans, while simultaneously leveraging the advanced reaction times and pinpoint precision of machine-based systems. Indeed, today's semi-autonomous vehicles and the fully autonomous vehicles of the future will rely heavily on AI systems.
Read more : https://www.tractica.com/research/artificial-intelligence-for-automotive-applications/
24 mai 2019
ADAS Market Size Worth $67.43 Billion By 2025
The global advanced driver assistance system (ADAS) market is expected to reach USD 67.43 billion by 2025, growing at a CAGR 19.0%, according to a new report by Grand View Research, Inc. Increasing government initiatives for mandating driver assistance system in order to lower road accidents is expected to proliferate market growth. Moreover, increasing adoption of these systems in small cars is anticipated to further boost the market demand.
Rising level of technological innovation as well as growing initiatives towards vehicle automation and self-driving cars has raised the demand for driver safety and assistance systems over the past decade. For instance, European Union has mandated the automotive manufacturers to fit ADAS systems such as lane departure warning systems (LDWS) and autonomous emergency braking systems (AEBS) in all heavy commercial vehicles weighing over 7,000 Kilograms.
ADAS technologies such as night vision, drowsiness monitoring system and road sign recognition systems among others are anticipated to grow considerably over the forecast period. Tire pressure monitoring system also expected to have significant penetration in the overall market owing to their low prices and easy aftermarket availability. Moreover, Adaptive cruise control provides much better driver safety and helps to avoid fatal road accidents, thus the demand for these systems is expected to witness high growth by 2025.
The sensor components accounted for largest market share in 2016. The automotive industry is in process of deploying self-driving vehicles on road, such types of autonomous vehicles require combination of large number of sensors such as cameras, Radar, LiDAR, ultrasonic sensors for performing different operations accurately. Thus, the demand for sensors is anticipated to increase significantly over the forecast period. Among different sensor types Lidar sensors are anticipated to gain high traction by 2025, owing to their crucial function in self-driving cars.
Read more : https://www.grandviewresearch.com/press-release/global-advanced-driver-assistance-systems-adas-market
23 mai 2019
Asia-Pacific Advanced Driver Assistance System Market Overview
Asia-Pacific Advanced Driver Assistance System Market is expected to garner $15.5 billion by 2020, registering a CAGR of 31.3% during the forecast period 2015-2020.Advanced driver assistance systems (ADAS) facilitate the driver in identifying hazardous road conditions thereby improving the driving experience with enhanced safety.
The implementation of ADAS systems on different vehicles can significantly reduce the number of road accidents and severity of injuries. Different sensors such as ultrasonic, image, RADAR, LiDAR, infrared and LASER provide enhanced features including parking assistance, lane departure warning, tire pressure monitoring, adaptive cruise control, blind spot detection, drowsiness monitoring and night vision. The ongoing technological developments have resulted in expanding ADAS beyond high-end vehicles into high-volume mainstream implementations. Products offered from upstream manufacturers (software & components) are differentiated owing to the specificity of the requirements that depend on the applications. Stringent government regulations in Asia-Pacific countries leads to higher adoption of ADAS systems. Huge installation cost and complexity in testing ADAS systems are restraining the Asia-Pacific advanced driver assistance system market growth. In addition, the incorporation of ADAS systems in mid-range and low-range vehicles and increasing electronic integration within vehicles would create numerous opportunities for the Asia-Pacific advanced driver assistance system market in near future.
Asia-Pacific advanced driver assistance system market is segmented based on component and country. The component segment is further bifurcated into type of system and type of sensor. Adaptive cruise control, lane departure warning system, park assist, blind spot detection system, adaptive front lighting system, tire pressure monitoring system, drowsiness monitor system and night vision systems have been considered under system type. Amongst these, tire pressure monitoring systems exhibit highest growth and is expected to grow at a promising CAGR of 38.84% during the forecast period (2015-2020). Adaptive front lighting system dominates the Asia-Pacific advanced driver assistance system market while constituting a revenue share of around 25.8% in the year 2014. Different sensors used in advanced driver assistance systems market include ultrasonic sensors, radar sensors, LIDAR sensors, infrared sensors, image sensors and laser sensors. Key automotive production countries namely Japan, India and South Korea have also been forecast to register a significant growth in demand for advanced driver assistance systems.
Key players in Asia-Pacific advanced driver assistance system market are Valeo, Hitachi Ltd., Robert Bosch GmbH, Continental AG, Toyota Motor Corporation, Denso Corporation, Audi AG, BMW AG, Ford Motors and General Motors (GM).
Read more : https://www.alliedmarketresearch.com/asia-pacific-adas-market
22 mai 2019
10 Tech Giants Who Are Leading The R&D In Autonomous Driving
The future is clearly racing towards an era of autonomous cars. Not only the traditional car-makers, investors, startups but renowned tech companies are also dipping their fingers into autonomous car R&D. Research has suggested that the self-driving market will see a prominent rise from 2019 to 2026, as it aims to touch a revenue base of $556.67 billion.
In this article, we list 10 such tech pioneers that have shown interest in the development of self-driving cars and are working aggressively towards it.
Read more : https://www.analyticsindiamag.com/10-tech-giants-who-are-leading-the-rd-in-autonomous-driving/
21 mai 2019
The V2X Standards Faceoff
Many new cars on the market today sport some form of advanced driver-assistance system (ADAS). Leveraging features like backup cameras, automatic braking, lane keeping and blind-spot detection, these systems have proven their ability to significantly enhance driving safety. To take this automotive technology to the next logical level, however, carmakers must add wireless communications. The problem is that the industry cannot agree on a single radio frequency standard to bring the vehicle-to-everything (V2X) communication network to life.
Until recently, the industry and government seemed poised to adopt dedicated short-range communications (DSRC), a technology based on 802.11p, a variant of the Wi-Fi standard. The rise of a cellular technology called C-V2X, however, has caused a pause to consider the strengths and weaknesses of each option before settling on a single wireless standard.
What Is Involved in V2X?
To appreciate the magnitude of the challenge of choosing between the two, consider what V2X is and what the selected communications standard will require.
Essentially, V2X allows vehicles to communicate with all elements of the traffic system around them. This includes other vehicles, pedestrians, associated cloud servers and components of the highway system. The latter category encompasses traffic cameras and lights, lane markers, streetlights and parking meters, for example. When fully implemented, V2X connectivity promises to enable the sharing of a broad spectrum of information, ranging from speed, direction of travel and braking and turning status to road conditions, weather and traffic status.
Read more : https://www.digitalengineering247.com/article/the-v2x-standards-faceoff/
20 mai 2019
Connected Motorcycle Consortium
The Connected Motorcycle Consortium (CMC) is a collaboration between manufacturers, suppliers, researchers and associations to make Powered Two Wheelers (motorcycles and scooters) part of the future connected mobility.
CMC is a non-profit organisation established by key motorcycle makers with the unilateral goal to promote and develop Cooperative Intelligent Transport Systems (C-ITS) on a global scale.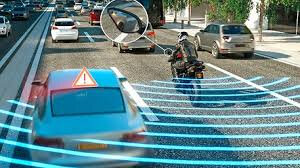 goals
CMC targets to improve motorcycle rider safety and comfort.
Connected mobility / Vehicle-to-Vehicle Communications / Cooperative Integrated Transportation Systems (C-ITS) are being developed, but motorcycle-specific safety aspects haven't been taken into consideration sufficiently so far. CMC is paving the way for motorcycle connectivity by making motorcycles part of C-ITS and connected mobility.
CMC aims to create a common basic specification for motorcycle ITS, with as many cross-manufacturer standards as possible.
Read more : https://www.cmc-info.net/
19 mai 2019
TuSimple Expanding Routes for Self-Driving Trucks
In a move that could have far-reaching consequences for the emerging autonomous trucking industry, startup TuSimple is expanding its self-driving routes in response to growing demand from contracted customers.
Currently, the company has 11 trucks in the US and will have 40 trucks in fully autonomous operation by June.
TuSimple makes three to five fully autonomous trips each day for customers on three different routes in Arizona.
The company, headquartered in San Diego, operates self-driving trucks out of Tucson and runs daily fully autonomous commercial routes from depot-to-depot, which requires both highway and local street driving.
An additional route from Arizona to Texas will come online in early 2019, Chuck Price, chief product officer at TuSimple, told TU-Automotive.
"We believe there is a ready market for this tech once we reach the stage where it is fully autonomous – driver-out," Price said. "We believe there will be some early adopters who will put it in the vehicles before the regulations allow a driver-out situation."
Read more : https://www.tu-auto.com/tusimple-expanding-routes-for-self-driving-trucks/
18 mai 2019
Advanced Driver Assistance Systems (ADAS) Market 2019 Global Share, Trend, Segmentation and Forecast to 2028
Mar 17, 2019 (WiredRelease via COMTEX) -- Advanced driver assistance system is a vehicle based intelligent safety system that offers assistance to driver in terms of road safety and also aids better driving experience. Advanced driver assistance system offers various other features such as adaptive cruise control, automate lighting, lane monitoring, etc.
The research report on Global Advanced Driver Assistance Systems (ADAS) Market 2019 keenly analyzes significant features of the industry. The analysis servers market size, latest trends, drivers, threats, opportunities, as well as key market segments. It is based on past data and present market needs. Also, involve distinct business approaches accepted by the decision makers. That intensifies growth and make a remarkable stand in the industry. The Advanced Driver Assistance Systems (ADAS) market will grow with a significant CAGR between 2019 to 2028. The report segregates the complete market on the basis of key players, geographical areas, and segments.
Government regulations in various countries, towards mandatory deployment of advanced intelligent systems in vehicles is a major factor driving growth of the global advanced driver assistance systems (ADAS) market. In addition, increasing number of road accidents and increasing need for advanced vehicle safety system are some other factors driving growth of the global market. Moreover, integration of human machine interface with advanced driver assistance system can create potential business opportunities for major suppliers and automakers in the global market over the forecast period.
The study includes basic information about the product such as Advanced Driver Assistance Systems (ADAS) scope, segmentation, outlook. Likewise, it includes supply-demand static, investment feasibleness, and factors that constrain the growth of an industry. Especially, it offers product demand, yearly revenue and growth facet of the industry.
read more : https://www.marketwatch.com/press-release/advanced-driver-assistance-systems-adas-market-2019-global-share-trend-segmentation-and-forecast-to-2028-2019-03-17
17 mai 2019
Artificial Intelligence in Insurance – Three Trends That Matter
Artificial intelligence is likely to affect the entire landscape of insurance as we know it. Change is here, more is coming. Today, the insurance market is dominated by massive national brands and legacy product lines that haven't substantially evolved in decades. This kind of stagnations has historically suggested that it is an industry ripe to be disrupted- see the transportation industry and the raise of ride-share applications.
Insurance is an industry that venture capitalists consider so ripe for disruption that the founders of Lemonade, a New York-based insurtech company, raised one of the largest seed rounds in history simply by talking. It's not just the venture crowd. Warren Buffett has gone on the record saying that the coming of autonomous vehicles will hurt premiums for Berkshire-owned Geico.
Buffett may have been referring to a 2015 KPMG report which predicts that "radically safer" vehicles, including driverless technology, will shrink the auto insurance industry by a whopping 60% over the next 25 years. Readers should note that auto insurance is more than 40% of the insurance industry as a whole.
read more : https://emerj.com/ai-sector-overviews/artificial-intelligence-in-insurance-trends/