14 octobre 2019
Sensor fusion: A critical step on the road to autonomous vehicles
Many cars on the road today, and even more new cars in the show rooms, have some form of advanced driver assistance system (ADAS) based on sensors like cameras, radar, ultrasound, or LIDAR. However, it is not just the number or type of sensors that is important, but how you use them.
These numbers will continue to increase as new laws are passed, for example, mandatory rear-view cameras in the United States). Also, insurance discounts and car safety ratings from agencies like the National Highway Traffic and Safety Administration (NHTSA) and European New Car Assessment Program (Euro-NCAP) are making some systems mandatory or increasing customer demand for them.
Autonomous car features like valet parking, highway cruise control and automated emergency brake also rely heavily on sensors. It is not just the number or type of sensors that is important, but how you use them.
Most ADAS installed in cars on the street today are operating independently, meaning they hardly exchange information with each other. (Yes, some high-end cars have very advanced autonomous functions, although this is not yet the norm). Rear view cameras, surround view systems, radar and front cameras all have their individual purpose.
By adding these independent systems to a car, you can give more information to the driver and realize some autonomous functions. However, you can also hit a limit on what can realistically be done – see figure 1.
Figure 1: ADAS added as individual, indepenent functions to a car.
Sensor fusion
Individual shortcomings of each sensor type cannot be overcome by just using the same sensor type multiple times. Instead, it requires combining the information coming from different types of sensors. A camera CMOS chip working in the visible spectrum has trouble in dense fog, rain, sun glare and the absence of light. Radar lacks the high resolution of today's imaging sensors, and so on. You can find strengths and weaknesses like that for each sensor type.
The great idea of sensor fusion is to take the inputs of different sensors and sensor types and use the combined information to perceive the environment more accurately. That results in better and safer decisions than independent systems could do.
Read more : https://www.eenewseurope.com/news/sensor-fusion-critical-step-road-autonomous-vehicles
13 octobre 2019
Updates on C-V2X Standardization in ETSI and C-V2X Deployments Globally
Interesting regulation and technical standardization for V2X :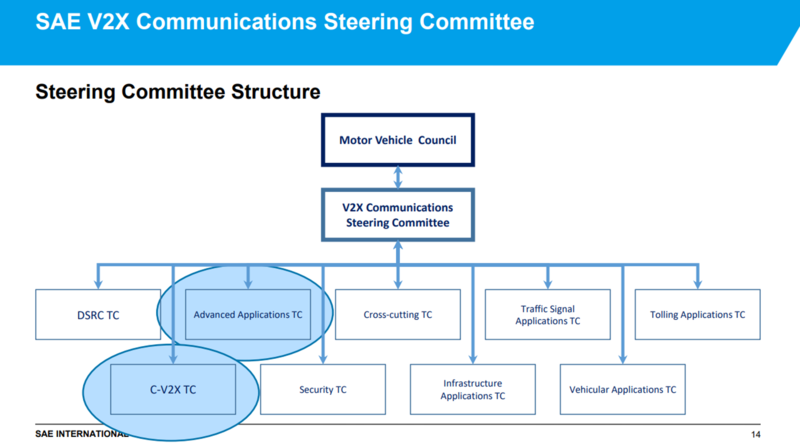 Read more : https://docbox.etsi.org/Workshop/2019/201903_ITSWS/SESSION03/QUALCOMM_MISENER.pdf
12 octobre 2019
ROAD SAFETY & HUMAN FACTORS
STRATEGIES TO ENHANCE TRAFFIC SAFETY
At Royal HaskoningDHV, we utilise our extensive knowledge in integrated transport systems to develop innovative and world-class road safety measures to keep traffic moving safely and efficiently in our cities.
Our approach to traffic safety stems from our vision which combines the hardware of infrastructure with the softer side of human behaviour, mindset and education coupled with precise stakeholder management. This integrated approach ensures that traffic safety measures are accepted by the various stakeholders to ensure that plans are not only innovative but also are practical for implementation.
This requires collaboration with our partners in the transport ecosystem to harness the latest developments in the digital space and design solutions which are flexible, scalable and future proof.
ALIGNMENT OF THE THREE PILLARS, MAN, VEHICLE AND ROAD
Improving road safety requires a tight coordination of measures in the fields of infrastructure, vehicles and human behaviour.
The starting point is the responsibility and behaviour of the road user. By delivering training and education programmes, it can help the road user to better understand his or her responsibility in traffic so they can conduct themselves accordingly.
The quality of vehicles and roads has a strong influence on the number of accidents and should meet the abilities of the road users.
New technology, either in the vehicle or on the roads, offers possibilities to help road users drive more safely. As the transition to the autonomous self-driving car gets ever closer, human behaviour will be just as important. Drivers will have to learn how to use the new technology and systems and the support from all road users and players within the ecosystem would be essential.
COOPERATION FROM AN INTEGRATED APPROACH
Cooperation and understanding between partners in the transport value chain is fundamental to its success. These partners often include the government, road authorities, science, insurance companies, automotive industry and social organisations.
Royal HaskoningDHV offers assistance in this process by working closely with all partners in the value chain and performing extensive and valuable research in fields like traffic safety audits and traffic safety design.
We connect the long term vision with shorter term actions. We understand traffic safety should not be regarded as an isolated problem but must be integrated with other social topics, for example the quality of life, accessibility and the layout of public space.
Read more : https://www.royalhaskoningdhv.com/en-gb/services/a-z-services/road-safety-a-human-factors/7155
11 octobre 2019
How Fleets Are Utilizing Artificial Intelligence (AI) Today
Technology in trucking is rapidly transforming every day. Every year, the number of devices on each truck and the safety systems that track them are growing. As the amount of technology on the road and inside the back office expands, innovations are being put in place to bridge the gap. The latest revolution in fleet safety is Artificial Intelligence (AI). Using platforms like the Idelic Safety Suite, fleets are integrating all their systems into one location, predicting at-risk drivers, and preventing accidents. Here's how it all works:
Driver performance starts with data. For AI to predict an unsafe driver, it must first analyze all the data collected through integrations. Systems like the Safety Suite start by integrating all third-party safety systems into one place. Just a few of these include:
Once all of this data is captured and integrated into one centralized location, Machine Learning (ML) steps in.
Predict Accidents with Machine Learning
ML algorithms predict at-risk drivers with the safety data integrated into your fleet's AI system. While AI, ML, and predictive analytics may seem confusing, integration and automation make Safety Managers' lives very simple.
What is Machine Learning (ML)?
Machine Learning originates from the idea that you can give machines access to data and let them learn for themselves. ML can absorb massive amounts of data to build models around patterns of behaviors. Systems with ML can automatically learn patterns without being explicitly programmed. As the ML model evolves, it can then be fed new and live data to predict those same outcomes for what has not yet happened.
The real magic behind this technology is assigning weights to the events and automatically determining which of those are significant predictors. ML takes these weights and safety events and runs thousands of simulations to match the appropriate weight to each event. Trying this by hand is impossible and incredibly inefficient, which speaks to the true power of ML.
Algorithms Based on Past Data
In feeding pre-accident data into a model, data is run through a cycle to identify which drivers it would have predicted. These are compared to the actual outcomes to depict accuracy. Then, the model adjusts the weights of the inputs and reruns it. If the accuracy improved, it knows it's on the right track. If it deviates, it starts to see why. It then slightly tweaks the weights again and runs another cycle. The model goes through this process thousands of times, 'learning' as it goes until it finally arrives on the optimal weights.
Once the integrated data runs through the ML models, the system determines which drivers are at-risk for an accident and assigns them a risk score. The Idelic Safety Suite's AI-generated Watch List is easy-to-read and includes details on the safety events which flagged the driver, each driver's risk level, and their exact score. Best of all, these processes occur behind-the-scenes, so you can leave the technical jargon aside.
Performance Improvement & Accident Prevention
The actions taken to prevent accidents are equally as important as the ML watch lists that are predicting at-risk drivers. The Driver Watch List can be used not only to view your most at-risk drivers but also to correct behavior before it's too late.
Assigning targeted performance improvement plans based on specific driver events and behaviors is vital to preventing accidents. Fortunately, systems like the Safety Suite allow you to easily manage dates and timelines, assign targeted training and coaching, and carefully track driver improvement.
By identifying drivers who exhibit poor performance and being proactive in remedial correction, top fleets are reducing risk by predicting and preventing accidents.
Read more : https://idelic.com/fleets-using-ai-today/
10 octobre 2019
Self-Driving Cars Explained
Self-driving vehicles are cars or trucks in which human drivers are never required to take control to safely operate the vehicle. Also known as autonomous or "driverless" cars, they combine sensors and software to control, navigate, and drive the vehicle.
Currently, there are no legally operating, fully-autonomous vehicles in the United States. There are, however, partially-autonomous vehicles—cars and trucks with varying amounts of self-automation, from conventional cars with brake and lane assistance to highly-independent, self-driving prototypes.
Though still in its infancy, self-driving technology is becoming increasingly common and could radically transform our transportation system (and by extension, our economy and society). Based on automaker and technology company estimates, level 4 self-driving cars could be for sale in the next several years (see the callout box for details on autonomy levels).
How they work
Various self-driving technologies have been developed by Google, Uber, Tesla, Nissan, and other major automakers, researchers, and technology companies.
While design details vary, most self-driving systems create and maintain an internal map of their surroundings, based on a wide array of sensors, like radar. Uber's self-driving prototypes use sixty-four laser beams, along with other sensors, to construct their internal map; Google's prototypes have, at various stages, used lasers, radar, high-powered cameras, and sonar.
Software then processes those inputs, plots a path, and sends instructions to the vehicle's "actuators," which control acceleration, braking, and steering. Hard-coded rules, obstacle avoidance algorithms, predictive modeling, and "smart" object discrimination (ie, knowing the difference between a bicycle and a motorcycle) help the software follow traffic rules and navigate obstacles.
Read more : https://www.ucsusa.org/clean-vehicles/how-self-driving-cars-work
09 octobre 2019
Europe advanced driver assistance systems (ADAS) market 2018 to 2023 Status and Trend by Leading Companies, Regional Outlook
Aug 22, 2019 (AmericaNewsHour) -- ADAS are systems that support, complement or substitute the driver of a vehicle. These systems help drivers to avoid collisions and accidents. It is a set of systems used in vehicles to provide an intelligent and comfortable driving experience. They use radar and cameras to assist the drivers by providing real-time information about the surroundings. ADAS is leading the way to autonomous vehicles. These systems are the foundation of next-generation automotive electronic safety systems and autonomous cars. A vehicle's ADAS can detect objects, alert the driver of hazardous conditions or impending danger. The Europe ADAS market is expected to reach USD 7.88 Bn by 2023 with a CAGR of 17.2% during 2018-2023.
The market is divided into three primary segments based on vehicle, sensor and component.
Based on vehicle, the market is segmented into passenger and commercial vehicles.
Based on sensors, the market is divided into image, radar, lidar and other sensors (ultrasonic,
infrared and laser sensors).
Based on components, the market is classified into adaptive cruise control (ACC), parking assistance (PA), lane departure warning (LDW), tire pressure monitoring (TPM), blind spot detection (BSD), autonomous emergency braking (AEB) and others (adaptive front lighting, drowsiness monitor, forward collision warning, head-up display and driver monitoring systems).
On the basis of countries, the market is segmented into the European Union Five (EU5) and the Rest of European Union (EU).
Key growth factors
The increasing government initiatives for mandating driver assistance system in order to lower road accidents is expected to proliferate market growth. Higher adoption of these systems in small cars is anticipated to further boost the market demand. Rising levels of technological innovation as well as growing initiatives towards vehicle automation and self-drive cars have raised the demand for driver safety and assistance systems over the past decade. The adoption of ADAS applications such as ACC, BSD, LDW and night vision are leading to reduction in number of accidents. Post the recession period of 2010, with a huge transformation in the automotive industry in Europe, there has been mass adoption and rapid penetration of ADAS by the Original Equipment Manufacturers (OEMs) and customers. Regular upgrading of ADAS technologies facilitate the competitiveness of the automotive market, thereby making it one of the largest markets of the global ADAS industry.
Threats and key players
The growth of the ADAS market is currently hindered by the growing incidence of software failures in sensors coupled with the high cost of these systems that have acted as major restraining factors for the wide acceptability of these systems. In the rapidly growing vehicle automation and ADAS market, the big challenge is to improve system accuracy and performance without hiking the price. Active safety systems and ADAS are largely provided as optional packages in vehicles in Europe which are relatively expensive.
The key competitors in the Europe ADAS market are Continental AG, Autoliv Inc., Delphi Technologies, Bosch, BMW AG and others.
Read more : https://www.marketwatch.com/press-release/europe-advanced-driver-assistance-systems-adas-market-2018-to-2023-status-and-trend-by-leading-companies-regional-outlook-2019-08-22
08 octobre 2019
Fleet Telematics: A Technology Trip Continues
Large fleet operators have deployed telematics technology long before the U.S. government's mandate that Electronic Logging Devices be installed in long-haul trucks. In the last few years, however, the ELD mandate "had the most significant impact of any single thing" in driving greater interest from a broader array of companies in and use of telematics technology , according to Clem Driscoll, founder and principal of C.J. Driscoll & Associates.
In the next few years, growth in use of telematics for fleet management and other applications could continue. Earlier this year, Driscoll and Associates observed in the "2019–20 U.S. Mobile Resource Management Systems Market Study" that about 13 million devices enabled with GPS and wireless connectivity are deployed today to manage fleet vehicles, trailers, equipment and field service workers across a variety of industry verticals. By 2022, that figure will grow to more than 20 million units, with yearly hardware and service revenues reaching more than $6.8 billion.
At the same time, technology innovation will continue, with video telematics becoming more common, and truck trailer manufacturers creating more "smart trailers" that will generate and leverage fleet telematics in new ways. Driscoll recently spoke with IoT World Today about the telematics evolution. Here are highlights from that interview, which have been edited for clarity and length:
IoT World Today: Your market study from earlier this year focuses on telematics and mobile resource management. Are these terms synonymous, or is one a subset of the other?
Clem Driscoll: We use the term "mobile resource management" quite a bit, and it covers all the sectors covered by telematics — GPS fleet management for local fleets, driver behavior management solutions, trailer monitoring and other asset monitoring solutions. But, it also addresses field resource management solutions. The purpose of those systems is to communicate and help manage a field worker, as opposed to a fleet vehicle, so it's really not a telematics system. Some of those are handset-based, so there may be nothing in the vehicle connecting. That's why we use the term "mobile resource management." It's a little bit broader, a term used to encompass systems that aren't tied to the vehicle. But, to get to the heart of your question, commercial telematics is the subset of mobile resource management.
Read more : https://www.iotworldtoday.com/2019/07/22/fleet-telematics-a-technology-trip-continues/
07 octobre 2019
Vehicle Telematics Market To Reach USD 98.27 Billion By 2026
Increasing concern for safety and security among automotive consumers is the most significant factor in influencing market growth.
Market Size – USD 25.47 billion in 2018, Market Growth - CAGR of 18.3%, Market Trends – Proliferation of smart devices such as smartphones, and tablets
NEW YORK, June 11, 2019 (GLOBE NEWSWIRE) -- The global vehicle telematics market is expected to reach USD 98.27 Billion by 2026, according to a new report by Reports and Data. Vehicle telematics systems, composed of telecommunication and informatics, provide crucial information for drivers, such as information about live traffic status and weather forecast. Essentially, it is the vehicle monitoring systems which empowers the drivers to stay updated with real-time performance and safety of the vehicle. Information collected by the telematics system is beneficial in critical circumstances, for instance, to communicate instantaneously with the police or respective authorities for prompt action in case of an accident. Telematics systems assist automotive companies, insurers, and drivers with the highest safety feature.
The safety and security services of vehicle telematics comprise the automatic crash notification, emergency, and medical assistance, which are anticipated to stimulate market growth in the forecast period. As a component of the Automatic Crash Notification service the telematics control unit (TCU) monitors several crash sensors of the vehicle and in the occurrence of a crash it directs the details of the vehicular location and crash intensity as well as sends a voice call to the telematics call center so that emergency services are dispatched to the accident spot.
Request free sample of this research report at: https://www.reportsanddata.com/sample-enquiry-form/1504
Legislative norms and regulations introduced by governments across the globe pertaining to the increased usage of telematics in the automotive to improve road safety are projected to propel the market growth in the upcoming years.
The offering of smartphone integration via apps in telematics systems enable the drivers to access various features such as unlocking of doors in case of lost keys, locking the car door, or blow the horn or flash the lights if the driver is facing trouble finding his car.
Privacy concerns among automotive consumers owing to the sharing of the vehicular location used to monitor an asset (car, truck, heavy equipment, or even ship) by using GPS and onboard diagnostics to record movements may create hindrances in the growth of the market.
Further key findings from the report suggest
By service type, safety & security held the largest market share in 2018 and is expected to witness a CAGR of 18.1% in the forecast period. These are the primary services provided by means of telematics as well as the main driving factor responsible for the conceptualization of vehicular telematics.
Embedded vehicle telematics is projected to grow at the fastest rate in the forecast period.
Passenger vehicle segment contributed to the largest market share in 2018 and is expected to grow at a rate of 17.9% in the forecast period.
Hardware dominated the vehicle telematics market in 2018 and is projected to maintain its market dominance in the forecast period.
The market in the North America region is forecasted to lead the market during the forecast period.
Key participants include AirIQ Inc., OnStar Corporation LLC., ETAS Group, Agero Inc., WebTech Wireless Inc., Qualcomm Inc., DigiCore Holdings Ltd., Wireless Matrix Corporation, Trimble Transport & Logistics, and Minda Corporation Ltd. among others.
Read more : https://www.globenewswire.com/news-release/2019/06/11/1867173/0/en/Vehicle-Telematics-Market-To-Reach-USD-98-27-Billion-By-2026-Reports-And-Data.html
06 octobre 2019
Is your car on the list?: meet the safest 0km and the "toys" that those that come with "ADAS" incorporated
cience fiction was in charge of dreaming cars as something more than a means of transport. For example, the series "The Fantastic Auto" marveled the young people of the '80s with KITT, a vehicle capable of interacting with its owner.

Without haste but without pause, the different innovations have been transforming such developments into reality. While technological and automotive firms advance with autonomous cars in several countries, in Argentina there are already some models that incorporate certain "smart" characteristics and are another argument of the automotive companies to convince users to renew their car in times of crisis.

These cars have systems are included under the acronym ADAS (Advanced Driver Assistance Systems, according to its acronym in English), which means Advanced System of Assistance to Driving. These tools alert the driver to any situation that could put his life at risk, with calls for attention that range from lights that light up on the dashboard to sound alerts.

In most cases, they are based on sensors distributed in the vehicle, similar to those used in the development of autonomous cars.

In this way, the incorporation of ADAS in massive models - already sold in Argentina - opens the possibility for many customers to enjoy greater safety and comfort.

For the terminals, it is a new differential that they offer to sell more in a market that suffers the impact of devaluation and inflation, which raised prices of 0Km close to 70% in a year and with registrations that plummeted 50% year-on-year .

How do they work
For those who are in the process of buying a 0km, attendees who are part of the ADAS are several and differ according to the automotive. However, they all have aspects in common.

"You get into the car, you program the speed with the peace of mind that the vehicle brakes only if there is another one nearby, if you get distracted and move out of the lane, an alarm is activated so you can take it back. the side mirror if a driver wants to pass you on the right side or is very close to the left, "summarizes an expert at iProUP.

But that is not all. The specialist adds: "A cup of coffee appears on the board if you make several untidy maneuvers or take many hours driving, indicating that it is time for a break." If you have to park, do it without having to touch the steering wheel, just stopping parallel to the empty space, and if a tire fails, it warns you in advance that it is deflating. "

In short, the car takes care of everything and keeps the driver alert in every movement. A system of this type consists of the following components:

1.- Adaptive cruise control: regulates the speed of the car as indicated by the driver, but also brakes only if it approaches too close to a vehicle in front.

2.- Active Safety Brake and Collision Alert: it is an automatic emergency braking system to reduce the speed of impact or avoid a frontal crash if the user can not react.

3.- Alert to the involuntary lane change: it uses a camera to recognize the lines of the route and detects the involuntary crossing. If that happens, the driver is alerted by sound signals so he can return to the address.

4.- Alert to the lack of attention of the driver: it evaluates if the person who drives is attentive, identifying trajectory changes. If the car moves a lot, it interprets that there is fatigue or distraction on the part of the driver. Then, he alerts him with messages like "Stay tuned".

5.- Rest indicator: if a driver drives more than two hours at a speed higher than 70 km / h, a cup of coffee appears on the board recommending a break. It is understood that it is a long time to continue circulating without a break.

6.- Fog lights with "corner light": they are static curve lights that provide an additional beam to illuminate the interior of the curves, improve visibility and safety at the corners and splices.

7.- Start-up assistance on slopes: it keeps the car braking for two seconds, while accelerating after standing on a slope.

8.- Control grip: improves the adherence of the vehicle according to the terrain: snow, mud, gravel or water. It is available in some models of Citroën and Peugeot, for example.

9.- Hands-free access and keyless start: detects the key when the person approaches the car and opens it. It also enables certain vehicle functions.

10.- Limiter and speed regulator: it allows to reduce the speed or, if the cruise function is not used, fix it so that the driver does not get distracted and exceeds the allowed limit.

11.- Rear view camera: activated by hooking the reverse and allows a great view that does not allow to obtain the mirrors.

12.- Tire inflation detector: informs if any of the four wheels does not have the correct pressure.

What are the 0km offered by ADAS
Having all these tools not only improves driving comfort, but also safety. And when the driver gets used to using them, it is difficult to be able to do without them.

One of the most innovative in the matter is the Citroën C4 Cactus that arrived in the country in 2018. This SUV produced in Brazil became the most complete of the B segment, with 12 ADAS capable of alerting the driver at times of risk.
Read more : https://www.iproup.com/innovacion/3764-inovacion-negocios-innovadores-tecnologia-e-innovacion-Meet-the-safest-0km-and-the-toys-that-those-that-come-with-ADAS-incorporated
05 octobre 2019
Trends in Vehicle Telematics Solutions that are Transforming Connected Two Wheelers from Concept to Reality
With the automotive industry veering towards digitalization, the modern day vehicles have become the center-stage for massive technological disruptions. Among these, the innovations in vehicle telematics have delivered some very advanced features in modern-day vehicles!
Modern day four-wheelers, including the commercial and passenger vehicles, integrated with telematics and rider assistance features have started becoming mainstream now. Now, this wave of digital connectivity is gradually picking up in the two-wheeler segment as well.
The two-wheeler industry is ringing in an era of intelligent motorbikes, integrated with telematics and smart-assistance capabilities. The integration of these digital features is expected to take the motorcycling experience to a whole new level!
What is Propelling the Digital Innovations in the Two-Wheeler Segment?
We can pin down two factors that have become a driving force for innovations in two-wheelers market:
The need to mitigate road accidents involving motorbikes: According to numerous statistics, road accidents involving 2-wheelers have been on a constant rise in the recent years.( 2013 – 26.3% , 2014 – 27.3% , 2015- 28.8% ).
A detailed analysis of these two-wheeler accidents has identified driver distraction, failure of perception and control, over speeding as the main reasons for such incidents.

This calls for a safety and technological interventions to reduce instances of accidents and to ensure safety of the riders as well as fellow road users.

The need to reduce the incidence of motorcycle thefts: Globally, two-wheeler thefts have been increasing over the past few years. These numbers are increasing in the absence of a reliable solution for tracking the stolen vehicle or to alert the user about a theft attempt.
So, is the automotive industry ready to address these security and safety challenges prevalent in the two-wheeler segment? Let us find out!
Connected Two-Wheelers : What the Automotive OEMs & Tech Companies have in Store for the Future Two-Wheeler Users
The need for digitally connected two-wheelers has given birth to newer collaborations involving automotive manufacturers, suppliers, technology companies, telecom operators, insurance firms, government policy makers, transport operators.
All of them together are ensuring a better two-wheeler riding experience with enhanced safety through technological advancements.
The BMWs, the Hondas, the Boschs of the automotive industry are already in the process of developing future-ready intelligent motor bikes with connectivity features.
Some of them have started partnering with telecom and technology companies to enable mobile connectivity in new generation two-wheelers.
Here , we trace how some of the leading automotive players are working towards integration of connected scooter features such a telematics, collision warning system and more in their product lines.
Read more : https://www.embitel.com/blog/embedded-blog/vehicle-telematics-trends-that-are-transforming-connected-two-wheelers-from-concept-to-reality