21 juin 2017
NEXYAD with the MOV'EO Groupement ADAS in Stuttgart at the Autonomous Vehicle Technology World Expo 2017
20 juin 2017
Startup bringing driverless taxi service to Singapore
An exciting "driverless race" is underway among tech giants the United States: In recent months, Google, Uber, and Tesla have made headlines for developing self-driving taxis for big cities.
But a comparatively small MIT spinout, nuTonomy, has entered the race somewhat under the radar. The startup is developing a fleet of driverless taxis to serve as a more convenient form of public transit while helping reduce greenhouse gas emissions in the densely populated city-state of Singapore.
"This could make car-sharing something that is almost as convenient as having your own private car, but with the accessibility and cost of public transit," says nuTonomy co-founder and chief technology officer Emilio Frazzoli, an MIT professor of aeronautical and astronautical engineering.
The startup's driverless taxis follow optimal paths for picking up and dropping off passengers to reduce traffic congestion. Without the need to pay drivers, they should be cheaper than Uber and taxis. These are also electric cars, manufactured through partnerships with automakers, which produce lower levels of greenhouse gas emissions than conventional vehicles do.
Last week, nuTonomy "passed [its] first driving test" in Singapore, Frazzoli says — meaning its driverless taxis navigated a custom obstacle course, without incident. Now, nuTonomy is planning on testing cars in a business district, called One North, designated for autonomous-vehicle testing. In a few years, Frazzoli says, nuTonomy aims to deploy thousands of driverless taxis in Singapore. The company will act as the service provider to maintain the vehicles and determine when and how they can be operated safely.
But a big question remains: Will driverless taxis put public-transit operators out of work? In Singapore, Frazzoli says, that's unlikely. "In Singapore, they want to have more buses, but they cannot find people to drive buses at night," he says. "Robotics will not put these people out of jobs — it will provide more capacity and support that's needed."
Importantly, Frazzoli adds, driverless-taxi services used for public transit, such as nuTonomy's, could promote wider use of electric cars, as consumers won't need to purchase the expensive cars or worry about finding charging stations. This could have a major impact on the environment: A 2015 study published in Nature Climate Change found that by 2030 autonomous taxis — specifically, more efficient hybrid and electric cars — used worldwide could produce up to 94 percent less greenhouse gas emission per mile than conventional taxis.
Behind the (autonomous) wheel
Frazzoli can't really say how nuTonomy's taxis may compare to the likes of Google, Uber, or Tesla, as their technology remains secretive. But nuTonomy's software — based on research by Frazzoli, nuTonomy's CEO Karl Iagnemma PhD '01, and others — includes a few key innovations, he says.
One such innovation is advanced fleet management, derived from Frazzoli's previous work writing algorithms to coordinate swarms of drones for the U.S. military. Using similar concepts, Frazzoli, Iagnemma, and nuTonomy's engineers designed algorithms to allow the minimal number of cars to cart people around a city, alleviating traffic congestion and reducing emissions. In a 2014 paper published in Road Vehicle Automation, Frazzoli and colleagues estimated that 300,000 driverless taxis, in theory, could do the work of the 780,000 traditional taxis currently operating today in Singapore, while keeping waiting times below 15 minutes.
"That's a 60 percent reduction in the number of vehicles operating in Singapore," Frazzoli says. "This was a big sign of impact for [the Singaporean] government. At first we were asking them to let us test cars there — then they were asking us to come test."
Read more : https://robotics.mit.edu/startup-bringing-driverless-taxi-service-singapore
19 juin 2017
Are driverless pods the future for world cities?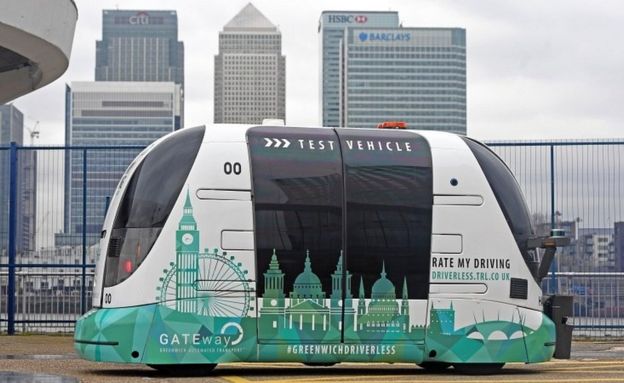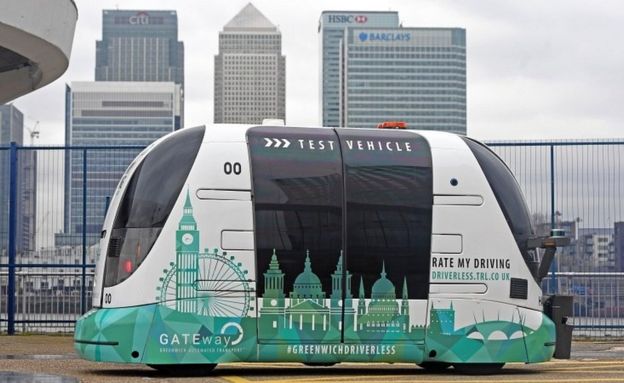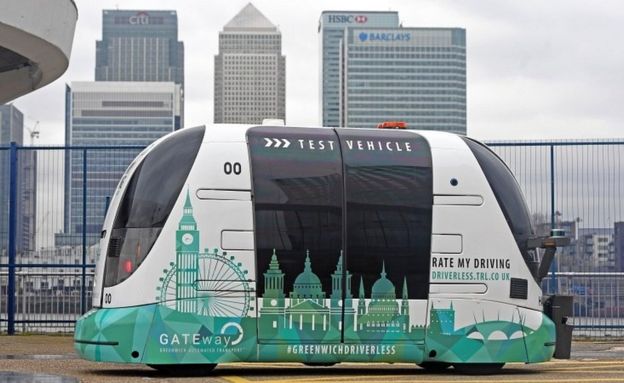 I've just spent a fascinating morning, being taken around North Greenwich in a driverless pod.
It has no steering wheel and is modelled on the white guided pods you may have seen at Heathrow Airport.
Lots of companies are racing to develop driverless technology, previously I've been out in a Nissan autonomous car.
It nearly ran into the back of a street cleaning vehicle while testing in London.
Nissan thinks it will take them five more years to develop it - they have been working on it for 12 years - but they believe autonomous cars eventually will be popular.
By running the cars closer together and reducing collisions they think it will reduce congestion and insurance payments.
Approaching the issue from another angle is the project in Greenwich. The Gateway Project is being part funded by the government.
Read more : http://www.bbc.com/news/uk-england-london-39496321
18 juin 2017
Impact of Advanced Driver Assistance Systems on Urban Traffic Network Conditions
One of the most significant problems of modern cities is undoubtedly traffic congestion, a well-known and sufficiently documented issue (Bhargab et al, 1999; NRC, 1995). Several approaches have been adopted towards providing adequate solutions, or at least mitigating its impact in the everyday life of the citizens. Supply related solutions like the construction of new roads are not economical and do not really solve the problem as, by providing additional capacity, they often result in the generation of new demand. Similarly, demand related approaches, such as the improvement of the rider-ship of public transit modes, congestion pricing and flexible work-hours are difficult to implement or have low public acceptance. One promising direction is the introduction of intelligent in-vehicle (or cooperative invehicle—infrastructure-based) systems that assist the driver in his/her various tasks. A large variety of such systems, collectively referred to as Advanced Driver Assistance Systems (ADAS) are being developed by various parties, including system developers, car manufacturers, and scientists worldwide (Brand et al, 1997; Davison et al, 1997; Heijer et al, 2000). Several attempts have been made to categorize these systems (Heijer et al, 2000). One of the key considerations in the design and development of ADA systems is the improvement of vehicles' traffic dynamics, thus improving the overall network efficiency. Other considerations include fuel consumption and related emission reduction, and safety improvements (Penttinen et al, 2000). As ADA systems are a rapidly evolving area of research and development, it would be helpful to obtain intuition into the potential benefits from the implementation of these systems prior to their actual deployment. Research in the area has so far been mostly experimental, using either actual ADAS-equipped vehicles or properly configured driving simulators (Duynstee et al, 2000, Ishida et al, 2000, Regan et al, 2000). A methodology for the assessment of Dynamic Speed Adaptation on driver behaviour has been proposed by Braban-Ledoux et al (2000), who also propose a set of microscopic indicators for characterising driver behaviour. A few simulation efforts have also been reported. For example, Misener et al (2000) describe the adaptation of a microscopic simulator, SmartAHS, for the evaluation of ADAS and present simulation results for an Adaptive Cruise Control and Stop and Go system. Furthermore, Neunzig et al (2000) present an analysis of the impact of Adaptive Cruise Control on the fuel consumption of equipped vehicles. Given the relatively short history of advanced driver assistance systems their impact on traffic conditions started recently to be investigated, mainly at microscopic level (Hoogerndoorn et al. 2001, Stevens et al. 2001, Niittymäki et al. 2001) and the first results concerning specific types of road sections and traffic situations are available. However, no attempt is recorded for the identification of ADAS impact at network level as the low market penetration level of these systems makes very difficult the execution of any experiment in real conditions. In order to fill in this gap, the objective of this paper is the investigation of the advanced driver assistance systems impact on traffic network conditions through the use of a traffic network simulation model.
Read more : http://www.ejtir.tudelft.nl/issues/2001_03/pdf/2001_03_04.pdf
17 juin 2017
Top 5 Tech Trends in Advanced Driver Assistance Systems
Advanced driver assistance systems (ADAS) promise to enhance vehicle safety by helping to simplify the driving process, reducing sources of driver distraction and inattention that often lead to accidents. With ADAS support, drivers and their passengers can hope to find safer roadways, countering deadly trends in motor vehicle accidents.
According to the Centers for Disease Control, motor vehicle accidents rank among the top two causes of accidental injury or death. Even for non-alcohol-impaired drivers, the risk of a crash rises significantly when drivers are even briefly distracted. In fact, the risk of accidents jumps for drivers who glance away from the forward roadway for more than two seconds. Even beyond its obvious distractions, cellphone use increases accident rates for drivers who seem to be watching the road ahead but exhibit "inattention blindness" and loss of reaction time as they focus on the conversation.
Delivering ADAS designs capable of addressing these problems requires a broad combination of features and capabilities built on advances in diverse technologies. For developers, the future of ADAS lies in five key trends: embedded vision, sensors, connectivity, automotive systems infrastructure and automotive human machine interface (HMI) design.
Embedded vision
Automotive vision systems are increasingly essential for identifying and tracking potential hazards. Besides providing critical input for high-level warning functions such as lane drift or unobserved traffic, these systems provide the data needed to support a growing array of services including automatic parallel parking or traffic sign recognition for speed-change warning. Vision systems also provide the foundation for driver monitoring systems that warn when driver attention begins to wander from drowsiness or distraction.
The emergence of specialized computer-vision software, hardware and development systems has all but erased traditional challenges in creating these systems. For example, the Avnet Blackfin® Embedded Vision Starter Kit combines development software and debug tools with an evaluation board that includes Analog Devices' specialized BF609 Blackfin vision processor, a camera and peripherals.
Read more: Getting Started in Automotive Smart Vision Design
Sensors
Beyond vision-based traffic-warning systems, ADAS requires an extensive set of sensors for monitoring the vehicle's immediate surroundings and even drivers themselves. Sensors for light detection and ranging (LIDAR), infrared detection and radar offer powerful solutions both for adaptive cruise control (ACC), which respond to traffic changes, and for systems capable of maintaining safe distance during high-traffic stop-and-go driving.
Semiconductor manufacturers continue to deliver increasingly sophisticated ICs that integrate sensor-signal chains required for signal conditioning and processing. For example, designers can implement the core features of a LIDAR system by combining a laser with the Maxim Integrated MAX3806 optical-distance measurement IC and Maxim's MAX1446 high-performance analog-to-digital converter.
Read more : https://www.avnet.com/wps/portal/us/resources/technical-articles/article/markets/automotive+and+transportation/top-5-tech-trends-advanced-driver-assistance-systems
16 juin 2017
NEXYAD member of Groupement ADAS interviewed in MOV'EO Imagine Mobility days
NEXYAD presented the Road safety ADAS SafetyNex : a smartphone App that alerts the driver before danger, letting time to slow down and avoid accident.
SafetyNex can then reduce accident rate by 20%. SafetyNex may also be used for automatic braking (anticipation braking) before dangerous area (ex : priority to the right) : the first intelligent ACC with anticipation to avoid accident.
SafetyNex also records risk profiles for fleets managers and car insurers : useful for UBI (Usage Based Insurance) such as Pay As You Drive and Pay How You Drive.
Read more : http://www.safetyNex.net
15 juin 2017
Top 20 Automotive Advanced Driver Assistance Systems (ADAS) Companies 2016: Leading Suppliers of Sensors & Semiconductors to OEMs
ADAS technologies are undeniably one of the fastest growing areas within the automotive industry. Who will be the top players in this dynamic market and what are their prospects? What is their respective revenue and market share by the end of 2016? And what is their future outlook?

We break down the most important sub segment of the automotive industry but also the key player's market shares, revenues and characteristics that will make them lead the flourishing ADAS market.

Now: "Delphi buys Ottomatika and invests in Quanergy ADAS tech" This is an example of the business critical headline that you need to know about - and more importantly, you need to read visiongain's objective analysis of how this will impact your company and the ADAS industry more broadly. How are you and your company reacting to this news? Are you sufficiently informed about ADAS?

How this report will benefit you
Read on to discover how you can exploit the future business opportunities emerging in this sector. Visiongain's new study tells you and tells you NOW.

In this brand new report you find 70 in-depth tables and 37 charts and graphs

The 130 page report provides clear detailed insight into the global Top 20 ADAS companies in 2016. Discover the key drivers and challenges affecting the market.

By ordering and reading our brand new report today you stay better informed and ready to act.

Report Scope
- The Ranking of the 20 leading Suppliers of ADAS in 2016 by revenues ($ billion) from the Automotive ADAS Market

- Market Share allocation (%) in the Automotive ADAS Market 2016 for each one of the leading 20 companies

- Profiles and detailed analysis of the leading 20 companies within the Automotive ADAS market for 2016 comprising:
o Analysis of their role in the Automotive ADAS market including the analysis of the performance of the segment responsible for the ADAS coupled with sales figures for sensors (where available);
o Overview of their Automotive ADAS portfolio up-to-date segmented into ADAS End-User Applications and ADAS sensors;
o Company financials (Group Revenues, Profits) and segmentation by Product or Business Segment;
o Outlook for their Market Share in the ADAS Market
- Aisin Seiki Co
- Autoliv AB
- Bosch Group
- Continental AG
- Delphi Automotive Company
- Denso Corporation
- Freescale Semiconductor Inc
- Gentex Corporation
- Harman International Industries,
- Hella KGaA Hueck & Co
- Hyundai Mobis
- Magna International Inc
- Mobileye N.V
- NVIDIA Corporation
- Panasonic Corporation
- Renesas Electronics Corporation
- Takata Corporation
- Texas Instruments
- TRW Automotive
- Valeo SA
Read more : http://www.prnewswire.com/news-releases/top-20-automotive-advanced-driver-assistance-systems-adas-companies-2016-leading-suppliers-of-sensors--semiconductors-to-oems-300230822.html
14 juin 2017
2017 will be the year the connected car becomes a reality
2016 was full of talk of autonomy, but little action beyond crazy, futuristic concept cars and announcement after announcement from automakers. If this year's CES is any indication, 2017 is going to focused on connectivity. More than that, CES showed that traditional barriers between automakers are breaking down in favor of universal and open source technology standards that will benefit both consumers and developers.

CES, traditionally a showcase for the latest and greatest technology and gadgets like flat-screen refrigerators or televisions that broadcast in the fifth dimension, has become so intwined with the auto industry that we at Autoblog cover it like any other auto show. At every CES event I attended and nearly every booth I went to, there was some talk, display, or demonstration of how cars will connect to your phone and your home, and eventually each other.

It seems we're heading toward the tech singularity where all devices work under one cohesive ecosystem – the Internet of Things, if you like. The difference between autonomy and connectivity is how real the latter feels because so much of the connected tech on display at CES is either here already or will be here by the end of the year. There were dozens of demos, both big and small, that allowed us to test and explore what's on the horizon.
Read more : http://www.autoblog.com/2017/01/13/2017-connected-car-becomes-reality/
13 juin 2017
General Motors has taken to the streets with its Electric Networked-Vehicle, or -- wait for it -- EN-V. It's a crazy futuristic two-wheeled pod vehicle developed with Segway, and it looks perfect for supervillains zooming around volcano lairs zapping people. Without damaging the environment, naturally.
The EN-V is an evolution of the Personal Urban Mobility and Accessibility vehicle, or PUMA.
This vehicle will integer ADAS and other smart options.
Read more : https://www.cnet.com/roadshow/pictures/general-motors-en-v-electric-segway-pod-for-eco-conscious-supervillains/
12 juin 2017
Key challenges in automation of earth-moving machines
A wheel loader is an earth-moving machine used in construction sites, gravel pits and mining to move blasted rock, soil and gravel. In the presence of a nearby dump truck, the wheel loader is said to be operating in a short loading cycle. This paper concerns the moving of material (soil, gravel and fragmented rock) by a wheel loader in a short loading cycle with more emphasis on the loading step. Due to the complexity of bucket-environment interactions, even three decades of research efforts towards automation of the bucket loading operation have not yet resulted in any fully autonomous system. This paper highlights the key challenges in automation and tele-remote operation of earth-moving machines and provides a survey of different areas of research within the scope of the earth-moving operation. The survey of publications presented in this paper is conducted with an aim to highlight the previous and ongoing research work in this field with an effort to strike a balance between recent and older publications. Another goal of the survey is to identify the research areas in which knowledge essential to automate the earth moving process is lagging behind. The paper concludes by identifying the knowledge gaps to give direction to future research in this field.
read more : http://www.sciencedirect.com/science/article/pii/S0926580516300899