23 février 2018
Low CPU consumption road detection and free space detection running in real time on a regular smartphone : RoadNex
The company NEXYAD showed to its partners and customers at CES 2018 in Las Vegas the RoadNex road detection system running on a regular smartphone (using CPU and camera of the smartphone). RoadNex detectes two things, independently :
. borders of the lane : borders may be road markings, other cars, construction area signs, pedestrians, bicycle, ...
. free space : part of the world ahead that is flat and drivable (including sidewalks)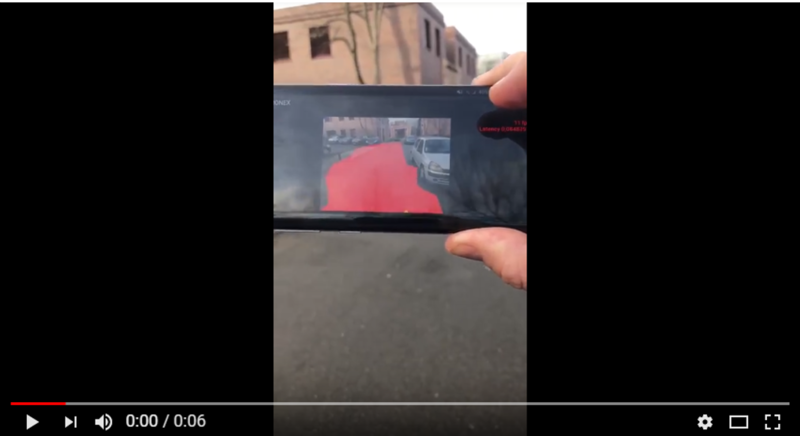 With SafetyNex you know where the surface is drivable in you lane and beyond, and you also know the borders of drivable surface in your lane (its width, etc ...).
RoadNex is usefull for autonomous vehicles such as shuttles and robot taxi.
Here is a real time demo in front of NEXYAD location : demo of free space only on a very complex movement : panoramic (rotation) and with rough conditions (smartphone in hand : shivering, height that change rapidly, etc) : it shows robustness and low CPU consumption of RoadNex free space detection.
https://www.youtube.com/watch?v=tNbDKqHNfXA
22 février 2018
Global ADAS Market to Surpass 302 Million Units Annually in 2022, Facilitating Deployment of L3 Automation, IHS Markit Says
SOUTHFIELD, Mich.--(BUSINESS WIRE)--Global automotive applications of advanced driver assist systems (ADAS) will surpass 302 million units annually in 2022, according to new analysis from business information provider IHS Markit (Nasdaq: INFO).
In its latest ADAS Applications and Sensors Report, IHS Markit forecasts that global ADAS growth will be led in part by new introductions of automated autopilot, driver monitoring systems and side and rear mirror cameras, each aimed at making the driving activity safer, more convenient or more efficient. This growth is enabled by advances in sensor technologies including radar, camera and lidar sensors that will number more than 232 million units annually in 2022, the report says. Combined, implementation of these technologies will enable higher levels of automated driving on a global scale.
"Many OEMs have started offering partially automated systems that execute accelerating, braking and steering together," said Aaron Dale, senior automotive analyst at IHS Markit and the report's author. "These systems combine multiple sensors and multiple single-function ADAS features to allow the vehicle to drive, albeit under driver supervision. While some of these individual technologies are well-established, combining functions and sensors requires higher levels of integration as well as substantial computing power."
Current systems manage the driving task at low speeds as well as high and can complete lane changes with driver input. Future systems may use artificial intelligence to navigate more complex driving environments on their own. This functionality extends the integration of forward-sensing systems such as adaptive cruise control (ACC), lane keeping assist (LKA) and traffic sign recognition (TSR) by integrating blind spot information (BSI) and rear-sensing to provide complete 360-degree awareness.
Automated driving systems today have guided the industry into level 2 of the Society of Automotive Engineers definitions where constant driver supervision is required. The first level 3 capable systems are just around the corner, which will remove the need for constant driver supervision in certain circumstances, such as in traffic jams or on well-maintained stretches of highway. Europe and North America will see the first deployments of L3 technology, but consumer acceptance remains a key question on the path to widespread adoption.
Side and rear mirror cameras offer another opportunity for growth, IHS Markit says. While the technology for such systems readily exists and automakers have an appetite to deploy such systems, regulation has hindered widespread adoption. Japan was first to revise regulations in 2016 citing advances in camera quality, and other markets are expected to follow in the years to come in order to improve blind spot visibility, vehicle aerodynamics and provide additional driver support through the use of machine vision. As cameras add to the complexity and cost of vehicles, uptake is expected to be limited to well-equipped flagship models over the short term, with wider deployment in smaller cars likely in Japan especially.
Driver monitoring systems are intended to address driver distraction, fatigue and cognitive load that may negatively affect driver awareness or ability to react in a timely manner. Most systems today reference a multitude of sensors and measurements throughout the vehicle to infer driver fatigue or distraction, but the arrival of more advanced L3 driving systems has highlighted the need to understand the driver's state more directly. This method of direct driver observation, using an interior camera sensor to observe eye movement and gaze direction, will allow the vehicle to effectively manage and ensure a safe transition between self-driving and driver-controlled operation.
Sensors continue to be the primary enabler of these new safety and convenience features, and radar and camera maintain a strong position in the market throughout the forecast as capable incumbent sensing technologies. Advances in machine vision and machine learning give camera sensors unique utility, while new applications for 77 GHz radar are providing automakers with higher resolution awareness in the short to mid-range distances around the vehicle. A new generation of lidar sensors will offer useful complementary and redundant coverage as more highly automated driving systems come to market.
Read more : http://news.ihsmarkit.com/press-release/automotive/global-adas-market-surpass-302-million-units-annually-2022-facilitating-dep
21 février 2018
Safety and Advanced Driver Assistance Systems in the 2018 Maserati Ghibli
2018 Maserati Ghibli Advanced Driver Assistance and Safety Systems
With great power and performance comes great responsibility. That's why the new 2018 Maserati Ghibli comes packed to the brim with all of the advanced safety and driver assistance features drivers need to feel safe behind the wheel.
Offering a wide variety of active and passive safety features, not only will the 2018 Maserati Ghibliprotect its driver and passengers in the event of a collision, but it will also help the driver in avoiding accidents in the first place.
It does this by using active safety measures that cut down driver reaction times and sometimes even cause the vehicle to act on its own.
Some of the Ghibli's Advanced Driver Assistance features include:
Highway Assist System
Lane Keeping Assist
Traffic Sign Recognition
Forward Collision Warning Plus
Active Blind Spot Assist and Rear-Cross Path function
Adaptive Cruise Control with Stop & Go function
Read more : https://www.continentalmaserati.com/blog/2018-maserati-ghibli-advanced-driver-assistance-and-safety-systems/
20 février 2018
The Rise of Autonomous Vehicles: Planning for Deployment Not Just Development
This year opens to a landscape of autonomous vehicle expectations that are both exciting and sobering. By now, we are accustomed to seeing automated vehicle technology improve rapidly, and announcements from innovators are losing their novelty. We also hear a growing concern that the technology may not perform as promised, or that it might make urban transportation problems worse. Will it threaten transit, increase congestion, or begin an accelerated period of complex traffic problems with mixed levels of automation? Will we need unaffordable infrastructure that we cannot build quickly enough?
There is no turning back. Technology companies and automotive manufacturers have invested more than $80 billion in the underlying technologies and acquisitions. Promotional campaigns have started. They know change will be lucrative and they are betting heavily. Governments are beginning to recognize that there are economic gains or losses for its jurisdictions depending on how choices are made to engage with these technologies.
The province of Ontario is no different. Ontario was the first Canadian jurisdiction to make a clearly elucidated promise and a significant research investment in what it calls the Autonomous Vehicle Innovation Network (AVIN).
Read more : https://www.rdmag.com/article/2018/01/rise-autonomous-vehicles-planning-deployment-not-just-development
19 février 2018
Tesla's Autopilot is supposed to deliver full self-driving, so why does it feel stuck in the past?
A year ago, Tesla CEO Elon Musk stunned the automotive world by announcing that henceforth, all of his company's vehicles would be shipped with the hardware necessary for "full self-driving." By 2019, Tesla drivers would be able to sleep in their cars, he suggested. Musk one-upped that a few months later, vowing to demonstrate a completely autonomous, cross-country trip in a Tesla by the end of 2017.
But since then, the company has fallen behind in updating its flagship semi-autonomous driving system, Autopilot, irking some among its legions of obsessed fans, and raising questions about Tesla's ability to deliver on the promise of a fully self-driving car. In an August earnings call, Musk admitted the cross-country trip may be delayed. "It is certainly possible that I will have egg on my face on that front," he said.
Read more : https://www.theverge.com/2017/10/24/16504038/tesla-autopilot-self-driving-update-elon-musk
18 février 2018
How cars will take Hyperloop ?
17 février 2018
How robot taxis will change mobility over the next 10 years
A silent revolution is arriving on our streets. Before too long, commuters will use their mobiles to summon fully autonomous robot taxis. These will collect them from home and drive them to the closest metro station, from where they can catch a train to work in the city centre. These zero-emission vehicles will be electric, powered by solar or wind generation. We believe this transformation is just around the corner. It promises to change the mobility market, and much more.
Within the next five years, cities will begin to transform their transit systems, to tackle the twin challenges of congestion and climate change. By using autonomous taxis with significantly higher capacity and usage rates, and integrated with traffic optimization systems, cities could reduce the number of cars on their streets by more than 40%.
Read more : https://www.weforum.org/agenda/2018/01/robot-taxis-mobility-electric-cars/
16 février 2018
Credit: NHTSA
There's a common claim that autonomous vehicles will definitely take over the market and we humans will essentially stop driving ourselves places (except to the extent that some of us still keep horses to ride on). There's an often combined claim that people will give up auto ownership and use robotaxis instead.
Then there's the perhaps equally common response: "nuh-uh." Or: "I don't see it happening. People like driving, like being in control, and treat having a car as a status issue."
I haven't staked a strong claim on either answer yet, but I do slightly assume we will switch to almost entirely autonomous vehicles. However, that assumption is based in part on the logic that they'd be better, safer (especially en masse), cheaper, and more convenient. The problem I have with that assumption is that my experience is people are illogical and don't always choose better, safer (especially en masse), cheaper, and more convenient. They can, but they can just as well ignore those benefits for various status or sense of comfort reasons.
Read more: https://cleantechnica.com/
In a recent article, we took a look at car safety ratings and their impact on insurance. Truth be told, in many cases when people start looking for a new car, especially those with a family, the vehicle's safety will be among the most important things considered. In recent years we have seen smart technologies employed in cars with increasing frequency, especially when it comes to safety. Here we take a look at the most commonly requested car safety tech features, and the impact they might have on the cost of car insurance in Hong Kong.
The most popular car safety features
Let's face it, the days of roll-down windows, straight steel bumpers, and single-airbag cars are gone. These days, car manufacturers have implemented a seemingly never-ending list of safety features, many powered by modern "smart" technologies. When combined, these safety-oriented technologies are referred to by governments and manufacturers as Advanced Driver-Assistance Systems (ADAS). Together, these systems aim to make not only your car, but also road driving, even safer.
Here are some of the most popular ADAS features people should consider when looking for a new vehicle.
Collision warning/avoidance systems
Most new vehicles have a variety of sensors around the body of the car that monitor the surroundings and road ahead/behind. One of the features that uses the data generated by these sensors is the collision warning/avoidance system. If the car judges that you are about to run into something it will either sound an alert or take action to stop or swerve the vehicle out of the way.
Read more : https://kwiksure.com/blog/adas-and-car-insurance/
15 février 2018
HOW ADVANCED DRIVER ASSISTANCE SYSTEMS (ADAS) WILL IMPACT FLEETS
ADAS are already having a huge impact on the fleet industry, not just from a driver safety aspect, but from a vehicle maintenance standpoint too.
Core functionalities include adaptive cruise control, autonomous emergency braking (AEB), crash collision mitigation and blind spot monitoring. There are plenty more that could be included, and each has been designed to improve driver safety. For example, AEB has been cited as reducing real-world crashes by 38%.
The impact of on-going costs
Vehicles are becoming more complex, and as a result of this, maintenance costs increase. However, these expenditures should not put leasing companies off expanding their fleets with ADAS-equipped vehicles.
Simply put, they're crucial to improving driver safety and cutting vehicle downtime. When considering the costs of future replacement ADAS technology, it's important that companies compare the costs involved with a driver being involved in an accident, with the costs involved when replacing individual parts or components.
The future impact of vehicle connectivity
Whilst ADAS do have an impact on the safety of drivers, Big Data and vehicle connectivity play a key role in developing future strategies for fleet management too.
For example, if the data collected from geo-location technology can be used to track vehicle journeys, a fleet manager can see if drivers are on the road for longer than they need to be. This could be as a result of a route that takes them onto more congested or dangerous roads.
This data could be combined with ADAS technology to regularly advise drivers to take shorter routes, some of which could be less congested and safer for them to travel. This would result in optimised driver road time and reduced fuel costs.
The impact of Plug-in Hybrid Electric Vehicles (PHEVs)
As in-car technology evolves, so do the vehicles themselves. Over the last few years, the industry has seen an increase in the number of PHEVs on the roads.
Read more : http://www.sgfleet.com/uk/news/how-advanced-driver-assistance-systems-adas-will-impact-fleets/