17 août 2017
Vehicle Safety Systems
Road accidents are a major cause of death in industrial countries. Numerous intelligent transport systems can contribute to a possible solution. Inside the car or truck these include the advanced driver assistance systems. They support drivers to maintain a safe speed and distance, to drive within the lane, to avoid overtaking in critical situations and to safely pass intersections in an increasingly complex driving environment.
Studies on the safety effects of such systems show a high potential. According to eImpact (2020 high scenario) Electronic Stability Control (ESC) is expected to prevent by far the most fatalities and injuries: about 3,000 fatalities (-14%), and about 50,000 injuries (-6%) per year. Speed Alert (with active gas pedal) (-5%), eCall (-4%) and Lane Keeping Support (-3%) also have substantial effects on fatalities. In parallel these applications also have congestion reduction potential as about 15% of all congestion in Europe is due to accidents.
It is clear though, that the full potential will only become reality with large-scale deployment in vehicles. In some cases regulatory action is justified. The Regulation (EC) No 661/2009 of 13 July 2009 on general safety of motor vehicles foresees mandatory fitting of the following safety features:
16 août 2017
Dubai wants to make 25% of car trips driverless by 2030, and it's starting with Tesla taxis
Dubai believes the future of urban public transit is both electric and autonomous. On Feb. 13, the country's transportation authority announced a deal to buy 200 Tesla Model S sedans and Model X SUVs for the city's 10,000-vehicle taxi and limousine fleet.
The move is part of a broader effort by city officials to make 25% of all local car trips autonomous by 2030, reports The National, a United Arab Emirates-owned newspaper. The Dubai Future Foundation, a city government initiative, started promoting the autonomous-taxi program earlier this year.
Read more : https://qz.com/1050340/the-name-youre-given-as-a-child-can-shape-your-face-as-an-adult/
15 août 2017
Automotive mega trends by BOSCH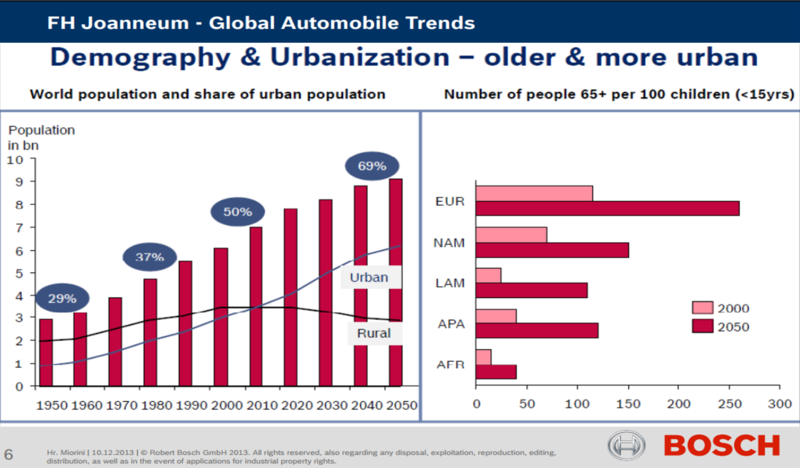 This automotive mega trends report (BOSCH) gives interesting information about demography and needs evolution (forecast) and may help SMEs to set up a strategy to catch technology markets.
Read more : https://fahrzeugtechnik.fh-joanneum.at/veranstaltungen/2013-2014/2014-01-29-Globale-Automobile-Trends.pdf
14 août 2017
Free space detection using the NEXYAD road detection module RoadNex (ADAS, driverless)
NEXYAD proposes a sofwtare module called RoadNex that detects :
. borders of the lane (with or without road signs : white lines etc, RoadNex works even on a desert track)
. free space (area in front of the car that can be considered as "drivable")
Even without any obstacle detection, it is possible then to know that there is "something" on the road or not.
Note : RoadNex won't make a difference between a drawing on the road and an obstacle, but if yo have an obstacle detection system (example : a lidar), then RoadNex will help to focus on areas where it is interesting to detect potential obstacles : all areas where RoadNex detects free space shoudn't be analysed in an obstacle detection point of view (gain of CPU load and time).
Read more : http://nexyad.net/Automotive-Transportation/?page_id=412
13 août 2017
Daimler is investing in flying cars for some reason
Established players are only beginning to dip their toes into the weird world of "flying cars," and Daimler is the latest to do so.
Daimler, parent company of Mercedes-Benz and Smart, was part of the latest round of funding for Germany's Volocopter, Reuters reports. The total funding round scooped up about $30 million, but it's unclear just how much Daimler put down.
Volocopter, like so many other "flying car" firms out there, is working on a vertical takeoff and landing (VTOL) aircraft that runs on electricity. It's angled toward replacing traditional taxicabs, and the company hopes to run some demonstrations before the end of 2017.
Volocopter is far from the first company to look into VTOL as a cure for ever-busier roads. US company Terrafugia is working on one, as well. There are a few well-known names in this field, too -- namely Uber, which produced a 99-page white paper on using VTOL craft to mitigate urban congestion.
Daimler's investment isn't evn the largest by an automaker. Reports are circulating that Geely, Volvo's parent company, is set to purchase Terrafugia. Whether that would actually result in a flying car is yet to be determined, but it's clear that urban traffic jams can frustrate us all enough to where we'd rather throw caution to the wind and hit the skies.
Read More : https://www.cnet.com/roadshow/news/daimler-is-now-investing-in-flying-cars-for-some-reason/
12 août 2017
Human factors
As more ADAS functions are added to vehicles, the need to test them grows, but much of this will be done in the virtual sphere using driver-in-the-loop simulations
The increase in ADAS systems is puttingpressure on testing engineers to make sure that the technologies are robust. As in many areas of vehicle and technology development, physical testing is becoming more time-consuming, which is at odds with the need to reduce the length of programmes. That is why even ADAS systems are benefiting from the use of simulation tools.
Chris Hoyle, rFpro's technical director, says: "We have reintroduced the human test driver earlier in the process. Traditionally firms wait for a prototype, a mule or even production intent vehicles to go out and test, but we allow them to start that process while they are still at the virtual stage."
The simulation company has been using driver-in-the-loop systems to develop all aspects of the vehicle and the impact on dynamics. That includes everything from passive chassis systems to drivetrain controls, hybrid systems and many others.
But it is ADAS functions that are a growing part of the business. "When you construct ADAS tests with inflatable targets, you're able to run one test every five or 10 minutes, if you are lucky, but in the worst case you might be looking at one test a day," says Hoyle. "In the laboratory, if a test takes 20 seconds, you can stop, restart, and a minute later you're doing it again.


read more : http://ae-plus.com/focus/human-factors
11 août 2017
Artificial Intelligence for Automotive Applications
Software, Hardware, and Services for Autonomous Driving, Personalized Services, Predictive Maintenance, Localization and Mapping, Sensor Data Fusion, and Other Use Cases: Market Analysis and Forecasts
Today's advanced call centers and virtual digital assistants make it clear that artificial intelligence (AI) systems, which essentially use data and algorithms to mimic the cognitive functions of the human mind, including the ability to learn and solve problems independently, are rapidly making their way into all facets of society. Not surprisingly, the automotive industry has seen the promise of such technology, and is among the industries at the forefront of using AI to augment human actions and to mimic the actions of humans, while also harnessing the advanced reaction times and pinpoint precision of machine-based systems. Both semi-autonomous and the fully autonomous vehicles of the future will rely heavily on AI systems.
But AI is not restricted to autonomous driving. Suppliers and automakers realize that the AI engines can also be used to make life in the car more convenient, for both the driver and the passengers. Using natural language processing (NLP) and machine learning techniques make it possible to create in-car assistants that can respond to voice commands and infer what actions to take, without needing a direct command. Both types of systems are on their way into vehicles, although their respective introductions may be made gradually, due to safety concerns, as well as a desire to ensure that the systems work as naturally and as smoothly as possible. Tractica believes that while the market for AI systems is clearly in its infancy, a future of strong growth is virtually assured. Tractica forecasts that the market for automotive AI hardware, software, and services will grow from $404 million in 2016 to $14.0 billion by 2025.
This Tractica report provides detailed market forecasts for AI hardware, software, and services in the automotive market during the period from 2016 through 2025. The technologies covered include machine learning, deep learning, NLP, computer vision, machine reasoning, and strong AI. The forecast covers 15 key use cases for automotive AI, segmented by world region. Profiles are also included for 30 key participants in the emerging automotive AI market ecosystem.
Key Questions Addressed:
What types of artificial intelligence technologies will be deployed in vehicles?
What are the most likely uses cases for AI within vehicles?
What types of regulatory issues likely will impact the market?
Which segment of the market (software, hardware, or services) represents the largest revenue opportunity?
Which companies are actively involved in the development and commercialization of automotive-based AI technology?
Which regions will see the fastest adoption of automotive AI technology?
Read more : https://www.tractica.com/research/artificial-intelligence-for-automotive-applications/
10 août 2017
Elon Musk clarifies Tesla's plan for level 5 fully autonomous driving: 2 years away from sleeping in the car
Ever since Tesla released its second generation Autopilot hardware and started offering an option called "full self-driving capability", there's been some confusion about Tesla's plan for rolling out fully autonomous driving.
CEO Elon Musk has clarified the plans this week and now predicts that true level 5 autonomy is about 2 years away – though Tesla should still have advanced autonomous driving systems before that.
While Musk said that the "full self-driving capability" option on the second generation Autopilot will eventually enable level 5 autonomous driving, which means fully autonomous in any and all conditions, Tesla also specified that it is dependent on software validation and regulatory approval.
The best timeline he mentioned was based on a coast-to-coast demo drive from California to New York without the driver touching the wheel.
During his TED talk yesterday, Musk reiterated that this demo drive is still planned for 2017:
"November or December of this year, we should be able to go from a parking lot in California to a parking lot in New York, no controls touched at any point during the entire journey."
But Musk also said that while the driver wouldn't have to touch the controls, he doesn't think that it would be at a level where someone could just fall asleep at the wheel. When asked when he thinks that will be, he said about 2 years away.
It would mean that between the end of the year and around 2019, Tesla could have a level 4 autonomous system enabled in second generation cars – meaning the vehicles can drive themselves without a driver as backup, but not in all conditions or environment.
It's in line with the expected availability of the system being on the basis of jurisdiction. Unless a clearer national standard is adopted, autonomous driving systems are currently regulated on a state-by-state basis and certain states, like Michigan for example, already have a path to commercial availability of self-driving.
Read more : https://electrek.co/2017/04/29/elon-musk-tesla-plan-level-5-full-autonomous-driving/
09 août 2017
ADAS Can Lead to Higher Auto Insurance Prices
New cars with crash prevention technology and Advanced Driver Assistance Systems (ADAS) are causing auto insurance rates to rise dramatically, according to a Wall Street Journal article published April 3. The article explains that safety features such as autonomous braking, microprocessors and cameras are often located on parts of the car most prone to accidents, such as the bumper. And when these features need replacing, the cost can be five times what it would be without these features.
Read more : http://www.glassbytes.com/2017/04/adas-can-lead-to-higher-auto-insurance-prices/
08 août 2017
Compulsory ADAS for European trucks set to expand
EC drive to cut HGV kill rates will see more mandating of driver assistance technology, discovers Siegfried Mortkowitz [Mob.Mortkowitz.2015.12.21]
Since 1 November, 2015, all new heavy goods vehicles (HGVs) sold in the European Union have had to be equipped with lane departure warning systems (LDWS) and autonomous emergency braking systems (AEBS).
Fitting out trucks and buses with these two advanced driver assistance systems (ADAS) was mandated in an European Commission (EC) regulation published 13 July, 2009 and covers Category M2 and M3 vehicles, which are designed to carry more than eight passengers, and Category N2 and N3 vehicles, which carry goods and weigh more than 3.5 tons.
Certain parts of the mandate are being implemented in stages. New types of vehicles in these classes had to be equipped with these systems by 1 November, 2013. In addition, the mandate foresees two categories of AEB systems, which are dubbed Level 1 and Level 2. These are AEBS performance standards, explains Peter Kronberg, safety director at the Volvo Group, and define the time it takes for a heavy vehicle to reduce speed when approaching a stationary or slow-moving vehicle. According to the mandate, all new heavy vehicles must be equipped with Level 2 AEBS no later than 1 November, 2018. Kronberg says Volvo trucks already meet the Level 2 standard.
Although several classes of vehicles are exempt from the mandates, including urban buses, off-road vehicles and vehicles with more than three axles, this is an important step to making European roads safer. The EC estimates that the addition of these two ADAS systems, as well as the mandated electronic stability control (ESC) system, which went into effect in 2014 for all new vehicles, will prevent some 5,000 road traffic fatalities a year in Europe.
"AEBS is really designed to prevent front-to-rear crashes on motorways and medium- to high-speed roads," Andrew Miller, chief technical officer at Thatcham Research, explains. "And the governments decided to target heavy-goods vehicles because their mass means that when they do crash on a motorway, they cause a lot of damage and a serious threat to life. And they are major contributors occasionally to very serious multi-pileup car crashes."
Read more : http://analysis.tu-auto.com/auto-mobility/compulsory-adas-european-trucks-set-expand