20 septembre 2017
Smartphones, ADAS and the connected car
Forget expensive pedestrian avoidance systems using embedded cameras and radars.
A new system being developed by General Motors explores how pedestrians' smartphones could be used to alert drivers to potential collisions. And the broader automotive community is taking note.
Automakers like Volvo and Toyota have unveiled pedestrian detection in the last few years, but those systems are based on refinements to in-car accident avoidance systems, such as vehicle-embedded cameras and radars.
In GM's case, an app on a pedestrian's smartphone transmits location information via Wi-Fi Direct, a peer-to-peer wireless standard that allows devices to connect directly without a remote access point, much like Bluetooth.
Wi-Fi chipsets in nearby vehicles receive the signal, and onboard notifications—a flashing directional arrow on a console display, in one GM demonstration—alert the driver to the presence of pedestrians or bikers in the area.
"So many people carry cell phones today," says Don Grimm, senior researcher at General Motors, "and Wi-Fi Direct doesn't require a hardware change. Pretty much any Wi-Fi chipset that's out there today, if the vendor provides a driver for it, can operate as a Wi-Fi Direct device."
Lower entry to ADAS
Deployment of the system is still about four years out, but already major car manufacturers like GM are getting serious about using smartphone technology to augment existing safety features on vehicles and to lower the barriers to entry of Advanced Driver Assistance Systems (ADAS) for consumers.
Smartphones may soon play integral roles in getting vehicle-to-vehicle (V2V) and vehicle-to-infrastructure (V2I) systems off the ground as well, analysts say.
One reason is that automakers see huge cost advantages to leveraging the ubiquity of smartphones to bring the latest technology into vehicles. That's the logic driving Ford's Sync App Link, Mercedes-Benz's DriveStyle app and BMW's ConnectedDrive, tools that put the smartphone in the technological driver's seat.
"I think some of the promise with wireless communication is the opportunity to bring some of these safety features to volume vehicles," Grimm says. "We can bring the safety systems of our Cadillac cars to our Chevy fleet."
Roger Lanctot, associate director in the global automotive practice at Strategy Analytics, sees potential in Grimm's goal.
"The idea of enabling an enhanced safety experience in a car by virtue of enabling communication between a driver's mobile device and the roadside or other cars is a compelling and proven proposition," he says. "It's proven for tolling and proven for traffic, and there are existing solutions. It's early days, but I think the technology exists to enhance safe and efficient driving using mobile-device connectivity."
What about DSRC?
GM is currently considering ways that smartphones can complement dedicated short-range communication (DSRC) technology to create feature rich V2V and V2I systems.
Read more : http://analysis.tu-auto.com/safety-adas-autonomous/smartphones-adas-and-connected-car
19 septembre 2017
Course Academic Chair : collaboration between MOVEO Groupement ADAS and INSA Rouen
Groupement ADAS startups and SMEs send their expert to INSA Rouen to teach industrial ADAS aspects to future engineers of INSA Rouen
Here is Gerard YAHIAOUI, CEO of NEXYAD, presenting 4 ADAS software modules (perception of the environment, and risk estimation) and focusing on the notion of real time risk assessment for car mobility, and all the applications (presentation of the module SafetyNex) :
. insurance and fleets prevention programs, and UBI
. ADAS and driverless active braking with anticipation
. data fusion and sensor fusion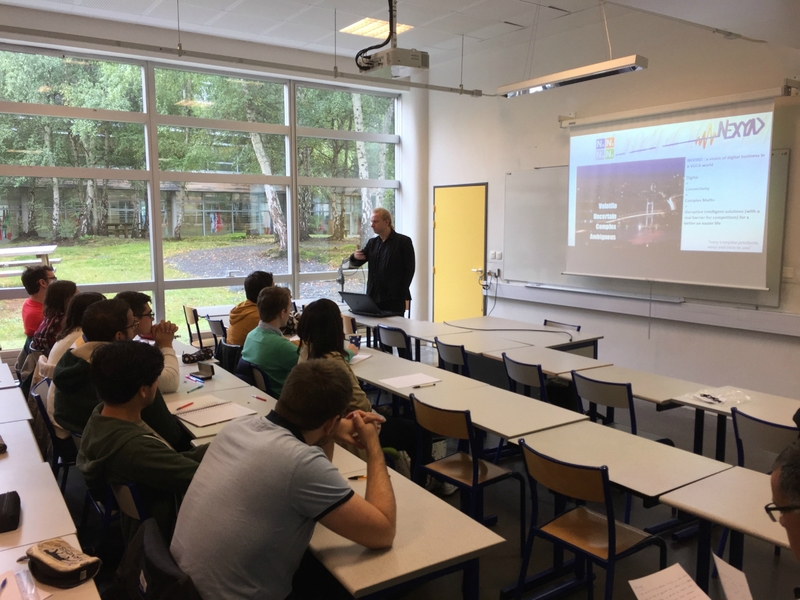 Read more about INSA Rouen : http://www.insa-rouen.fr/accueil?set_language=fr&cl=fr
18 septembre 2017
A ROADMAP TO SAFER DRIVING THROUGH ADVANCED DRIVER ASSISTANCE SYSTEMS
On behalf of MEMA, The Boston Consulting Group (BCG) analyzed the available ADAS (Advanced Driver Assistance Systems) technologies and concluded that if every vehicle on the road were equipped with them, the toll taken on society from vehicle accidents could be sharply reduced. Relatively few vehicles on the road today have these systems, however, and their penetration of the market is growing at only two to five percent annually. Since the vast majority of accidents in the United States are caused by driver error, the lack of adoption of these technologies within the U.S. fleet is a significant missed opportunity. This is especially true considering that ADAS technologies also pave the way to partially and fully autonomous vehicles, which could further reduce accidents—and their cost to society—by 90 percent or more. BCG found:
⊲ Since 2000, the automotive industry has introduced many ADAS features, and several more are being developed. This study focuses on seven features and combinations thereof that are most prevalent in the U.S. market.
⊲ ADAS features can be grouped into three broad categories—those that aid the driver, those that warn the driver, and those that assist the driver in performing certain basic driving functions.
Taken together, ADAS features and sensor technologies are the building blocks of partially autonomous driving, which in certain scenarios will allow a vehicle to accelerate, steer and/or brake without driver intervention. Some partially autonomous features could be available to the public before the end of 2015.
⊲ These features could prevent approximately 9,900 fatalities each year in the United States.
⊲ ADAS features, if widely adopted and properly used, could generate tremendous societal benefits. BCG has calculated that the cumulative safety contribution of available ADAS technologies works out to $16,307 per vehicle over a vehicle's 20-year life.1
⊲ ADAS technologies could deliver a safety return of 98 percent over a vehicle's lifetime, factoring in both economic savings and the avoidance of diminished quality of life.
⊲ Fully autonomous vehicles, which in most situations could operate independently from human intervention, could reduce accidents even more dramatically, cutting them by an estimated 90 percent and generating a safety return of 439 percent.
⊲ Compared with Europe, the United States has made far less progress on the regulation front.
⊲ All stakeholders—vehicle manufacturers; component manufacturers; dealers; regulators; legislators; insurers; rating agencies and consumer publications; industry associations; and consumers themselves—have a role to play in steering consumers toward ADAS adoption.
read more : https://www.mema.org/sites/default/files/MEMA%20BCG%20ADAS%20Report.pdf
17 septembre 2017
Windscreens: Fleet industry needs to work together to maximise the safety benefits of advanced driver assistance systems (ADAS)
There is little doubt that the introduction of ADAS into fleets can significantly improve driver safety - if managed correctly.
However, the speed at which these systems have appeared on the market, and the huge range of different products available, have presented challenges for drivers, fleet operators, dealers, insurers and the vehicle aftermarket.
In reaction to this, we combined forces with road safety charity Brake to host a roundtable event which explored these issues and discussed possible solutions.
Managers from some of the UK's biggest fleets, including Skanska and Balfour Beatty, took part in a debate with experts from Autoglass, Thatcham Research and the ADAS consultancy, SBD, which brought to the fore a number of key considerations.
Some of the primary elements of the discussion are outlined below.
Reliance on technology for safety
The benefits of ADAS and other technologies were emphasised by almost all members. Chris Davies of Autoglass spoke about how human drivers are responsible for 93% of all accidents and how technology can add a safety barrier against human error.
No one technology is completely perfect, however, and the importance of calibration was also emphasised.
The growing reliance on these technologies means even the slightest change can seriously impact the safety of the driver.
If the sensor on the technology is off by even a fraction then this could lead to a wrong calculation and a potential accident.
These sensors often sit on a vehicle's windscreen, and therefore the calibration of the technology after a windscreen replacement is of the utmost importance.
The human element
Despite the pros and cons of the technology for the time being at least fleets are driven by humans and therefore all discussions around technology should be mindful of the inevitable human element that comes into play.
Humans are (predictably) unpredictable and fleet managers must battle with the opposing issues of both over-reliance and mistrust of new technologies.
A number of participants commented on the trend of their drivers switching off the technology, either due to a lack of knowledge, frustrations with the sensitivity of the tech or a sense that their level of driving skill means they don't need it.
Equally, some fleet managers are concerned that their drivers are becoming over reliant on the technology, in a similar way to how drivers now often blindly follow a sat-nav for directions without checking a map.
In the case of ADAS, fleet drivers can use it to either hide their bad driving, or indeed fail to fully concentrate in the belief that technology will save them.
While some of these problems are unavoidable, there was broad agreement that regular training and increased awareness can work to outmanoeuvre some of these issues.
Some level of complacency is inevitable, but the benefits of ADAS outweigh the potential risk.
Overall there was a general consensus that technological capabilities should not replace the importance of being a good, careful driver and understanding the rules of the road.
Equally different types of training and engagement would be needed for different driver groups – commercial vehicle drivers vs company car drivers for example.
The role of dealerships and manufacturers
Training and education was highlighted as the crucial element in off-setting many of these issues.
There was much debate over the course of the roundtable on the role of dealerships and manufacturers and where responsibility lies in terms of raising awareness.
With many dealerships operating within a franchise model, some dealerships do not have the same level of knowledge that the vehicle manufacturer does – many acknowledged the relationship could be fractious.
It was recognised that there is a general misconception that calibration occurs as part of a normal service.
This is not the case; an annual service does not provide a safety net for these technologies and this is an issue.
It was agreed that detailed vehicle handovers are crucial. Expecting a driver to read a new vehicle's manual in extreme detail is unrealistic, therefore succinct handover notes with all the pertinent information can go a long way to educating a driver.
Read more : http://www.fleetnews.co.uk/blog/windscreens-fleet-industry-needs-to-work-together-to-maximise-the-safety-benefits-of-advanced-driver-assistance-systems-adas
16 septembre 2017
Trucking Industry Debates Driver-Assistance Technologies
The National Safety Council and the National Transportation Safety Board hosted a roundtable discussion prior to this week's Fleet Safety Conference here about the future of advanced driver assistance systems in trucking.
The series of discussions brought together leaders in the world of driving assistance technology, the trucking industry, original equipment manufacturers, media, and insurers to talk about the current state of ADAS and how it could most effectively be implemented into commercial trucking.
The session took place on July 24 at the Renaissance Schaumburg Convention Center Hotel in Schaumburg, Ill., the day before the official start of the Fleet Safety Conference, which takes place July 25 to 26.
NSC President and CEO Deborah Hersman, who is a former chair of NTSB, gave an opening address in which she spoke about the importance of ADAS adoption in trucking as a way to improve safety. She implored the industry to trust the technology while acknowledging the difficulty in training drivers and balancing costs for fleets.
"We have to face the fact that heavy-duty vehicles can cause a disproportionate impact in certain events," said Hersman. "We have the potential to use game-changing technology today, but we've got to invest in that technology in fleets and commit to improving that technology with operational experience."
After her keynote, a panel of industry experts opened a series of topical discussions covering the current state of ADAS, driver interaction, regulation vs. voluntary adoption, and challenges of implementation.
Executives from Bendix and Wabco were on hand to discuss the technical aspects of ADAS, including its use of radar and sensors, automatic braking and driver alerts. Fred Andersky, director of customer solutions & marketing and government affairs for Bendix, spoke about the current state of driver assistance systems and how they are already being integrated into vehicles.
Andersky said that the systems designed for heavy-duty vehicles were currently at collision mitigation level one, meaning alerts and some automatic braking, no driver replacement systems. Despite all of the discussion about autonomous vehicles, the industry was not nearly at that point, he said.
Many new vehicles come equipped with or can be equipped with some form of collision mitigation, but with added costs and the possibility of federal mandate, fleets are skeptical. Jim Park, equipment editor for Heavy Duty Trucking magazine, said that he expects fleets to be wary about implementation-- referring to older versions of collision mitigation that were problematic and "not ready for prime time."
When fleets invest in the early version of technologies and they don't work as advertised, they tend to be cautious of the better versions that come out later, even if they are told that all of the kinks are worked out. "Fleets have long memories," said Park.
Read more : http://www.truckinginfo.com/channel/fleet-management/news/story/2017/07/ntsb-roundtable-talks-the-near-future-of-driver-assistance-systems.aspx
15 septembre 2017
The Next Wave in Safety: Crash Avoidance Technology
Compared with how fast the IT industry is evolving, traditionally, auto manufacturers have typically been slower at incorporating advanced safety technology in new models. However, in recent years, automakers have made a complete shift and now focus on technology and data to drive innovation and safety strategy for the future. It's not only a mission for them, but a quest to be the first in releasing new safety technology like crash avoidance.
New technology like crash avoidance systems, assisted driving, and ultimately, autonomous driving, will significantly reduce crashes, lessen the severity of injuries, and help prevent unnecessary deaths.
The Evolution of Safety Technology
The industry has come a long way from the first universal safety measure of installing seat belts. Volvo introduced the three-point seat belt in Sweden in 1959. Once people realized the effectiveness of seat belts in saving lives, they became a requirement. Europe mandated front seat belts in 1965, and lap and shoulder belts were made standard in the U.S. after the National Highway Traffic Safety Administration (NHTSA) was set up in 1966.
Today, automakers and tier one suppliers have fully embraced crash avoidance technology, also known as advanced driver assistance systems (ADAS). Driver safety technology is featured prominently in advertising — in print, tv, and online. As a result of ADAS technology, driver experience and overall road safety have already improved.
Read more : https://www.geotab.com/blog/crash-avoidance/
14 septembre 2017
UK's FiveAI gets $35M to build a taxi service powered by its own self-driving car platform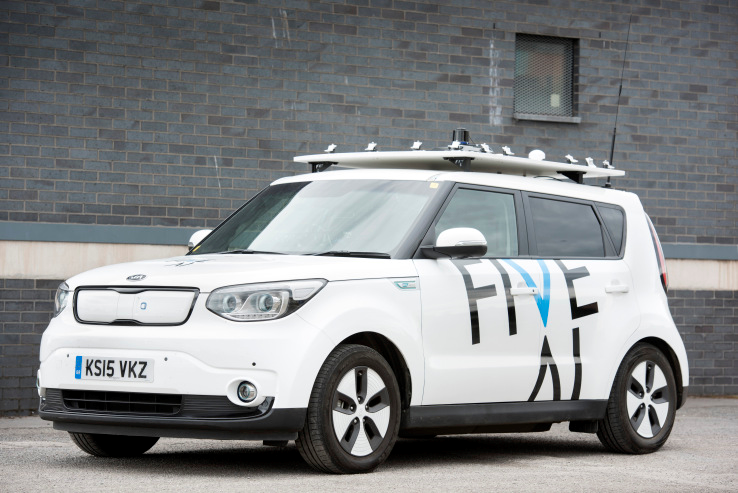 The race is on for autonomous vehicle technology, and now a startup out of the U.K. is the latest to throw its hat into the ring to help build it. Cambridge-based FiveAI — a partner in the U.K.'s StreetWise self-driving project — has raised £14 million ($18 million) and £12.8 million ($17 million) in two tranches to fill out its plans for a two-part business in the world of self-driving services. First, FiveAI is building its own autonomous driving system; and second, FiveAI will use that AI-based platform to take on Uber and other transportation services with a fleet of self-driving taxis.
Lakestar Capital — the firm founded by prolific (and successful) investor Klaus Hommels — led this Series A round, with Amadeus Capital Partners, Notion Capital and Kindred (which all previously invested in its seed round of $2.7 million) also participating.
On top of the Series A, FiveAI will also get a boost in the form of a grant from the U.K. government: it has so far received £12.8 million ($17 million) for StreetWise, a project it's working on with Transport for London, the Transport Research Laboratory, Oxford University, insurer Direct Line and others to develop a self-driving car pilot for London to cut traffic congestion and free up parking spaces. StreetWise is slated for its first test runs at the end of 2019.
There are many, many companies today working on autonomous car systems. They include other startups like Zoox and Nutonomy (which, like FiveAI, are building platforms that they plan to use in their own fleets), transportation providers like Uber, car makers (which themselves are acquiring startup talent to kickstart their efforts), those like Bosch that build in-car systems already and, of course, tech giants like Google, Apple and Baidu that approach cars like the next big hardware challenge.
With the billions in funding and armies of engineers that these companies have to commit to these efforts, FiveAI's Series A and government grant appear very modest indeed.
But Stan Boland — FiveAI's CEO and co-founder — is not one to be deterred. In an interview earlier today in FiveAI's (still sparse) new offices, he made a case for why Europe needs its own startup in this area. For one, our driving culture is completely different and our cities don't look like cities in the U.S. or Asia. And further, he argues that it's high time that we see more moonshots coming from here, building on the region's strength in artificial intelligence.
Read more : https://techcrunch.com/2017/09/05/uks-fiveai-gets-35m-to-build-a-taxi-service-powered-by-its-own-self-driving-car-platform/?ncid=rss&
13 septembre 2017
Comma.ai launches an $88 universal car interface called Panda
George Hotz, aka geohot, is fidgeting in his living room, wearing dark shades and a giant comma on his t-shirt as he shows me his company's latest product, an $88 universal car interface called Panda.
Hotz both lives and works in a residential San Francisco neighborhood with a team of 20-somethings who are helping him build Comma.ai, the self-driving car startup Hotz founded to take on Tesla. Panda is the first bit of hardware Hotz will sell since he canceled his self-driving car kit, the Comma One last year.
The decision to cancel was made after Hotz received a warning letter from the National Highway and Traffic Safety Administration (NHTSA) mandating regulatory compliance. Instead of fighting regulators, Hotz said he decided to open-source the plans, enabling anyone who wanted to build it for free.
Panda is a tiny black and white dongle you port into your car to gather the data and should not come under the same type of regulatory scrutiny as the Comma One. Dongles like Panda are used by most mechanics, and other platforms like Automatic and Mojio operate using these types of car interfaces.
According to Hotz, Panda can give you a wide range of data just by plugging into your car's OBDII port (something every car made after 1996 should have). The dongle comes equipped with both USB and Wi-Fi capabilities and also can charge your phone while on the go.
Along with Panda, Hotz demoed an app called Chffr (pronounced "shiffer") that will record your driving data, and software to interpret that data called Cabana.
Chffr is basically a cloud-connected dashcam and could be useful for those who want recorded video of an accident or just to see how they are driving. Pair the app with a Panda and you can start to record from all the sensors in your car. Assuming your car has all the necessary sensors, that means you'll be able to see when you accelerate, how much gas was in the tank at the time and how hard you hit the brake.
Read more : https://techcrunch.com/2017/07/07/comma-ai-launches-an-88-universal-car-interface-called-panda/
12 septembre 2017
The ADAS Horizon Concept : electronic horizon for ADAS (ADASIS)
As a predictive sensor, digital maps enable drivers to anticipate the road ahead, effectively extending their horizon beyond what is immediately visible and thereby contributing to safer, smarter and cleaner mobility.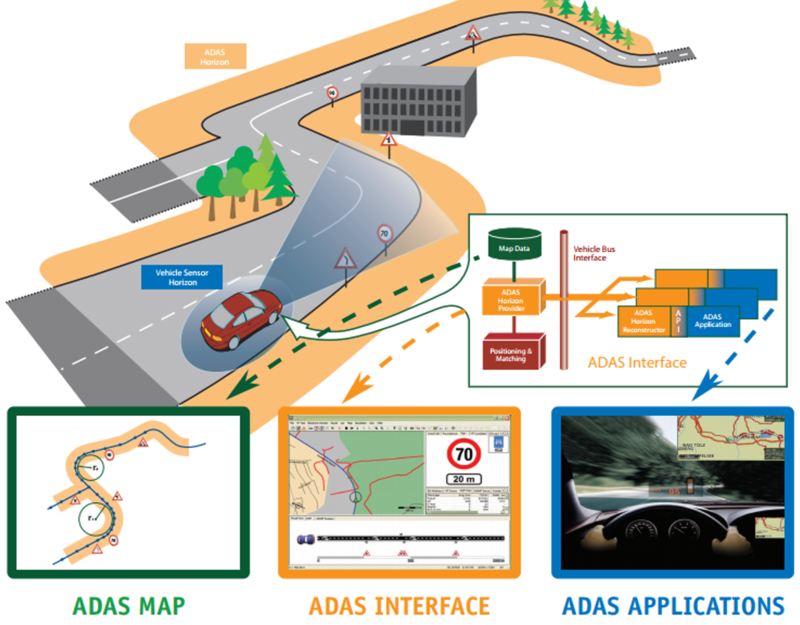 [Aisin AW] Since its founding in 1969, Aisin AW has placed emphasis on quality and innovation and endeavored to develop products that bring satisfaction to our customers under our corporate principle of "Quality Supremacy". We have grown to establish ourselves as the world's largest specialist manufacturer of automatic transmissions (ATs) by market share, and we were able to achieve the cumulative AT production mark of 100 million units in December 2012. We are also undertaking development of future drive systems such as hybrids and EVs for which there are high expectations. In 2004, we were the first component manufacturer to realize hybrid system mass production. Aisin AW is also a pioneer in the field of car navigation systems, succeeding in developing the world's first voice navigation system in 1992. We currently boast a top level production volume within the industry. Aisin AW will continue to move forward development of technologies aimed at working in harmony with nature and the environment, and also aimed toward the "informization" of the vehicle. Navimatic Goal: Doing a new Navimatic prototype based on NDS and the ADASIS protocol. Our Navimatic product is a car equipped with an automatic gearbox and a Navigation system. The navigation system enables to forecast the road ahead in order to drive the gearbox in a more efficient way (by taking curves into account). Current development: We can broadcast an EH between two PC. This EH is built on the basis of a NDS map, and broadcasted by using the ADASIS protocol. On the other side, we use the reference reconstructor to display information on the route ahead. Next development step: Incorporate the "Vehicule Control Judgment" algorithm on the receiver PC. This algorithm implements the first part of the intelligence needed to implement the Navimatic. It analyzes the road ahead and reports information to the gearbox ECU. Final step: Move everything in the car.
Read more : http://adasis.ertico.com/wp-content/uploads/sites/13/2014/09/ADASIS_Brochure.pdf
11 septembre 2017
ADAS is the driverless car's eyes on the future
Autonomous may be set to change the world but ADAS has to be perfect first, as Brendan McNally reports. [Auto.McNally.2016.03.31]
With the World fixated, as it is, on driverless cars, it is a little odd so little attention ever gets paid to its constituent technologies, known collectively as ADAS.
While the prophets of the automotive space, predict driverless cars will be the most disruptive technology ever to come down the pike, the same somehow cannot be said of automatic cruise control, lane departure warning, automatic braking, radar, lidar, ultra-sonics and all the other ADAS technologies without which the autonomous proposition can never be fulfilled. But without the vital spark of autonomy, they are dismissed as too incremental and evolutionary to be considered disruptive.
The fact that many, if not most, new cars in Europe and North America feature at least some driver assistance technology almost doesn't matter since most drivers are, at best, only marginally aware of its presence inside their vehicles. It is odd and ironic but perhaps not necessarily a bad thing since it also allows the technologies something they definitely need: the space and time to continue their incremental evolutionary path without exciting any great amount of legislative or regulatory pressure.
According to Jeremy Carlson, ADAS analyst at IHS, the ADAS market segment is being driven mainly by two things. "The first is the increasing rate of innovation in ADAS technology is so far ahead of the automotive product cycle. This is causing the technology to spread downward from what was once just high-end vehicles to less expensive models. It's also driving the costs down and making it affordable."
ADAS is increasingly about sensors, including the aforementioned plus television cameras, along with the software and algorithms used to bring all the inputs together, fused with the vehicle's acceleration, braking and handling systems to create coherent and usable 'pictures' of the surrounding environment and avoid accidents. To propel this "sensor-fusion revolution" and bring ADAS into the mainstream, a number of global efforts were set up by the automotive industry to push for a harmonisation of technology standards. Chief among these has been something called the "79Ghz Project," an international industry group which has been pushing governments worldwide to allow automotive radar and vehicle-to-vehicle communications to operate within the 79 gigahertz spectrum band, which has been previously allocated to radio astronomy and certain radio location services. Up until now, automotive radar has had to operate at lower, less-than-optimal, frequencies.
Autonomous vehicles will depend on an array of sensors all working together. While the costs of television camera and radars have been driven down to affordable levels the same cannot be said for laser-based lidar or infra-red or ultra-sonics. Anyone who has seen Google's driverless vehicles has probably notice the overly-large "hatbox" assembly mounted on its roof. That is its lidar, built by Velodyne, which uses several dozen lidars each set at different angles and whirling at high speed to create a highly detailed, 3D picture of the vehicle's surroundings. It is key to proving the viability of the autonomous vehicle proposition. What almost no one realises is that the Velodyne lidar unit costs several times more than the vehicle itself. For lidar to be practicable, the cost has to be brought to way down and this is probably one of the reasons, the horizon for driverless car deployment is permanently five to ten years away.
"When the market for millions of high-resolution lidars gets reached, then the unit cost will drop a great deal but they will still not be as cheap as cameras," says software architect and ADAS pioneer, Brad Templeton. "The first commercial units will cost several thousand dollars. After that, they'll probably stay at a thousand but it will probably be years before they go below that." Templeton added that he knows of several projects going on among both Tier One suppliers and some start-ups to develop lower-cost lidars. Along with the advances in hardware, are advancements in software and processing. Sensor-fusion involves both machine- and computer-learning, which requires algorithms and massive levels of data processing at a scale that has not yet been reached.
Read more : http://analysis.tu-auto.com/autonomous-car/adas-driverless-cars-eyes-future