17 août 2018
What's Driving Autonomous Vehicles
Self-driving cars are approaching fast in the rear-view mirror, poised to overtake conventional vehicles within the next decade. Automakers are joining the likes of Google, Uber, and a growing number of start-ups to harness the technological advances that will power next-generation autonomous vehicles.
EXPLORE THE ICONS TO REVEAL KEY TECHNOLOGIES
Cloud-Based Data Processing & Management
Cloud-Based Data Processing & Management
16 août 2018
Self-driving scooter to save riders from self-driving cars
The AB Dynamics self-driving scooter is built on a BMW C1 scooter, fitted with outriggers, GPS gear, self-driving robotics and sensors(Credit: AB Dynamics)
The benefits of self-driving technology for cars and trucks is obvious, but the applications for autonomous technology on vehicles of the two-wheeled variety are a little harder to fathom. All the weather and road rash exposure of a motorcycle, but none of the fun? What's the point? Turns out there's a very good one, and it's all about improving the safety of driverless cars.
Read more : https://newatlas.com/ab-dynamics-self-driving-bmw-scooter/54805/
15 août 2018
If I have to choose between flying cars and self driving car, which one should I choose?
Flying cars are unlikely to ever become a reality.
First, cost. Aircraft cost typically $200,000. A flying car would be at least that expensive, if not more. remember, it has to have a full set of everything a car needs, then it needs a full set of everything an aircraft needs.
Second, license, you need a pilot's license to fly one. That costs typically $8–12,000.
Third, weight. Aircraft have to be very light to fly, and adding all the parts to make an aircraft also work as a car makes it too heavy. See duplication in #1 as well.
Fourth. Maintenance. ALL maintenance and repairs on aircraft have to be performed by FAA certified mechanics. They do not come cheap. In addition, many things on aircraft have a limited lifespan, like engines. Most have to be replaced or overhauled at 2,000–2,500 hours. The going rate to rebuild a 4 cylinder aircraft engine is $20,000 to $27,000.
Fifth, insurance. It would be incredibly expensive. Imaging getting into a minor accident in a parking lot. The repairs are going to be staggeringly expensive, see #4.
In reality, it's cheaper to drive to the airport, fly to your destination in a real aircraft, then rent a car at the far end.
Read more : https://www.quora.com/If-I-have-to-choose-between-flying-cars-and-self-driving-car-which-one-should-I-choose
14 août 2018
The Car of the Future May Have...Legs
Automobiles have played a huge part in American history, but the rise of the gasoline-powered horseless carriage was not preordained. Cars as we know them evolved in response to a specific set of circumstances. Given the proper impetus, they might easily—radically—evolve again.
By the turn of the 20th century, inventors had built engines run by steam and electricity as well as gas. Each had crippling drawbacks. Steam-powered cars took a long time to fire up; electric cars were slow and couldn't go far on a battery charge; and gasoline-powered cars were dirty and required tedious hand-cranking. With every product equally bad, market dominance became a matter of affordability. When Henry Ford introduced the Model T in 1908, he made gasoline cars so cheap that they beat out the competition.
A century later, we may be at another turning point, ready for something safer, faster, less intrusive, and more economical. If we were to begin again, what would leading thinkers outside the auto industry, unburdened by tradition, come up with?
Read more : http://discovermagazine.com/2008/oct/16-for-dr-v-ng
13 août 2018
Global Motorcycle Advanced Driver Assistance System (ADAS) Market 2021 Manufacturers Profiles, Opportunities, Regions, Trends & Forecasts
Global Motorcycle Advanced Driver Assistance System (ADAS) Market report first sheds light on the preliminary data such as definition, applications, product types, manufacturers, regions, sales channel, distributors, traders and dealers. Motorcycle Advanced Driver Assistance System (ADAS) Market research report is a systematically created report after conducting a detailed research of the industry.
The Motorcycle Advanced Driver Assistance System (ADAS) Market is anticipated to increase at a significant CAGR of 27.35% during the years 2017-2021.
The aim of the report is to provide a complete global Motorcycle Advanced Driver Assistance System (ADAS) market overview, starting from the basics of the industry to profiles of top market players.
Some of the top players include Continental, Bosch, BMW Motorrad, Honda, Ducati, Garmin, ZF Friedrichshafen, BWI, Motorcycle Cruise Controls, NXP Semiconductors.
Request for Sample PDF of report athttps://www.absolutereports.com/enquiry/request-sample/10792546
North America (United States, Canada and Mexico)
Europe (Germany, France, UK, Russia and Italy)
Asia-Pacific (China, Japan, Korea, India and Southeast Asia)
South America (Brazil, Argentina, Colombia)
Middle East and Africa (Saudi Arabia, UAE, Egypt, Nigeria and South Africa)
Market Driver
• Increased adoption of ACC in motorcycles to complement use of motorcycle side-view assist system
• For a full, detailed list, view our report
Market Challenge
• Development of frugal innovation of safety system through mechanical system
• For a full, detailed list, view our report
Market Trend
• Adoption of ABS in mass segment motorcycles
• For a full, detailed list, view our report
Motorcycle Advanced Driver Assistance System (ADAS) Market Analysis by Types: Each type is studied as market share, revenue (Million USD), market forecast, price, gross margin and more similar information.
Read full market research report at https://www.absolutereports.com/global-motorcycle-advanced-driver-assistance-system-adas-market-2017-2021-10792546
12 août 2018
Roundtable : Advanced Driver Assistance Systems – Strategies for Increasing Commercial Vehicle (Heavy-Duty Trucks) Adoption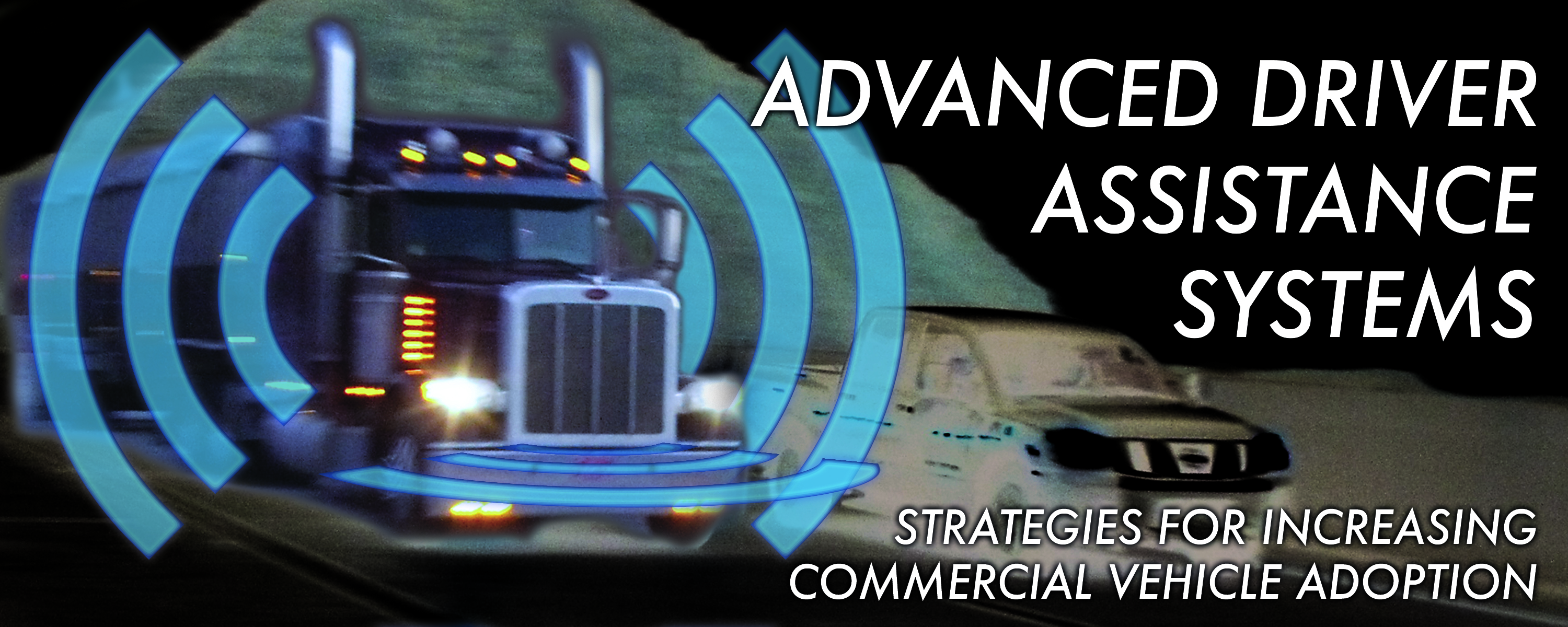 National Transportation Safety Board and National Safety Council will hold a Roundtable on Advanced Driver Assistance Systems for Commercial Trucks.
WHAT:
A roundtable discussion on Advanced Driver Assistance Systems – Strategies for Increasing Commercial Vehicle Adoption co-hosted by the National Transportation Safety Board and the National Safety Council. This event is focused on heavy-duty trucking.
Read more : https://www.ntsb.gov/news/events/Pages/2017-adas-rt.aspx
11 août 2018
Connected Car Insurance USA
Where the connected, shared, on-demand & autonomous vehicle meets auto insurance.
When: September 5 -6, 2018
Where:Marriott Downtown, Chicago, IL

What You'll Learn at the Conference
The Connected Car Insurance USA Conference & Exhibition is the annual meeting place for insurance and technology executives in the automotive industry.
Over 500 senior level attendees will gather to understand how insurance will be impacted by rapidly developing automotive technology – including telematics, IoT, mobility, ADAS & autonomous.
70+ speakers from ecosystem innovators such as Farmers, Progressive, Ford, Metromile, ROOT Car Insurance, USAA, Navistar, Nissan, NAIC, Assurant, Octo Telematics, LexisNexis, Verisk and The Floow will address critical topics from an independently researched agenda.
2018 brings a renewed appetite for connected car data to calculate and understand risk. Driving forces include rising premiums across the nation, an increasing number of traffic accidents and automakers embracing embedded connectivity.
Connected Car Insurance USA 2018 is where technological and regulatory issues are addressed and overcome while new partnerships and business is created.
Who Should Attend
Connected Car Insurance USA attracts the entire auto insurance industry under one roof including automakers, tier 1 insurers, mid-tier insurers telematics service providers, software and hardware.
Read more : http://riskandinsurance.com/connected-car-insurance-usa/
10 août 2018
Global and China UBI Market, 2021- Market-based Reform of Car Insurance Rates Will Bring Unprecedented Opportunities
The "Global and China UBI Industry Report, 2017-2021" report has been added to Research and Markets'offering.
Starting in China in 2012, later than in foreign countries, UBI is primarily developed by mainly referring to foreign products and mature models. Auto insurance, always the largest subsector of property insurance in China, reported original premium income of RMB683.455 billion in 2016, up 10.3% from a year earlier and accounting for 78% of property-insurance original premium income. The reform of commercial car insurance rate management system was piloted from May 2015 and the market-oriented reform of car insurance rate was staged nationwide on July 1, 2016. Also, the rapid evolution of automotive IoT (Internet of Things) gives great impetus to the automotive UBI industry. The Chinese automotive UBI market is expected to value RMB201.8 billion in 2021 at a CAGR of 43.0%.

China's UBI models are led by the "entities + insurers" one. Entities include OEMs, connected car firms, independent service providers, and big data companies.

1. OEMs + Insurers: OEMs usually cooperate with third parties and insurers in UBI field, represented by SAIC Motor + Cihon + CPIC. SAIC Motor and CPIC give a personalized quote for car insurance on auto models carrying OnStar according to consumers' driving habits, mileage, and other factors. Cihon is responsible for data analysis and insurance model development.

2. Connected Car Platforms + Insurers: Connected car platforms are dominated by Aftermarket TSP (telematics service provider) in UBI field. For example, the insurer (PICC), via Shenzhen Autonet's connected car platform, provides car owners with one-key insurance claim, quick settlement of claim, and inquiry of insurance status, and develops floating car insurance business.

3. Independent Service Providers + Insurers: Independent service providers usually acquire customer data via APP + OBD to work with insurers to develop UBI and at the same time provide customers with car maintenance and other services.

4. Big Data + Insurers: In UBI field, some insurers, on the one hand, have self-run platforms, such as Zhong An Online P&C Insurance's O2O car insurance, and on the other hand, co-develop platforms with Internet businesses or other connected car firms. For instance, CPIC organized Internet companies with Baidu and invested in Atzuche. Big data companies employ various methods in UBI field, like Beijing Jingyou Times Information Technology, a provider of database and risk models.
Read more : https://www.prnewswire.com/news-releases/global-and-china-ubi-market-2021--market-based-reform-of-car-insurance-rates-will-bring-unprecedented-opportunities-300541055.html
09 août 2018
South Korea: Hyundai wins licence to test self-driving car on local roads
Hyundai Motor has received a license from the South Korea transport ministry for testing its autonomous-driving car on local roads, a move to facilitate the automaker's plan to commercialize driverless vehicles by 2020.

Korea's largest carmaker plans to test a self-driving Genesis premium sedan, equipped with GPS and the latest sensors, as early as April. The company said it will mobilize more resources to develop fully-autonomous vehicles before its global rivals do and capitalize on this rapidly emerging auto segment.

"We have tested our self-driving vehicles several times before in controlled environments with no other cars on the road," a Hyundai Motor spokesman said. "With this new license, we will be able to test the vehicles in real traffic conditions on designated sections of expressways and regular roads. We will make every effort to become a global leader in this highly-promising segment."

The Ministry of Land, Infrastructure and Transport held a ceremony at the Sejong Government Complex to issue the nation's first license for an autonomous vehicle and license plate to Hyundai Motor. Both license and plate are valid for five years.

On Feb. 12, the automaker filed applications, asking the ministry to grant a license for its Genesis premium sedan and licenses for two drivers who must be in the car at all times it is on the road. The ministry had previously revised the Automobile Management Act, making it possible for self-driving vehicles to be tested on roads and highways.

The Korea Transportation Safety Authority verified that the autonomous Genesis sedan met all the requirements set by the law.

The vehicle is equipped with features including traffic jam assist, highway driving assist and narrow passage assist. It can easily be switched to manual mode when needed, meaning that a person holding the license has to sit in the driver's seat while it is on the road.
Read more : https://www.sbdautomotive.com/en/south-korea-hyundai-wins-licence
08 août 2018
Parcel delivery The future of last mile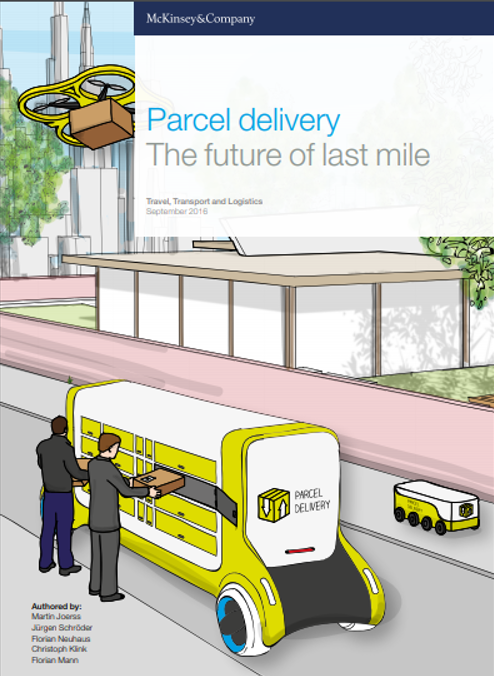 Currently subject to significant disruption, last-mile delivery, especially of parcels, is getting a great deal of attention in the media and from investors – rightfully so. The cost of global parcel delivery, excluding pickup, line-haul, and sorting, amounts to ~ EUR 70 billion, with China, Germany, and the United States accounting for more than 40 percent of the market. However, the market is not just large, it is also highly dynamic, with growth rates in 2015 ranging between 7 and 10 percent in mature markets, such as Germany or the US, and almost 300 percent in developing markets such as India. This means that, in mature markets, volumes could double over the next ten years, reaching roughly 5 billion and 25 billion parcels per year in Germany and the US respectively.1 The largest driver of this growth is not surprisingly e-commerce, which has shifted market share from the B2B to the B2C segment. B2C once made up ~ 40 percent of the market, but has since exceeded 50 percent in a number of countries, including Germany. In addition, the last mile's hefty share in total parcel delivery cost – often reaching or even exceeding 50 percent – makes it a key process step for those seeking to gain a competitive advantage. At the same time, it is precisely at the last mile that many incumbents are struggling, as they often shoulder significant labor cost disadvantages and therefore, all else being equal, competitive disadvantages. Size, growth, and the difficult positioning of incumbents alone already provide ample grounds for studying the future development of the last mile. But there is one more critical factor supporting the case for taking a closer look: the last mile is seeing disruption from new business models that address customer demand for ever faster delivery, as well as new technologies that are likely to reach market readiness over the next ten years, including drones and autonomous ground vehicles (AGVs). Before we jump into the details of our vision of the last mile, we would like to first summarize the three key hypotheses that we later develop and discuss in the remainder of this document.
Read more : https://www.mckinsey.com/~/media/mckinsey/industries/travel%20transport%20and%20logistics/our%20insights/how%20customer%20demands%20are%20reshaping%20last%20mile%20delivery/parcel_delivery_the_future_of_last_mile.ashx