30 septembre 2016
ADVANCED DRIVER ASSISTANCE SYSTEMS FOR TRUCKS
Advanced Driver Assistance Systems (ADASs) are today becoming increasingly common in the market. This also applies to trucks, in particular. In order to quantify the effects of ADASs on truck accidents in Germany, a comprehensive study was performed, using third-party vehicle claims involving personal injury and a total claim value of at least €15,000. This study is based on a total of 443 truck accidents. Statistical methods were used to extrapolate these accidents up to 18,467 claims. To determine the possible effects of ADASs, relevant accident scenarios were identified, and system characteristics for generic ADASs were derived. Different stages of development for some of the systems were defined and evaluated, and the theoretical safety potentials of the generic ADASs were determined by systematic case-by-case analysis. All types of road users (cars, trucks, buses, motorcycles, bicycles, and pedestrians) were included as the other parties to the collisions involving the trucks (gross vehicle weight more than 5,000 kg); singlevehicle truck accidents were also included. The calculated theoretical safety potential of the different ADASs is based on the assumptions that 100% of the truck fleet is equipped with these systems and that the driver reacts perfectly when warned. The conclusions of the analyses are as follows: an autonomous emergency braking system (AEBS), which is able to detect moving and stationary twotrack vehicles, warn the driver and perform a braking maneuver autonomously, was able to prevent up to 12% of all truck accidents in the data sample compared to just 6% for a system that is not able to detect stationary vehicles. The safety potential of a "turningassistant system" and an intelligent rear view camera accounts for 6% of prevented accidents in relation to all truck accidents. Detailed analysis reveals that this covers 55% of all truck accidents against vulnerable road users (VRUs). Compared to current rear-view mirror technology, these assistance systems are much more effective. The theoretical safety potential of a lane departure warning (LDW) system was found to be up to 2%. Nevertheless, this small percentage equates to about 39% of all truck accidents caused by departing the lane. The results of the study indicate that ADASs do not achieve the same safety potential for each of the three truck categories "solo truck", "truck and drawbar trailer" and "semi-trailer truck". This should be taken into consideration for future legislation. Although some of the ADASs examined show considerable safety potential for VRUs, the current European legislation does not take this into account.
read more : http://www-nrd.nhtsa.dot.gov/pdf/esv/esv22/22ESV-000153.pdf
29 septembre 2016
Visit NEXYAD on the BMW booth at Mondial de l'Auto in Paris / Visitez NEXYAD sur le stand BMW au mondial de l'auto
-----------------------> Le 5 Octobre 2016 / 2016 October 5th !!! <--------------
If you want an invitation, please contact NEXYAD : sales@nexyad.net
For press, reception is from 12:00 to 2:00 pm
NEXYAD will present their SafetyNex App that completely changes the world of automotive, as it reduces by 20% road accident rate (reference : http://nexyad.net/Automotive-Transportation/wp-content/uploads/2016/06/Smartphone-App-SafetyNex-reduce-accident.pdf ), a real innovation coming from the French startup.
SafetyNex is the only onboard risk assessment system that warns the driver BEFORE danger (reducing accident rate by 20%), and that provides risk profiles and usage profiles for car insurance.
SafetyNex is available as a smartphone App.
SafetyNex will be soon available as an add-on software for aftermarket telematics devices
SafetyNex will be available in some new cars (already validated on the electronic architecture of a tier one company).
SafetyNex brings a real value to :
. the driver (as it reduces accident rate by 20%, it may save his/her life)
. car manufacturer (if a car runs SafetyNex, then this car is safer)
. car insurance company : reducing the accident rate without moving prices, or pay as you drive, or pay how you drive,
of prevention (training courses focused on the kind of risk is actually taken by a groupe of drivers), or even
silver coaching (helping senior drivers to stay drivers as long as possible without risk)
. fleet manager : reducing accident rate by 20% it lower the price of "self insured" fleet, and by measuring the
individual risk it also helps to control it.
. distribution companies : if they "reward good drivers" then they help the society to improve safety while
they lower their customer acquisition price (NUDGE theory)
SafetyNex (by NEXYAD) was selected by BMW during the BMW Tech Date.
To read more about NEXYAD with BMW : http://nexyad.net/Automotive-Transportation/?tag=bmw
28 septembre 2016
Google demos Self-Driving cars during SXSW weekend
Google brought models of its self-driving cars to SXSW to be tested and get consumer opinion, with Mayors from across the country checking the cars out as well.
"This is so important for the country. We have so many challenges in front of us and the way we're going to address those challenges is through innovation. Bringing technology and working together to try and solve them," said Chris Urmson, the director of Google's Self-Driving cars.
Urmson has been working on the idea since 2009, and believes that in only a few more years it will finally hit the road for real.
The inside view of one of Google's self-driving cars.
Google believes the cars will make trips safer, enable more people to travel such as the sight-impaired or seniors too uncomfortable to drive. Then there's the issue of congestion and stress.
"There are people who enjoy driving but nobody enjoys sitting on I-35 in rush hour. So if you could use that time to read a book or catch up on email or have a nap, you're life is going to be better," said Urmson.
Read more and watch videos : http://kxan.com/2016/03/12/google-demos-self-driving-cars-during-sxsw-weekend/
27 septembre 2016
NEXYAD was at BMW startup GARAGE in MUNICH
NEXYAD was at the BMW Startup GARAGE.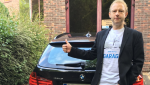 Impressive and interesting.
BMW developed a true program to use as easiest as possible innovations coming from startups.
read more : http://nexyad.net/Automotive-Transportation/?p=2692
NEXYAD is member of MOVEO Groupement ADAS.
26 septembre 2016
Research and Markets: Advanced Driver Assistance Systems (ADAS) Market Analysis 2015-2020 - By Modules (ACC, TPMS, BSD, LDWS, FCMS, AEB); Sensors (Image, RADAR, Laser) & Vehicle (Passenger, LCV, HCV)
Advanced Driver Assistance System (ADAS) have been one of the remarkable breakthroughs in designing applications for advanced safety in automobiles. ADAS is an array of systems and subsystems that incorporates electronic components such as sensors, microcontrollers and software under one roof. The sensors installed in the driver assistance systems are linked with the Electronic Stability Control (ESC) in cars that provide beep signals and direct drivers away from arduous situations that can possibly lead to fatal accidents.
Advanced Driver Assistance Systems are designed to assist drivers in monitoring the vehicle surrounding while driving, whether it be the vehicle ahead or the pedestrians on the roads.
Around 88.35 million automotive safety sensors for driver assistance systems were expected to be shipped worldwide in 2014, with radar sensors leading the market for its wide range of applications. Deployment of Tire Pressure Monitoring System (TPMS) in passenger vehicles in 2014 and Lane Departure Warning Systems (LDWS) in commercial vehicle by 2015, the demand for ADAS is expected to surge up in Europe.
Read more : http://www.businesswire.com/news/home/20150908005966/en/Research-Markets-Advanced-Driver-Assistance-Systems-ADAS
25 septembre 2016
Renault-Nissan to Hire 300 in Bid to Lure Silicon Valley Talent
The Renault-Nissan alliance will begin hiring at least 300 tech experts this month, becoming the latest carmakers to try to lure workers away from Silicon Valley.
Most recruits will be software engineers with experience in vehicle connectivity and mobility services, a category that includes car-sharing, the alliance said. They will join a team led by Ogi Redzic, 45, an executive from Nokia Oyj's former HERE maps unit hiredin January to lead Renault-Nissan's connected-cars initiative.
The move is part of a broader auto-industry push for technology experts to compete with the likes of Uber Technologies Inc., Google and Apple Inc. Last week, luxury-car maker Porsche said it had created a digital unit to seek technology partners and products, while Volkswagen AG's trucks business said it was enlarging its digital division. Ford Motor Co. created a new unit this year called Ford Smart Mobility.
"We are in a global war for talent," Renault-Nissan spokeswoman Rachel Konrad said.
Read more : http://www.bloomberg.com/news/articles/2016-06-01/renault-nissan-to-hire-300-in-bid-to-lure-silicon-valley-talent
24 septembre 2016
Autonomous Cars Will Require a Totally New Kind of Map
AS THE VEHICLE navigated the labyrinthine streets of London and headed for the countryside of Surrey with uncommon speed, the passengers must have felt a bit unnerved. Having selected their destination, they'd relinquished control. They had no communication with the driver, but they could check their progress on a map.
The map must have been reassuring, says Peter Skillman, lead designer for Nokia HERE, the maps division the Finnish communications company. Skillman visited WIRED's San Francisco office recently to talk about HERE's efforts to build high definition maps for autonomous vehicles. But the passengers he was talking about weren't zipping through London in a sleek Audi prototype. They were riding in a stagecoach circa 1720. Skillman had taken a slight detour to show off a map he'd bought recently at an antiquarian map shop in London. Then as now, Skillman said, maps can smooth the transition to a new technology.
'The key to making autonomous driving work is to not forget about the driver.'
Autonomous cars will require maps that differ in several important ways from the maps we use today for turn-by-turn directions. They need to be hi-def. Meter-resolution maps may be good enough for GPS-based navigation, but autonomous cars will need maps that can tell them where the curb is within a few centimeters. They also need to be live, updated second by second with information about accidents, traffic backups, and lane closures. Finally, and this was the point Skillman was trying to make with the 1720 road atlas, they'll need to take human psychology into account and win the trust of their passengers. "The key to making autonomous driving work is to not forget about the driver," Skillman said.
Read more : https://www.wired.com/2014/12/nokia-here-autonomous-car-maps/
23 septembre 2016
SafetyNex App may reduce road accident rate by 20%
I - ONBOARD TELEMATICS AND AUTO INSURANCE : REMINDER
Onboard telematics now can measure behavior of a driver, and therefore, car insurers
have early started this adventure of connected car, more or less successfully.
The simplest applications that have been deployed are:
. locate stolen vehicles
. measure the usage of the driver, and in particular the number of kilometers traveled in order to propose adaptive pricing (vehicle
that always stays in a garage will never have an accident!)
But the main business of the insurer deals with the concept of risk, and then, we have seen a lot of telematics firms proposing automatic detection
of risky behaviors.
The most common is the so-called detection of "severe braking," which is based on the assumption that severe braking
reveals a lack of anticipation, and thereby a dangerous driving.
We now know that this assumption is totally false [1], but it is still in the mind of some insurers that « want to believe » there is a simple way to
classify human beings behaviours.
However, the lack of results of these deployments has led some German and US insurers to abandon Telematics [2].
The company NEXYAD has demonstrated that it is possible to « measure » in real time the risk of driving, and this stimulus now keen interest in telematics
among insurers worldwide. This interest was even increased as NEXYAD won the BMW Tech date challenge with their onboard risk assessment App SafetyNex [3]
SafetyNex works where all other systems fail, simply because the problem was treated in a completely new way, without any « science fashion » consideration,
especially about the deep learning (or machine learning).
Indeed, the difficulties of developing an application of efficient onboard risk estimation are :
. Science and facts : an accident is a rare event and inexplicable (definition : "happens by chance", a driver has got one accident
every 70 000 km, on average, most of which are harmless). Observing a driver during 5 years (to make sure an
accident occured ) is long and ineffective (one accident does little to make individual statistics), and variability factors of "road life situations" are extremely
numerous, so it would take millions of drivers during decades before having relevant statistics.
. Ethics : driving behavior in itself has absolutely no direct link with the risk [1] (indeed we conceive easily that drifting demos on an abandoned airport or just in front
of a school at noon, corresponds to very different risks although the driving behavior is the same : it obviously needs to be "contextualize"). Contextualization (that is
not present in the "severe braking" experiments mentioned before) therefore demand to know, among other things, speed of the vehicle, and where this speed is practiced.
But as digital maps have all recoded the maximum authorized speed, then if you record the speed and geolocation in a cloud ... it potentially saves violations of speed limits.
In many countries, ilcuding France, it is prohibited to record infringement to the law by non accredited organizations (like Insurance Companies). This totally disqualifies
telematics boxes that record raw data in the cloud !
However, some European insurers continue to test this kind of solution in the hope (bu in vain) that the "deep learning" and "data scientists" give their risk scores.
But in any case in France (40 million vehicles market), the violation of the Penal Code is sanctioned and generally pursued by the CNIL [3 bis]. And insurance companies won't
have the opportonity to defend themselves saying 'there is no choice » because SafetyNex estimates risk of driving without recording ANY confidential data !
And it was shown that SafetyNex delivers every needed data to insurance companies (without any violation of driver's privacy).
We can see with these two constraints that the solution of " big data statistics in the cloud using machine learning" can not be applied:
. statistics (or deep learning etc): accident is rare soi t won't work at the individual level
. in the cloud: this is contrary to the laws that protect privacy of people.
Read more : http://www.nexyad-adas.com/ & http://nexyad.net/Automotive-Transportation/?p=2687
22 septembre 2016
How the Future of Driverless Trucks Will Disrupt the Global Economy
(DDAIF, VLKAY)
Recently, about a dozen trucks from major manufacturers including Volvo, Daimler AG (OTC: DDAIF) and Volkswagen (OTCMKTS: VLKAY) completed a week of autonomous driving across Europe, to take part in the European Truck Platooning Challenge, organized by the Dutch government as one of biggest events for its 2016 presidency of the European Union.
Truck "platooning" involves a few trucks linked wirelessly that autonomously follow one leading truck determining route and speed. The platoon of wireless-linked trucks arrived in Rotterdam, Netherlands, signifying a win for the future of driverless transport with the first ever border-crossing trip of its kind. Trucks arrived from factories as far as Southern Germany and Sweden. The news shed light on the ability of driverless trucks to completely disrupt the economy.
The Economics of Autonomous Vehicles
According to Navigant Research, sales of autonomous vehicles will grow from fewer than 8,000 annually in 2020 to 95.4 million in 2035, representing 75% of all light-duty vehicle sales. With most innovation, comes the backlash from traditional suppliers and laborers, as the economy is not always quick to adjust.
Smart car manufacturers point to the increased efficiency, safety and price performance of the driverless convoys versus traditional human drivers. The advantage of an automatic truck in decreasing time and improving efficiency is the ability to stay at a more consistent speed, eliminating heavily congested roads and highways.

Read more: How the Future of Driverless Trucks Will Disrupt the Global Economy (DDAIF, VLKAY) | Investopedia http://www.investopedia.com/articles/markets/053116/how-future-driverless-trucks-will-disrupt-global-economy-ddaif-vlkay.asp#ixzz4KXz0DVcv
Follow: Investopedia on Facebook
21 septembre 2016
Enhancing safety
Transport is increasing and safety is becoming even more important. Ninety percent of accidents are caused by driver error. So to handle difficult traffic situations in the future our researchers are working to make vehicles smarter than ever before, helping the driver to avoid potentially dangerous situations.
Today's Advanced Driver Assistance Systems (ADAS) include, for example, warning systems and driver awareness support. In most cases the driver is simply warned when something is wrong.
Tomorrow's smart vehicle
The next step in safety is to increase the vehicle's intelligence, for example by developing vehicles that can assist the driver in avoiding a crash.
• Active steering
Today's Lane Keeping Support warns the driver when the vehicle is about to swerve into a different lane. Volvo Group researchers are now also looking into the possibility of having the truck help the driver to avoid lane change accidents by giving full lateral support.
• Intelligent cooperative systems
Intelligent Co-operative Systems involve both communication between vehicles and between the vehicle and the infrastructure. Information on traffic, speeds, positions, accidents and much more will be sent automatically between vehicles and the infrastructure, resulting in increased road safety, reduced congestion, more predictable time frames for travel and much more.
Read more : http://www.volvogroup.com/group/global/en-gb/researchandtechnology/transport_society/enhancing_safety/Pages/Intelligent%20safety%20for%20transport.aspx