22 octobre 2018
Artificial intelligence enters ADAS
Road traffic holds many complex situations in store - situations that could possibly overtax a conventional driver assistance system. In a joint project with Technical University Darmstadt (Germany), automotive supplier Continental has now investigated the use of machine learning in such systems. The "trustworthiness" of the AI plays an important role.
In the fourth round of the Proreta research project, the partners Continental and TU Darmstadt developed a machine-learning vehicle system that supports drivers in inner-city traffic situations and implemented a prototype. Data from radar sensors help to assess the traffic situation when turning left, entering a roundabout or passing right-over-left junctions. Machine Learning mechanisms were used in the project to generate algorithms that use various vehicle data to generate a current driving type profile of the person behind the steering wheel. On this basis, the City Assistant System's recommendations for driving manoeuvres are adapted to the driver's driving style.
read more : http://www.eenewsautomotive.com/news/artificial-intelligence-enters-adas
21 octobre 2018
The Future of Connected Vehicles
An estimated 21 million connected vehicles are on the road today, gathering endless amounts of data. How does this data impact the way we do business and transform the world around us?
A few decades ago, personal vehicle and fleet navigation was completely dependent on paper road maps that no one ever knew how to fold! Digital maps are one of the many examples of how technology has completely revolutionized our world. Mapping the world on the internet rather than on paper has not only changed the way we navigate but also opened up various new business models like UBER and OLA, which we now take for granted.
Autonomous vehicles are here to stay with most manufacturers investing heavily in this direction to make their vehicles part of a connected world. Whether it is your own car or the truck that your business owns, all these are now becoming part of an expanding connected world.
Connectivity is emerging as a key differentiator, changing the landscape of the entire fleet and logistics industry. Technological trends like Artificial Intelligence, Big data, and the Internet of Things (IoT) are transforming business processes, workflows, and business models. Technology is efficaciously advancing at breakneck speeds, bringing changes and creating challenges, even evoking apprehension among businesses. Only those who adapt to these technological advancements early can successfully compete in this changing ecosystem.
What do these technological changes mean for your business? Data from the connected world empowers decision-making. It optimizes the business processes and makes operations smooth and effortless with statistical decisions and automated workflows. Eventually, it is like interweaving threads of the warp and weft to create an intricately planned design in a fabric, effective coalescing of the various aspects of a business such as machines, manpower, operations, and customers are made possible through the use of technology.
Logistics is one such industry evolving under the influence of IoT's digital transformation. Not long ago, knowing where your fleet is, and when it will arrive, had various unknowns. But today, you can actually track a cargo from its loading, while on transit, its condition along the way, optimize the route along the way, ensure it is secure with geo-fencing, and know exactly when it will get delivered. Data brings visibility into the process, reduces the unknowns, and increases efficiency.
read more : https://dzone.com/articles/the-future-of-connected-vehicles
20 octobre 2018
The Connected Car and Its Impact on Fleet Management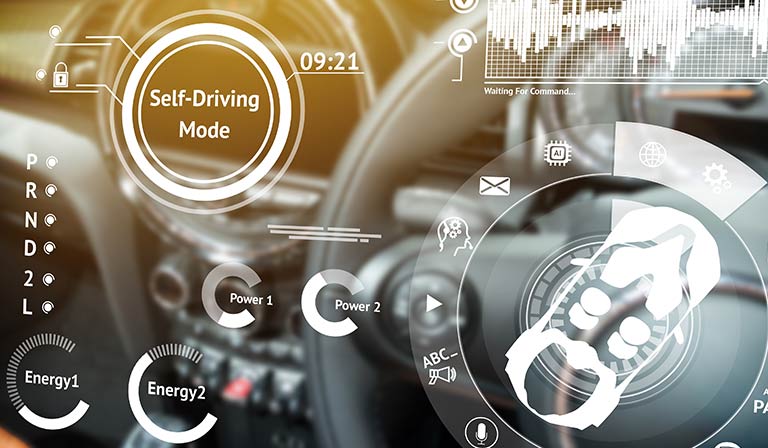 Technology is disrupting the trucking industry in a way we have never seen before. As automakers continue to innovate and define the future of the connected car and autonomous vehicles, the commercial transportation industry is taking note, and fleet managers are adjusting the way they oversee their vehicles and drivers.
Imagine one of your rigs is cruising down the highway at a crisp clip. Traffic is not an issue because more than half of the vehicles on the road – including semi-trucks – are fully, or at least partially, autonomous. The vehicle automatically knows the best route to avoid traffic or adverse weather conditions. Therefore, instead of focusing on the road, your drivers are spending their drive time catching up on their log of activities or reading a good book without cutting into trip productivity.
Other technologies, such as video conferencing, mean long-haul drivers who spend weeks or months away from their families can be closer than ever, even when they are 3,000 miles away.
This is a reality five to 10 years away (depending on who you ask), and it is possible thanks to the innovations in connected car technology. There is a major metamorphosis happening in the transportation industry, and connectivity in and out of the vehicle is at the heart of the transformation.
read more : https://www.teletracnavman.co.uk/blog/connected-car-impact-fleet-management
19 octobre 2018
Artificial Intelligence Systems for Autonomous Driving On the Rise, IHS Says
As the complexity and penetration of in-vehicle infotainment systems and advanced driver assistance systems (ADAS) increases, there is a growing need for hardware and software solutions that support artificial intelligence, which uses electronics and software to emulate the functions of the human brain. In fact, unit shipments of artificial intelligence (AI) systems used in infotainment and ADAS systems are expected to rise from just 7 million in 2015 to 122 million by 2025, according to IHS Inc. (NYSE: IHS), the leading global source of critical information and insight. The attach rate of AI-based systems in new vehicles was 8 percent in 2015, and the vast majority were focused on speech recognition. However, that number is forecast to rise to 109 percent in 2025, as there will be multiple AI systems of various types installed in many cars.
"An artificial-intelligence system continuously learns from experience and by its ability to discern and recognize its surroundings," said Luca De Ambroggi, principal analyst-automotive semiconductors, IHS Technology. "It learns, as human beings do, from real sounds, images, and other sensory inputs. The system recognizes the car's environment and evaluates the contextual implications for the moving car."
read more : https://technology.ihs.com/579746/artificial-intelligence-systems-for-autonomous-driving-on-the-rise-ihs-says
18 octobre 2018
Advanced Driver Assistance Systems (ADAS) Market Size, Share & Trend Analysis
The global Advanced Driver Assistance Systems (ADAS) market size was estimated at USD 14.15 billion in 2016. Increasing demand for these systems in compact cars is anticipated to be a key factor driving market growth. Additionally, increasing government regulations for mandatory implementation of ADAS in vehicles is anticipated to grow the demand for these systems over the forecast period.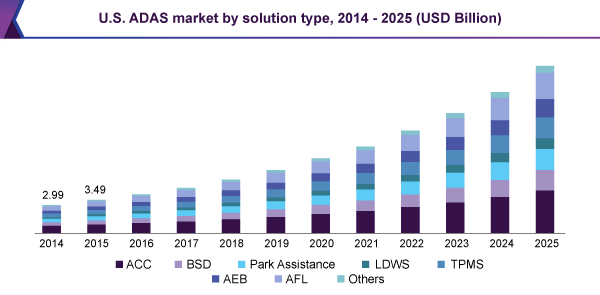 The rising demand for advanced systems such as drowsiness monitoring, night vision, and road sign recognition system is expected to impact the overall industry over the next seven years. The demand for traditional ADAS systems such as adaptive cruise control, autonomous emergency braking system are anticipated to grow exponentially owing to increased government regulations to reduce road accidents and improve road safety. For instance, the European Union has passed a bill which mandates the implementation of adaptive cruise control systems in heavy commercial vehicles by 2020, which is further projected to spurs the industry demand for these systems in European countries.
read more : https://www.grandviewresearch.com/industry-analysis/advanced-driver-assistance-systems-adas-market
17 octobre 2018
By 2021, you could be sitting behind the wheel of a truly driverless Volvo. The Swedish automaker's research and development chief recently told The Car Connection that the company is planning to sell a Level 4 self-driving crossover SUV in 2021. Level 4 autonomy describes cars that can drive themselves without any human interaction, other than entering a final destination.
According to Volvo Senior Vice President Henrik Green, the next-generation XC90 will be assembled near Charleston, South Carolina, and should be able to take "sleeping passengers" from Point A to Point B. Of course, only limited roadways would be eligible for these cars to drive on, but even so, this could be a huge step forward in the world of autonomous vehicles. According to Green, the goal, for now, is to partially automate commutes.
The proposed technology would be dubbed Highway Assist, which sounds a whole lot like Pilot Assist, a feature Volvo already supports on its existing models. But don't assume that Highway Assist will come standard on Volvo vehicles — rather, it would be a premium addition to the XC90, and would set back dedicated drivers (or non-drivers, as it were) "four figures." Of course, that leaves quite a range to be considered, and we've yet to find out a concrete price tag.
Read more : https://www.digitaltrends.com/cars/volvo-xc-90-level-4-autonomy/
16 octobre 2018
REAL TIME DRIVING RISK ASSESSMENT MODULE SafetyNex RECUDES ACCIDENT RATE BY 20%
SafetyNex is a XAI technology (eXplanable Artificial Inteligence : see DARPA research program) that compute in real time (example : 20 times by second) the risk that the driver is currently taking.
. If driver is a human being, applications are :
. Vocal Driving Assistant : alert driver when risk rises too much, making driver slow down and avoid accident (reduces
accident rate by 20%)
. ACC : if braking system is robotized then make the car automatically brake in order to keep risk under a maximum
accepted value
. If driver is a computer program (Autonomous Driving), applications are :
. adapt Autonomous Driving System in order to keep risk under a maximum accepted value.
SafetyNex can be tested on a demo smartphone App proposed by NEXYAD :
SafetyNex is currently under integration into automotive and telematics producs (OEMs, Tier One Companies, Insurers, Fleet Managers, ...)
Read more : https://www.safetynex.nexyad.net/?page_id=332
15 octobre 2018
Commentary: Are Autonomous Trucks Job Killers?
Autonomous trucks could potentially change the entire industry and it may affect trucking jobs first.
Well, wrong to a point. And an important point, because amidst staged traffic on that highway, the Future Truck 2025 had limitations. It could indeed travel with no driver intervention without bumping into other vehicles, and the driver could indeed concentrate on his tablet to reserve a parking spot down the road. But there was lots it couldn't do – like pass another truck or exit the highway on its own. This was Level 3 autonomy, which most definitely requires a driver. Level 5 would be truly driverless, and we're not there yet, though the requisite technology is close.
Nevertheless, that Actros was labelled a "driverless truck," and the folks who earn their living at the wheel hauling stuff down the interstates immediately cried en masse, "There goes our livelihood."
They were wrong, too, as I wrote at the time, saying that such a huge transformation wouldn't happen anytime soon. I still think that way, but a new report offers an in-depth look at the potential impact of autonomous trucks on driving jobs, and it doesn't paint a pretty picture. Jointly commissioned by the UC Berkeley Center for Labor Research and Education and Working Partnerships USA, its title is "Driverless? Autonomous Trucks and the Future of the American Trucker."
read more : https://www.truckinginfo.com/314890/commentary-are-autonomous-trucks-job-killers
14 octobre 2018
Jaguar Land Rover Recalls Three Models for Autonomous Braking System
Jaguar Land Rover North America, LLC, is recalling an estimated 86 2018 Land Rover Range Rover, Land Rover Range Rover Sport and Land Rover Discovery vehicles because the autonomous emergency braking (AEB) system may disable without warning the driver.
Jaguar Land Rover North America, LLC, is recalling an estimated 86 2018 Land Rover Range Rover, Land Rover Range Rover Sport and Land Rover Discovery vehicles because the autonomous emergency braking (AEB) system may disable without warning the driver.
In the event the AEB malfunctions without warning and fails to intervene when needed, there is an increased chance of a collision.
read more : https://www.automotive-fleet.com/315085/jaguar-land-rover-recalls-three-models-for-autonomous-braking-system
13 octobre 2018
CEOs in Autonomous Vehicles with KCATA's Makinen
Earlier this year at the ThinkTransit Conference, attendees were lucky enough to experience a demo of an autonomous vehicle. But, it wasn't just attendees. Paul Comfort, VP of Business Development at Trapeze Group, took advantage of the opportunity and sat down with some of the top transit leaders to discuss autonomous vehicles.
One of the most innovative CEOs in America and CEO of Kansas City Area Transportation Authority (KCATA), Robbie Makinen, joined Paul Comfort to discuss the need to interweave new technology into public transportation. He also shared an idea of how KCATA might adopt autonomous vehicles into their service.
read more (and watch video) : http://www.metro-magazine.com/technology/news/731381/ceos-in-autonomous-vehicles-with-robbie-makinen