21 juin 2018
Gauging the disruptive power of robo-taxis in autonomous driving
The self-driving taxi could ultimately take the global auto industry on a wild ride. Our use-case approach reveals why.
Personal mobility could change profoundly in the next two decades. Consumers, who increasingly view mobility as a service, want more choices for traveling between points A and B, including ride hailing, car sharing, and perhaps even self-driving "robo-taxis." For automakers, the proposed changes could replace the industry's traditional emphasis on "moving metal" with new schemes to capture greater profits per mile or per trip. The focus may even expand from monetizing new mobility models to monetizing the time consumers spend in vehicles.
Autonomous vehicles (AVs) could play a key role in this transformation. But the industry tends to view the phenomenon mainly through a technology lens, which, while important, only addresses part of the challenge. Industry discussions often focus on autonomous-driving levels, such as the Society of Automotive Engineers' conditional, high, or full-automation specifications (SAE levels 3, 4, or 5, respectively). However, automakers also need to fill in several other gaping holes to understand autonomous-driving issues fully. That requires an ecosystem approach (for more on broader shifts in the landscape, see sidebar, "Measuring the robo-taxi's disruptive potential across automotive trends").
Unlocking the AV ecosystem via use cases
Building a successful AV ecosystem requires four perspectives. The first centers on the technology involved: What can it do now, and how soon will it be able to do more? Regulation comes next: How will it and associated policy-making initiatives create opportunities for deployment? Third, the customers: Who are they, and how willing are they to use the product? For example, from a total-cost-of-ownership (TCO) perspective, will consumers still buy private cars when AV taxis become commonplace, or will they switch to this new mobility option? Fourth, the business case: Is it profitable and sustainable? In other words, will shared robo-taxis disrupt today's shared-mobility market?
Use cases can also help regulators understand how policies might have to change in different situations. For example, in a "geofenced" area (one where the AV cannot leave the area), a private AV might face different regulations than an L4 robo-taxi. Similarly, an L4 robo-taxi operating in a city may face different regulations than an L4 interstate truck, even though both meet the same L4 readiness standards.
The use case–based framework (Exhibit 1) enables businesses to understand the underlying technology needed, the focus of regulations, the customer, and the impact on future value pools and go-to-market strategies—all elements of an AV ecosystem.
Exhibit 1
20 juin 2018
Dubai tests autonomous pods in drive for smart city
Dubai has begun testing autonomous pods in a trial run the Gulf's trade and tourism hub hopes will help its transformation into one of the smartest cities in the world.
Officials from Dubai's Roads and Transport Authority (RTA) displayed two cube-shaped vehicles built by U.S.-based Next Future Transportation company in Italy as they spun around on a main street in Dubai.
Passersby stopped to try out the six-seat vehicles and question the Italian engineers overseeing the test.
RTA officials said they have allocated 1.5 million dirhams ($410,000) for further research and development of the vehicles, which Dubai hopes to use for local transportation under the city's 2030 Dubai Future Accelerators, which aims to make 25 percent of daily transportation self-driven.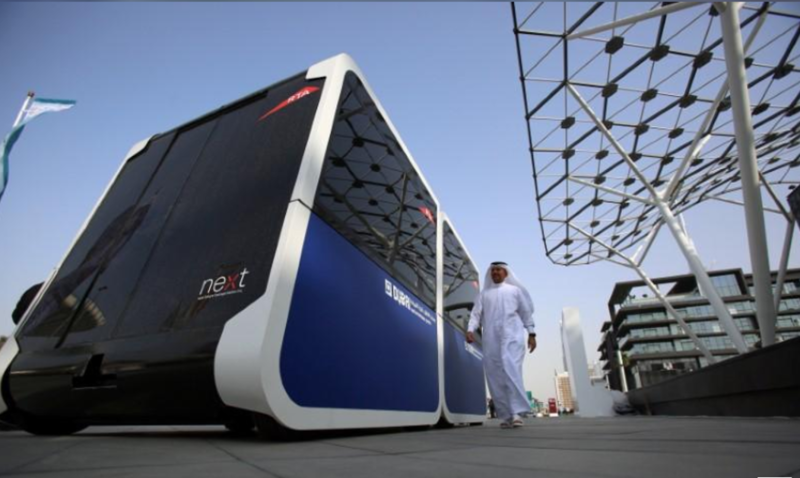 Read more : https://www.reuters.com/article/us-emirates-transportation-autonomous/dubai-tests-autonomous-pods-in-drive-for-smart-city-idUSKCN1GD5G6
19 juin 2018
Production of the new QX80 is underway at INFINITI's Kyushu production facility in Japan, and it will go on sale in select INFINITI markets across North America, Asia, Western Europe and the Middle East at the end of 2017.
The new QX80 offers a range of drive assist technologies – proactive safety innovations that support the driver in identifying and responding to other vehicles and potential hazards. Drawing on inputs from five cameras and three radars to read the road ahead and monitor the vehicle's surroundings, the system allows the car to react accordingly.
The 2018 QX80 is available with a range of technologies to inform the driver of their surroundings, help them avoid potential hazards and ease the monotony of driving in certain conditions. These technologies include: Lane Departure Warning and Prevention, Intelligent Cruise Control, Distance Control Assist, Predictive Forward Collision Warning, Forward Emergency Braking, Blind Spot Warning and Intervention and Backup Collision Intervention.
The drive assist technologies can operate between 20 and 90 mph, while Intelligent Cruise Control can operate down to just 1 mph.
read more : http://safecarnews.com/2018-infiniti-qx80-gets-new-adas-features/
18 juin 2018
The most impressive things Tesla's cars can do in Autopilot
Tesla's Autopilot feature gives its cars semi-autonomous capabilities.
While driving with Autopilot activated, a Tesla vehicle can regulate its speed, change lanes, and park without driver assistance.
Tesla customers can buy the Autopilot feature for $5,000.
---
Tesla's Autopilot feature has become the subject of controversy after a Model S crashed into a fire truck on January 22 while possibly using the feature. The National Transportation Safety Board and National Highway Traffic Safety Administration will investigate the incident.
While Tesla's Autopilot system is not supposed to replace a human driver yet, it can help drivers navigate highways and parking lots, and the company says every vehicle currently being produced in its factory has the hardware for complete, autonomous driving that could be activated when the necessary software and government regulations come into place.
Here's what Tesla's Autopilot feature can do now, and what it might be able to do in the future:
Tesla introduced its Autopilot feature in 2015. It gives its cars the ability to drive autonomously in some situations. Last year, the company rolled out new hardware on all of its vehicles. The new hardware suite enables the latest iteration of the driving system, which is called Enhanced Autopilot.
Tesla
Tesla cars made since October 2016 come with eight cameras that have a complete, 360-degree range of vision around the car. Each of the cameras can see up to 250 meters away.
Tesla
Twelve ultrasonic sensors make sure the car can recognize and avoid both hard and soft objects.
Tesla
A radar system helps the car see through fog, heavy rain, dust, or a car in front of it.
Tesla
17 juin 2018
Who's Winning the Self-Driving Car Race?
A scorecard breaking down everyone from Alphabet's Waymo to Zoox.
In the race to start the world's first driving business without human drivers, everyone is chasing Alphabet Inc.'s Waymo.
The Google sibling has cleared the way to beat its nearest rivals, General Motors Co. and a couple of other players, by at least a year to introduce driverless cars to the public. A deal reached in January to buy thousands of additional Chrysler Pacifica minivans, which get kitted out with sensors that can see hundreds of yards in any direction, puts Waymo's lead into stark relief. No other company is offering for-hire rides yet, let alone preparing to carry passengers in more than one city this year.
GM plans to start a ride-hailing service with its Chevrolet Bolt—the one with no steering wheel or pedals, the ultimate goal in autonomous technology—late next year, assuming the U.S. government has protocols in place by then. SoftBank Vision Fund, the gigantic Japanese tech investor, backed that plan on May 31 by dropping $2.25 billion into GM Cruise Holdings, the automaker's autonomous drive unit. Most of the others trying solve the last remaining self-driving puzzles are more cautious, targeting 2020 or later.
The road to autonomy is long and exceedingly complicated. It can also be dangerous: Two high-profile efforts, from Uber Technologies Inc. and Tesla Inc., were involved in crashes that caused the death of a pedestrian (in the first known case of a person killed by a self-driving vehicle) and a driver using an assistance program touted as a precursor to autonomy. One of Waymo's autonomous vans was involved in a collision just last week. But the perceived stakes are so enormous, with the promise of transport businesses needing little in labor costs, that many players are racing to master the technology and put it to work.
Without drivers, operating margins could be ... more than twice what carmakers generate right now
In the next three years, almost all of these contenders will be able show off cars capable of navigating city streets at casual speeds along firmly fixed routes. Most of the companies now building autonomous vehicles can already handle basic driving at low speeds. This can give an impression of parity and sameness. Yet despite being in its infancy, autonomous driving has leaders starting to emerge.
"Waymo has developed a phenomenal system and is ahead of the pack," said Brian Collie, head of Boston Consulting Group's U.S. automotive practice, who singled out the top two. "But that's very different from being able to manufacture an autonomous vehicle. You have to look at GM. In Europe, Daimler is leading the pack."
The finish line isn't just reaching Level 4 on the five-step scale of autonomous driving. That's the threshold at which a car can drive on pre-mapped routes and handle anything on its planned course without the intervention of a driver. Only Waymo has tested Level 4 vehicles on passengers who aren't its employees—and those people volunteered to be test subjects. No one has yet demonstrated at Level 5, where the car is so independent that there's no steering wheel.
The victors will also need to pioneer businesses around the technology. Delivery and taxi services capable of generating huge profits is the end game for all.
Goldman Sachs Group Inc. predicts that robo-taxis will help the ride-hailing and -sharing business grow from $5 billion in revenue today to $285 billion by 2030. There are grand hopes for this business. Without drivers, operating margins could be in the 20 percent range, more than twice what carmakers generate right now. If that kind of growth and profit come to pass—very big ifs—it would be almost three times what GM makes in a year. And that doesn't begin to count the money to be made in delivery.
Why does it matter who gets there first? To make a driverless business work takes a big fleet to establish service in major markets, as well as a brand name that becomes as synonymous with getting a ride as Uber is today. Observers expect the field to narrow.
For now, investors are throwing money at possible winners
"There won't be a ton of companies doing this," Collie said. "There will be a select few. Being there first establishes consumer trust. Brand value matters."
For now, investors are throwing money at possible winners. Tesla's valuation soared in 2016 after an analyst from Morgan Stanley, also its lead underwriter, speculated that the company's electric cars would spawn a self-driving fleet. GM shares are up 20 percent since a June 2017 announcement that a plant to build driverless vehicles was up and running. Zoox Inc. has already raised $360 million, a huge sum for a startup with no revenue.
Read more : https://www.bloomberg.com/news/features/2018-05-07/who-s-winning-the-self-driving-car-race
16 juin 2018
What Are the Safety Features in Autonomous Cars?
Autonomous cars are still making their way into the automotive marketplace, but they are becoming more and more common every year. It's a fantastic change — experts are estimating that more autonomous cars on the road will reduce accidents by up to 90 percent, saving a potential 30,000 lives every year. What makes autonomous cars so much safer, and what are the newest safety features that have been implemented in these vehicles?
Emergency Braking
Emergency braking is a feature in many passenger cars, even those that lack self-driving capabilities. The car uses cameras to judge the distance between itself and the surrounding traffic, and engages the brakes if there is a collision danger. This system may also include a warning system to alert the driver if there is an imminent collision.
Lane Control
Cameras can also ensure an autonomous car does not depart from its assigned lane unnecessarily. Continuous steering ensures the car stays centered within its lane.
Lane control is another safety feature that has been implemented in many current passenger models, even those that don't have an autopilot yet. The cameras are programmed to read the lane markings to keep your car going where it's supposed to be, and warn you if you start drifting out of your lane.
Upgraded Windshields
The new Tesla Model 3 is the first partially autonomous car to feature an upgraded windshield. Not only is Tesla making the glass in-house — it's designed to be more lightweight, provide better insulation and be more durable than traditional window glass.
Windshields are more than just a safety feature. Upgraded window glass allows for more integrated software and hardware, and could even potentially lead to the eventual elimination of traditional safety equipment like side and rearview mirrors.
Read more : https://www.automotive-iq.com/autonomous-drive/articles/what-are-safety-features-autonomous-cars
15 juin 2018
Safety and self-driving vehicles
The government wants to promote self-driving vehicles as a key feature of its strategy for economic growth. At a meeting last month of the government council on investing in the future, Prime Minister Shinzo Abe hailed autonomous driving technology as "a major weapon for a productivity revolution" and ordered relevant ministries and agencies to accelerate work on regulations permitting self-driving cars. Road testing has already begun in Japan under tight conditions, and the government has an ambitious target of seeing road use of fully autonomous vehicles by 2025.
Two fatal accidents involving self-driving cars during road tests in the United States in March, however, placed a renewed focus on the safety of autonomous driving technology. Some companies, including Toyota Motor Corp., have suspended road tests for their self-driving cars in the U.S. The accidents serve as a reminder that popular use of autonomous vehicles must be based on a broad social consensus that they are a safe and convenient means of transport. To build such a consensus, further efforts must be made to improve the safety of self-driving hardware and software alike.
The intensifying global competition to develop self-driving vehicles has involved not just automakers but companies from the IT and electronics sectors. It is no longer a dream technology of the future, as testing is taking place on public roads and commercial use is envisioned only a few years away. Taking the lead in autonomous vehicles will be crucial for the future of Japan's auto industry and, given its wide-reaching impact on related sectors, the nation's economy as a whole.
Self-driving vehicles hold the promise of making traffic safer and smoother. The technology is expected to reduce traffic accidents, a large number of which are attributed to driver error and carelessness, and cut back on traffic jams through the more smooth operation of autonomous vehicles.
There are expectations that self-driving technology will address problems stemming from Japan's demographic woes. With the rapid aging of the population, large numbers of elderly motorists are giving up their license as they worry about their driving ability. In rural depopulated areas, reduced public transportation services creates a challenge for elderly residents. Autonomous vehicles could meet the daily transport needs of these senior citizens. Self-driving technology is also counted on as a solution to the increasingly acute shortage of drivers in the trucking industry. It makes a lot of sense for Japan to promote self-driving vehicles.
Read more : https://www.japantimes.co.jp/opinion/2018/04/28/editorials/safety-self-driving-vehicles/#.Wx9ri0iFOM8
14 juin 2018
China Wants Its Own Brains Behind 30 Million Self-Driving Cars
China's aspiration to deploy 30 million autonomous vehicles within a decade is seeding a fledgling chip industry, with startups like Horizon Robotics Inc. emerging to build the brains behind those wheels.
The Beijing-based company is taking aim at
Nvidia Corp.
and
Mobileye NV
just as the autonomous-driving business takes off and uncertainty looms over international trade. Annual revenue from the chips used in driverless vehicles globally should more than double to $5 billion by 2021, according to
Gartner Inc.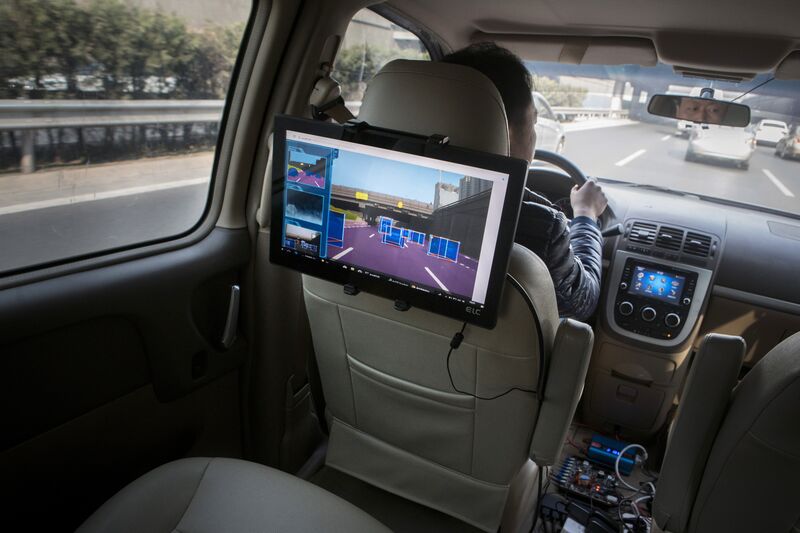 Horizon Robotics is an example of China's resolve to move up the manufacturing value chain by focusing less on commodity smartphones and TVs, and more on sophisticated semiconductors and artificial intelligence that can help cars drive themselves or spaceships land on the moon. That industrial policy is meant to help China reduce its 1.75 trillion yuan ($276.4 billion) in annual chip imports, a value dwarfing its oil imports.
"China has to spare no efforts to pick up and develop its own chip technology to improve our own sense of security, especially when the U.S. government is making us fearful about any protectionism against China," Wei Shaojun, director of the Beijing-based
Institute of Microelectronics
at Tsinghua University, said at a forum in Shanghai.
13 juin 2018
Two Priorities to Build Up Russia's Auto Industry: Exports and Innovation
The Russian automotive industry has experienced significant ups and downs in the past decade. The domestic car market rebounded strongly after the global financial crisis to become the sixth-­­largest in the world—2.6 million automobiles (cars and light trucks) sold in 2012. Manufacturers responded by building new plants to expand production.
But the current economic downturn, caused primarily by falling oil prices, has hit hard. In 2015, the industry sold just 1.5 million automobiles, to rank 12th in the world behind such countries as Canada, the UK, and Brazil. (See Exhibit 1.) Today, as a limping economy continues to hold domestic buyers in check, the industry finds itself with far too much production capacity.
We analyzed the factors affecting Russia's automotive market and developed three potential scenarios. In the most likely of these, the market recovers slowly by 2020 but annual sales still do not exceed 2 million automobiles. This level of sales represents a "new normal" for the industry, and it is far below the industry's current production capacity. If automakers and component manufacturers are to avoid serious—and prolonged—financial losses, the industry must recalibrate.
Two measures can improve the situation. First, manufacturers should focus on exporting more vehicles to foreign markets, particularly in the Middle East and other developing regions. Second, Russia's government should foster innovation in high-­potential areas such as driver-assistance and connected-car technologies.
Measures to Boost the Industry, and Mixed Results
The automotive sector in Russia is an integral part of the country's industrial base, generating about 1.2% of the nation's total GDP from automobile and component manufacturing, sales, and services. Factoring in the supply chains of all subcomponents, which link to steel, plastics, electronics, and several other industries, yields a total economic contribution of 3.6%.
As the Russian market for cars rapidly grew in the years following the global financial crisis, foreign automakers sought to sell to the expanding audience of car buyers in the country. In response to this competition, the Russian government introduced several measures designed to support domestic companies—both OEMs and component manufacturers—and build up the industry.
For example, the government required foreign manufacturers to build their cars locally. A certain percentage of each car sold in the country had to consist of components built in Russia, and that percentage increased over time. But many companies got around these requirements by making large, heavy components in Russia while developing and building higher-value, more technologically advanced components (such as electronics) elsewhere. Other automakers sent nearly completed components to Russia, leaving their Russian plants the simple task of assembling them.
The end result is that Russia's automotive industry has failed to build up its technical capabilities as the government intended. Russian manufacturers lag behind their peers in both mature and developing markets in areas such as labor productivity. Similarly, spending on R&D is much lower at Russian companies than at their foreign competitors. Today, Avtovaz spends less than 1% of revenue on R&D, compared with the 4% of revenue that most global auto manufacturers devote to R&D.
In addition, the country's relatively strong rebound from the financial crisis spurred many manufacturers to boost their capacity by opening new plants. Overall capacity in the country reached roughly 3.1 million vehicles a year in 2015, with forecasts projecting that the market would reach an annual figure of up to 4 million automobiles. Since then, however, the Russian economy has slowed considerably, leaving the auto industry with too much production capacity and not enough technical expertise.
Slow Growth Is Likely Through 2020
To see what the next five years could look like, we built a market model by analyzing the factors affecting the Russia automobile market, including oil prices, the dollar-ruble exchange rate, GDP growth, wages, and interest rates (which influence how easily Russian consumers can finance auto purchases). This analysis points to three likely scenarios. (See Exhibit 2.)
Read more : https://www.bcg.com/publications/2016/automotive-globalization-two-priorities-build-russia-auto-industry.aspx
12 juin 2018
Intelligent car with anticipation and awareness of its driving risk
It is now possible with the artificial intelligence (AI) algorithm of NEXYAD SafetyNex, to give the awarenes of driving risk to an autonomous car :