19 juillet 2019
BMW level 4 autonomy demo
At BMW's first-ever technology / Future Summit, one of the demonstration involves a development vehicle capable of self-driving through a control environment. Stay tune
for more details. gear.xyz/bmw
18 juillet 2019
FOUR SHADES OF ROAD SAFETY : ANTICIPATION, ADAS, PASSIVE SAFETY
Here is a diagram of different shades of road safety. The pyramid witdh corresponds to the number of cases. "Normal" driving is the regerence, is is the most frequent situation, while fatality is fortunately an exception.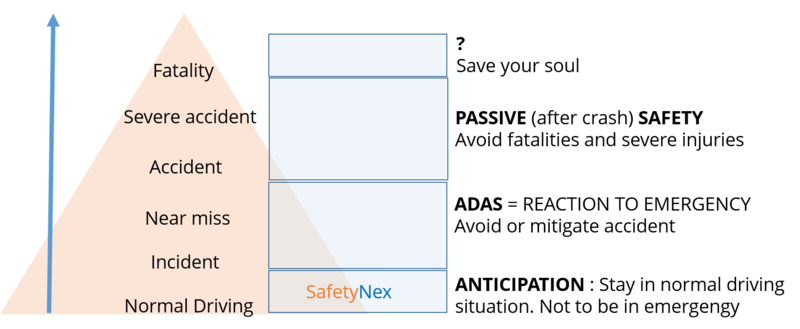 Tools among the pyramid are filters made to avoid fatality :
. SafetyNex (by NEXYAD) is today the 1st and only tool made to stay in normal driving situation (not to be in emergency).
. ADAS (Advanced Driver Assistance Systems) are made to avoid or mitigate accident by automatic sharp and fast reaction to emergency situation (detected through sensors)
. PASSIVE SAFETY (after crash) is made to mitigate severity of shock and save your life even in case of accident.
One can note that Anticipation applies on the biggest number of cases ... and this is why SafetyNex, in its low cost MVP (*) version still reduces accident rate by 20%.
(*) Minimum Viable Product
Read more : https://nexyad.net/Automotive-Transportation/NEXYAD_SafetyNex.pdf
17 juillet 2019
Market Drivers for Automotive HMI Evolution
As vehicles grow increasingly connected and become packed with sensors, artificial intelligence (AI)-based technologies have the potential to play a significant role in the human-machine interface (HMI). Voice-enabled smart assistants for car controls, infotainment, and more will likely become the leading HMI in the coming era of the connected car. With momentum and regulatory demand (such as Europe's New Car Assessment Program [NCAP]) for driver and occupant monitoring, emotion recognition and gesture recognition will become more prominent elements of HMI. With increasingly sophisticated computer vision algorithms, on-board compute power and next-generation windscreen and other displays technology, 3D Augmented Reality (AR) will increasingly become an integral component of the connected car experience. Fast-forward several years to when humans become passengers and vehicles become moving entertainment centers in the autonomous vehicle era, and these AI-based automotive HMI technologies will prove invaluable and morph into different use cases.
Tractica's upcoming Automotive Human-Machine Interfaces report examines the market ecosystem and conditions for AI-based automotive HMI, including global market trends, drivers, and barriers. It also explores the use cases and AI technologies related to AI-based automotive HMI and provides profiles of key industry players and market forecasts through 2025. In this blog post, we will look at some of the market trends and drivers. In a subsequent post, we will look at market barriers.
Understanding the Connected Car to Autonomous Car Spectrum
For the connected car, AI-based HMI is focused on driver controls, driver/occupant monitoring/safety, and infotainment. For Level 5 autonomous vehicles, AI-based HMI focuses on occupant monitoring and infotainment.
read more : https://www.tractica.com/artificial-intelligence/market-drivers-for-automotive-hmi-evolution/
16 juillet 2019
FLEET MANAGEMENT IN THE AMERICAS
Fleet management (FM) is an ambiguous term used in reference to a wide range of solutions for different vehicle-related applications. Berg Insight's definition of a fleet management solution is a vehicle-based system that incorporates data logging, satellite positioning and data communications to a backoffice application. The history of fleet management solutions goes back several decades. On-board vehicle computers first emerged in the 1980s and were soon connected to various satellite and terrestrial wireless networks. Today, mobile networks can provide ubiquitous online connectivity in many regions at a reasonable cost and mobile computing technology delivers very high performance, as well as excellent usability. All of these components combined enable the delivery of vehicle management, transport management, driver management and mobile workforce management applications linking vehicles and enterprise IT systems. Commercial vehicle fleets play an essential role in the economy in both North and Latin America. In North America, there are approximately 14.4 million GVW 3–8 commercial vehicles in use. Around 18 million lighter vehicles including GVW 1–2 vehicles and cars with no GVW are also used by enterprises or public entities. In Latin America, the number of commercial vehicles in operation is estimated to 26.7 million, out of which 5.9 million are heavy trucks and 20.8 million are light commercial vehicles. Berg Insight is of the opinion that the market for fleet management in the Americas is in a growth period which will continue in the years to come. The advanced North American market will remain on a growth track, not the least driven by regulatory developments such as the ELD mandate which is now in force. Latin America has traditionally presented a very different scenario, often requiring an educational process in order to extend the perception of fleet management beyond securityrelated aspects. The Latin American fleet owners have however also started to embrace functionality for optimisation of fleet operations to an increasing extent. Berg Insight expects the FM market to continue to show healthy growth in 2018–2022. In North America, the number of systems in active use is forecasted to grow at a compound annual growth rate (CAGR) of 15.6 percent from 8.0 million units in 2017 to 16.4 million units by 2022. The penetration rate in the total population of non-privately owned commercial vehicles is estimated to increase from 26.6 percent in 2017 to 49.7 percent in 2022. In Latin America, the number of systems in use is projected to increase from 3.0 million units in 2017, growing at a CAGR of 13.1 percent to reach 5.5 million units in 2022. The penetration rate in the region is estimated to increase from 11.2 percent in 2017 to 19.7 percent in 2022. Verizon Connect is the clear leader in the fleet telematics space both from a global perspective and in the Americas specifically. The closest competitor in the Americas is Geotab which has grown considerably in the past year, followed by Omnitracs and Trimble which have both surpassed 0.5 million active fleet management subscribers in the region. Zonar Systems rounds off the top-5, just ahead of Michelin which has established a strong position in the Americas through multiple acquisitions. Additional top players with installed bases in the range of 0.2–0.3 million active units in the Americas include Teletrac Navman, KORE Position Logic and Fleet Complete. A total of 15 players had installed bases exceeding 0.1 million active units in the Americas at the end of 2017, including also Gurtam, Synovia Solutions, BSM Technologies, GPS Insight, WideTech and Pósitron. The remaining top-25 vendors are J.J. Keller, Spireon, Autotrac, Azuga, ORBCOMM, Pointer Telocation, Agilis Systems, OnixSat, CalAmp and Encontrack. Fleet management solution providers with installed bases just outside of the top list moreover include MiX Telematics, TomTom Telematics, OMNILINK, Ituran, Centro de Soluciones Inalámbricas (CSI) and Satrack. Most vehicle manufacturers now offer factory-installed fleet telematics solutions either independently or through partnerships. Examples of OEMs which have introduced systems in the Americas include Daimler, Volvo, Scania, MAN, Iveco, PACCAR, Navistar, Ford, GM, Hino, Isuzu, FUSO and Ram. The OEM telematics initiatives in the Americas have intensified in recent years. Large installed bases of OEM telematics systems are now found on the North American market, in many cases powered by established aftermarket fleet management solution providers. Notable telematics players actively supporting OEMs include Verizon Connect, Zonar Systems and PeopleNet. The volumes of OEM telematics systems are so far substantially smaller in Latin America. The adoption is however expected to take off also in this region. Solutions supplied by the OEMs are anticipated to increase in importance across both continents in the Americas in the coming years.
Read more : http://www.berginsight.com/ReportPDF/Summary/bi-fmseries2018-sum.pdf
15 juillet 2019
Cloud-Connected Electric Motorbikes Make Smart Cities Even Smarter
"At Monday Motorbikes, we have created the world's first electric bicycle with motorcycle capabilities. The M1 is fully electric, connected to the cloud and is smartphone integrated. M1 owners can even put a passcode on their smartphone to start their motorbike, and each bike comes equipped with a USB charger, along with a companion app that connects via Bluetooth. It's a smart bike that can get you as far as 50 miles without any fuel or spin of the pedals. It's also small enough to park on a sidewalk, yet fast enough to drive on a city road and keep up with traffic. The implementation of some of the latest technologies into the classic motorcycle experience brings a new paradigm for ownership," said Josh Rasmussen, CEO and Co-Founder of Monday Motorbikes.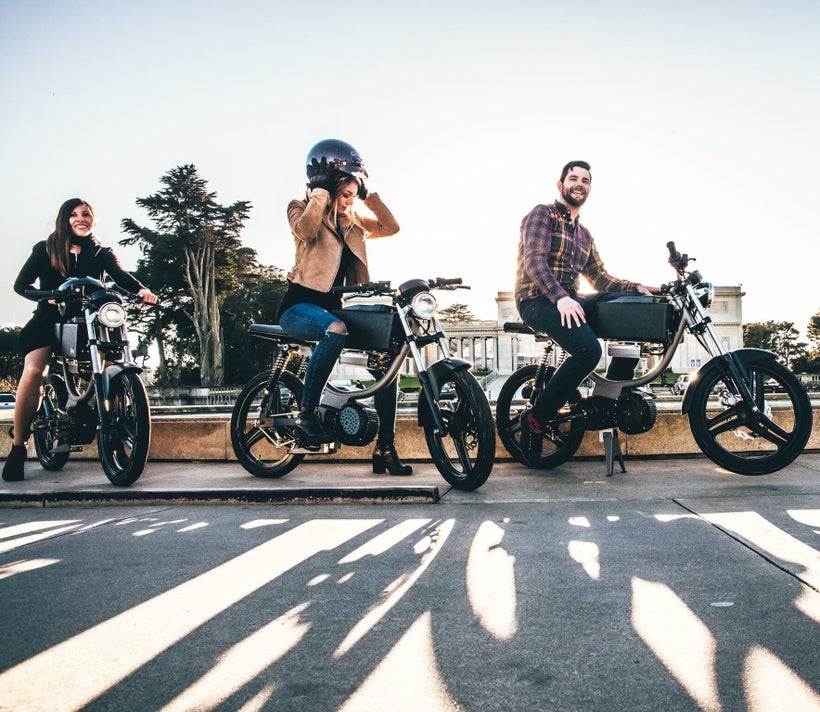 In other words, the M1 electric motorbike could be considered to be a "two-wheeled Tesla," or a bike that has motorcycle-like capabilities, yet doesn't require a license to ride. Even better, the M1 is the same cost as a Vespa, but has a unique style that urban dwellers crave.
Read more : https://www.huffpost.com/entry/cloud-connected-electric-motorbikes-make-smart-cities_b_58f8ed77e4b086ce58980e98?guccounter=1&guce_referrer=aHR0cHM6Ly93d3cuZ29vZ2xlLmNvbS8&guce_referrer_sig=AQAAAIz889FwgsJN29CxDemVTjK5s4VdOg2r4ETglbD-iTZgWpHrODDcBT9lVFP2l7c8OaA9Ai8d3VbabTZiPToVJ0-d_qIOHMS9gT6yfdFyreXZJPbKKIBY5671ZEk_qgTisEw0FiipLCr5zxGm5wreozxJ1D5K1mdsWhfFK-a6DZXh
13 juillet 2019
Artificial intelligence enters ADAS
Road traffic holds many complex situations in store - situations that could possibly overtax a conventional driver assistance system. In a joint project with Technical University Darmstadt (Germany), automotive supplier Continental has now investigated the use of machine learning in such systems. The "trustworthiness" of the AI plays an important role.
In the fourth round of the Proreta research project, the partners Continental and TU Darmstadt developed a machine-learning vehicle system that supports drivers in inner-city traffic situations and implemented a prototype. Data from radar sensors help to assess the traffic situation when turning left, entering a roundabout or passing right-over-left junctions. Machine Learning mechanisms were used in the project to generate algorithms that use various vehicle data to generate a current driving type profile of the person behind the steering wheel. On this basis, the City Assistant System's recommendations for driving manoeuvres are adapted to the driver's driving style.
The task of the Proreta 4 project was to use adaptive systems to implement solutions that so far could not been tackled due to a lack of adaptability. "In order for an assistance system to make a recommendation to the driver in a complex traffic situation that is accepted with confidence, the system must analyze the driver's driving style and thus his subjective perception of safety or risk," explains Hermann Winner, Head of the Vehicle Technology Department at Darmstadt Technical University. The scientist assumes that such a driving profile can be created comparatively safely and quickly on the basis of a machine learning process. For this purpose, the system evaluates data that is captured while the vehicle is in motion. Among other things, acceleration, yaw rates, braking processes and lateral acceleration provide the algorithm with information about the type of driver involved.
Read more : https://www.eenewsautomotive.com/news/artificial-intelligence-enters-adas
12 juillet 2019
An Autonomous Car Roadmap for Suppliers
Autonomous vehicles, with their promising pilot programs and enormous potential, make headlines in business and technology news every day. Self-driving cars and trucks promise to dramatically change the economics of nearly every industry, and it seems likely that eventually many people will no longer feel the need to own a car or even know how to drive.
However, the path to this driverless future is more complex than a first glance might suggest. Fully autonomous cars are likely to remain a small-volume market for some time. In the interim, assistive technologies will play a much larger role in the industry, as drivers come to rely on technology that guides them and supports their driving decisions. Mastering these new technologies will be essential for automakers and suppliers, and doing so will help build the capabilities they will need to deliver reliable, autonomous cars. The implications for toptier suppliers are that they will need to play in two closely related but distinct segments:
• Advanced driver assistance systems (ADAS). For at least the next decade, most consumers are more likely to buy vehicles that use technology only to assist drivers—things like automated emergency braking or assistive parking—rather than fully autonomous cars (see Figure 1). The deployment of assistive technologies such as radar and computer vision will depend on consumers' willingness to pay for features based on these technologies, and most are not willing to pay much more than they do now. But costs will drop as volumes scale. Increasingly, automakers will be required to include advanced safety features if they want to keep their top safety ratings. Other features, such as advanced cruise control or lane-changing assistance, will rely on the same basic hardware and could be activated with software upgrades.
• Autonomous driving (AD). Fully autonomous vehicles are likely to remain elusively expensive for most car buyers over the next few years, provided they become accessible to private customers at all and regulations evolve to allow autonomous driving. But they will become increasingly attractive to taxi services and other shared mobility service providers who can justify their expense because it reduces their costs by replacing some drivers. While autonomous vehicles are currently possible, they require an extensive and expensive set of sensors and software along with exemptions from standard regulations. So far, their use is mostly limited to pilots within geo-fenced areas. Although the size of this opportunity will depend on a range of factors related to urban density and consumer acceptance of car sharing, the market for fully autonomous vehicles is likely to remain small over the next 5 to 10 years. Even so, the market for these vehicles will be an important development platform, as carmakers and suppliers climb the learning curve required to build and market fully autonomous vehicles.
Read more : https://www.bain.com/contentassets/074b9c8413d0473eba7823eabf3f24b6/bain_brief_an_autonomous_car_roadmap_for_suppliers.pdf
11 juillet 2019
Supporting Safer Driving Using Big Data and Telematics

ISO 39001 (international standard for road traffic safety management systems) certified Smiling Road provided by Sompo Japan Nipponkoa is a service for businesses that helps corporate vehicle drivers drive safer. Smiling Road was launched in March 2015 as the first telematics service of its kind, and it uses the Internet of Things (IoT) to encourage drivers to continuously be more aware of safety on the road, helping to reduce accident risks by assisting managers in providing effective instructions.
The number of accidents at corporations that have introduced the service has fallen by about 20% due to the synergistic effect of its three features: visibility and understanding of actual driving situations, and feedback to encourage drivers.
Smiling Road's success in reducing automobile accidents and realizing higher-quality accident response for businesses earned us the top prize in the Nikkei Veritas Award category of the 2015 Nikkei Superior Products and Services Awards for being an innovative and creative service, and an award for excellence (SPRING Award) in the first Nihon Service Award program.
In January 2017 they enhanced the feedback function to further encourage awareness of driving safety and to help prevent accidents, and they launched Truck Navigation Smile, an optional car navigation app for trucks.
Read more : https://www.sompo-hd.com/en/csr/action/customer/content1/
10 juillet 2019
How ADAS is making autonomous driving a reality
Self-driving cars are no longer a dream. Anyone who has recently visited a car show has seen or even sat in an autonomous vehicle. Be it Tesla, Peugeot, Renault, or even Rolls-Royce, all major car manufacturers are currently working on this technology.
However, despite their fancy and futuristic look, driverless cars always raise the same crucial question: How safe are they?
What are Advanced Driver Assistance Systems?
Advanced Driver Assistance Systems (ADAS) is the most important technology for self-driving cars and, as a result, has become one of the fastest-growing automotive electronics segments. An ADAS is a combination of electric systems that are focused on automating and improving all of the vehicle's other systems to ensure better, safer driving.
ADAS is a mix of 12 technologies that primarily work with help from three types of sensors: RADAR, LiDAR, and CAMERA. These technologies can be divided into three main groups based on their functionalities: Sensing & Analysing, Deciding, and Controlling. The Sensing & Analysing group includes high-tech products like multi-cameras, radars, and connectivity applications. The Deciding group covers cognitive systems (AI) and sensor fusion. Finally, the Controlling group is related to everything around the automotive security gateway, including driving (powertrain), braking and chassis (safety), and steering (EPS).
Read more : https://www.sneci.com/how-adas-is-making-autonomous-driving-a-reality/