29 mai 2017
Test and Validation of Advanced Driver Assistance Systems Automated
Search for Critical Scenarios
The amount of software used to implement vehicle functions continuous to grow rapidly and will double once more within the next decade. Established test and validation processes can hardly keep pace with this growth rate. In this context, autonomous testing, a technique that evolved substantially in the recent years, gains importance as an enhancement to the traditional testing process. Testing on a real test drive or with handwritten test scripts on a HiL or test bench is complemented by a fully automated search for design flaws and faults using thousands of scenarios simulated on PC. QTronic describes such a test process in detail and surveys first applications in the domain of advanced driver assistance systems (ADAS) and autonomous driving.
VIRTUAL TEST DRIVES The systematic test of functions for driver assistance systems and autonomous driving requires the identification and analysis of a huge number of traffic scenarios. The space of possible scenarios is spanned by many dimensions: the road geometry, the behaviour of the driver and of other traffic participants, weather conditions, vehicle characteristics and vehicle variants, spontaneous component faults, the timing of the events and others. This multidimensional space can hardly be covered comprehensively using real test drives. It is therefore widely believed that real test drives must be extensively complemented by virtual test drives, for example using established tools for vehicle and traffic simulation such as CarMaker (IPG), PreScan (Tass International) or VTD (Vires). Simulation seems to be the only option to synthesise and analyse the enormous amount of required traffic scenarios with reasonable effort,
read more : http://www.qtronic.de/doc/ATZe_01_2016_en.pdf
28 mai 2017
Apple gets the green light to test self-driving cars in California
he Cupertino, Calif.-based tech giant has long been rumored to be working on its own autonomous car as part of an initiative called Project Titan, but has never officially confirmed its plans.
Apple was so mum about the project that some thought it may have been shuttered, said Michelle Krebs, executive analyst for Autotrader.
However, on Friday the company appeared on the state's Department of Motor Vehicle's list of approved applicants to test autonomous vehicles. That list had already included companies such as Tesla, Google and Uber, along with car makers including BMW, Ford, Honda and Volkswagen.
"For a company that has yet to publicly acknowledge its efforts in this area, this is as close to a tacit admission" as is likely to be given, said Michael Ramsey, a self-driving car analyst with Gartner. "It will be interesting to see what form the test vehicles take and what can be gleaned about Apple's strategy."
Read more : https://www.usatoday.com/story/tech/news/2017/04/14/apple-joins-driverless-car-test-applicants/100467124/
27 mai 2017
Ford partners with Amazon as it makes major push into driverless cars
Ford has announced a partnership with tech giant Amazon and an aggressive push into driverless cars as the company attempts to become a major player in "smart transport"
The company said it would triple its roster of self-driving cars to 30 vehicles, making it the largest ever industrial fleet of its kind, and make moves into other "transportation services" such as growing car-sharing and subscription services.
26 mai 2017
Driverless flying taxi service set to launch in Dubai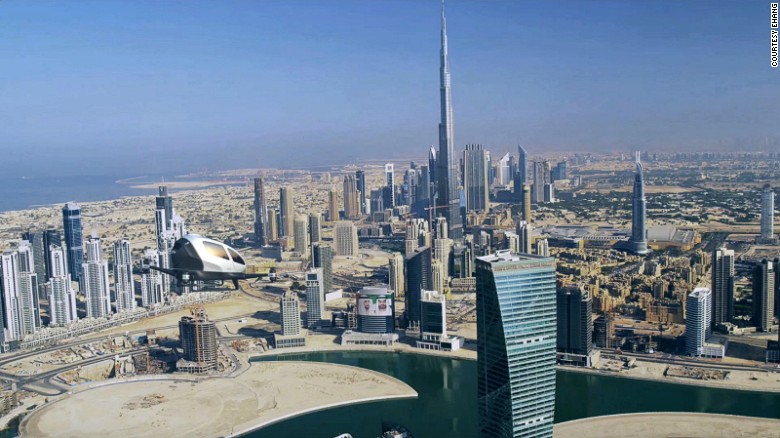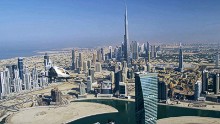 25 mai 2017
Bicycles are the newest sector for telematics with connected solutions emerging to offer telematics services and active safety assistance to riders. Connected Cycle systems and services have been developed by Vanhawks, Velo Labs and Qoros.
Vanhawks ~ active safety, connectivity, crowd-sourced data
The Vanhawks Valour bicycle incorporates integrated technology for advanced personal safety. Valour's turn-by-turn navigation keeps your eyes on the road and your hands on the bar. It uses low energy bluetooth to connect to your smart phone for directions. LED indicators signal as you approach your next turn.
Integrated haptic feedback in the handlebar grips alert you by vibrating of any object in your blind spot ensuring your safety so you can ride comfortably.
On-board sensors measure your calories burned, distance traveled, speed, best times, and much more. Sync your mobile device with your bike before or after the ride to track your progress. At launch, we will have an Android, iPhone and Pebble app.
Vanhawks Valour technology is designed as a mesh network that will connect the Valour community and gather real-time information on setbacks like potholes, closed roads, and blocked lanes. Simply put, more riders means smarter, safer routes.
Read more : http://telematicsnews.info/2014/05/20/the-next-frontier-for-telematics-connected-bicycles_m5204/
24 mai 2017
ADAS AND AUTONOMOUS DRIVING TECHNOLOGY I

N
TRUCKS AND COMMERCIAL VEHICLES
1. ADAS IN COMMERCIAL VEHICLES
A wide variety of advanced driver assistance systems (ADASs) have enjoyed impressive growth
in consumer vehicles, progressing from being the preserve of luxury vehicles to being offered in
sub-US$500 packages by mass-market players such as Toyota. Simultaneously, the capacities of
these systems have expanded, with combined functions allowing the first glimpses at automation
in production vehicles.
At the same time, however, the market for commercial ADAS has remained surprisingly sluggish,
a trend made more curious by the strong case for ADAS in commercial vehicles. These vehicles
tend
to
be
significantly
larger
and
heavier
than
their
consumer
counterparts,
with
more
compromised visibility and greater annual mileage. The main exception to this trend is the
popularity of aftermarket camera systems
that afford the driver a better view of
his or her
surroundings. This can range from simply supplying a feed to a display in the cockpit, to more
sophisticated
systems
that employ machine
vision
algorithms
to
provide
visual,
auditory,
and
haptic warnings to the driver in response to certain scenarios: an impending forward collision, for
example, or the presence of vulnerable road users. The low penetration of ADAS in commercial
vehicles can be largely explained by a combination of high ASPs and the sentiment among fleet
operators
that
their
professional
drivers
should
not
be
in
need of driver
assistance
systems,
especially given the cost and weight that these systems add.
23 mai 2017
German car industry plans to close OBD interface
The discussion about the question who owns the data generated by cars might come an end. At least this is what comes in sight if a proposal from the German automotive association VDA gets through: The proposal calls for a neutral cloud-based entity that categorizes, controls and distributes these data.
Today, many applications utilizing car-based data are accessing these data across the OBD interface. This access path will be closed bit by bit, said Christoph Grote, Senior Vice President Electronics at carmaker BMW, at the VDA Technical Congress in Berlin. The access path will only be deactivated when the cars are driving; as long as the wheels stand still, nothing will change. Thus, repair shops can continue to use the interface for diagnosis purposes, which is what the OBD interface has been designed for. Blocking the data path as soon as the car is moving will however cut the access for many service providers that access the CAN bus for many purposes, including for applications the carmakers would like to inhibit. "OBD has been designed to service cars in repair shops. In no way, it has been intended to allow third parties to build a form of data-driven economy on the access through this interface", explained Grote.
Instead, the data will be made accessible to interested third parties through a neutral server, and basically under control of the automotive industry. The server will categorize the data into five groups; examples are data relevant for traffic safety; data enabling brand-specific services; vehicle system monitoring data, and privacy-relevant user data.
Read more : http://www.eenewsautomotive.com/news/german-car-industry-plans-close-obd-interface?news_id=93237
22 mai 2017
A Slow Ride Toward the Future of Public Transportation
HELSINKI, Finland — A small electric bus chugged along at a slow but steady seven miles per hour when a white van, entering the street from the side, cut in front of it. The bus slowed, as if its driver had hit the brakes, and got back up to speed after the van moved out of the way.
But this bus has no brake or accelerator pedal. It has no steering wheel, either. In fact, it doesn't have a driver — it operates using sensors and software, although for now, a person is stationed on board ready to hit a red "stop" button in an emergency.
At a time when self-driving cars are beginning to make progress — most notably with a trial program that the ride service Uber began in Pittsburgh this fall — the bus represents a different approach to technologically advanced transportation.
A driverless car, after all, is still a car, carrying at best a few people. By transporting many passengers on what could be very flexible routes, driverless buses could help reduce the number of cars clogging city streets.
read more : https://www.nytimes.com/2016/11/08/science/finland-public-transportation-driverless-bus.html?_r=0
21 mai 2017
Global Automotive Telematics Market Analysis & Trends 2017-2025: Market is Poised to Grow at a CAGR of Around 29.1% to Reach Approximately $180.4 Billion - Research and Markets
The Global Automotive Telematics Market is poised to grow at a CAGR of around 29.1% over the next decade to reach approximately $180.4 billion by 2025.
This industry report analyzes the market estimates and forecasts for all the given segments on global as well as regional levels presented in the research scope. The study provides historical market data for 2013, 2014 revenue estimations are presented for 2015 and forecasts from 2016 till 2025.
The study focuses on market trends, leading players, supply chain trends, technological innovations, key developments, and future strategies. With comprehensive market assessment across the major geographies such as North America, Europe, Asia Pacific, Middle East, Latin America and Rest of the world the report is a valuable asset for the existing players, new entrants and the future investors.
Some of the prominent trends that the market is witnessing include compact dependence on smart phones for applications, improvement of next-generation telematics protocol, increasing government concern in making road journey and every day travel safer, growth opportunities/investment opportunities.
Based on connectivity type the market is categorized into embedded, integrated and tethered. As per vehicle type the market is segmented into commercial vehicles and passenger cars.
Depending on application the market is categorized into solutions and other services. Solutions include fleet/asset management solution, infotainment, insurance telematics, navigation and location-based solution, remote alarm and monitoring, tele-health solutions and V2V & V2I. Services include design and consulting, maintenance and training and integration and deployment.
By end user the market is segmented into government agencies, healthcare, insurance, media and entertainment, transportation and logistics and vehicle manufacturers/dealers.
Report Highlights:
- The report provides a detailed analysis on current and future market trends to identify the investment opportunities
- Market forecasts till 2025, using estimated market values as the base numbers
- Key market trends across the business segments, Regions and Countries
- Key developments and strategies observed in the market
- Market Dynamics such as Drivers, Restraints, Opportunities and other trends
- In-depth company profiles of key players and upcoming prominent players
- Growth prospects among the emerging nations through 2025
- Market opportunities and recommendations for new investments
Read more : http://www.crossroadstoday.com/story/34547259/global-automotive-telematics-market-analysis-trends-2017-2025-market-is-poised-to-grow-at-a-cagr-of-around-291-to-reach-approximately-1804-billion
20 mai 2017
Artificial Intelligence, autonomous vehicles, Deep Learning – these aren't just buzzwords. The automotive industry is rapidly changing and in large part, it's due to user demand. In these smarter, safer cars, it's your interactions that will implicitly train the machine to learn your likes and dislikes – something made possible through these four pillars of AI.
The automotive industry is rapidly changing. Autonomous and semi-autonomous driving are key trends everyone is talking about. They will not only change how we use cars, but—in the long term – how our (smart) cities are designed. Autonomous driving became possible by recent breakthroughs in Artificial Intelligence technologies—Deep Learning is one example.
There are other, very exciting ways Artificial Intelligence technologies help improve the driving experience. Case in point: Intelligent personal assistants. While most assistants proliferate on a smartphone, there is innovation happening behind the wheel that brings an automotive assistant to bear that fulfills your driving-related needs better, faster and safer. These are the four main pillars in AI being applied to the connected car:
Smart interaction
We make it possible for people to talk to and interact with machines – an experience that continues to become easier over time with advancements in Natural Language Understanding . In fact, being able to speak to your devices and cars is an expectation. You can say what you want in almost any way you like and have longer conversations. Now, the machines will remember what you said before, even if it was yesterday, and use that to get to the desired outcome more quickly and with less effort. Also, just like humans, the car will be able to recognize you by your voice through voice biometrics technology, which is useful to distinguish you from your spouse, for example.. That means even more personalization. So when you use your spouse's car and say "Let's drive to work," the car will get you to your workplace, not your spouse's workplace.
Contextualization
Since the car, by definition, is moving from place to place, the contexts in which it operates change frequently. You might be on the highway, or on a dirt road in the countryside. Maybe there is a traffic jam ahead, or a road closure. There may be sunshine at your current location but a snowstorm at your destination. Each of these can provide additional information that will make your interaction with the car more meaningful.
Context also includes sensor reading from the car itself, e.g. fuel level, crash avoidance sensors, or how many people are in the car. These parameters matter for making smart decisions when driving, and are taken into account by the contextual reasoning framework . Essentially, it's artificial intelligence that thinks for you. The system knows that in a snowstorm, covered parking is certainly the preferred option. It will also try to find the cheapest parking for you based on your estimated arrival time and will find a gas station on your route that requires only a small detour, but is cheap at the same time. If you have a loyalty card, that will also be considered. It will even recognize that the traffic jam ahead will likely cause you to be late for your meeting, and offer to send your colleagues a note about your delay. These ideas aren't simply flashy; our research shows that users are excited about cars that can make this a reality.
Personalization
Until fully automated vehicles arrive, decisions while driving can only demand a certain amount of attention from drivers, since the primary focus should always be on the road to enable a safe journey. But in many situations this is difficult to realize. Say you are looking for a parking space, or a restaurant for dinner, or you want to create a playlist with a certain type of music. In all of these situations there are too many options to choose from to make an informed decision while staying focused on the road. Enter personalization.
Read more : http://whatsnext.nuance.com/connected-living/artificial-intelligence-in-car/