16 novembre 2018
Connected and Autonomous POD on-Road Implementation (CAPRI)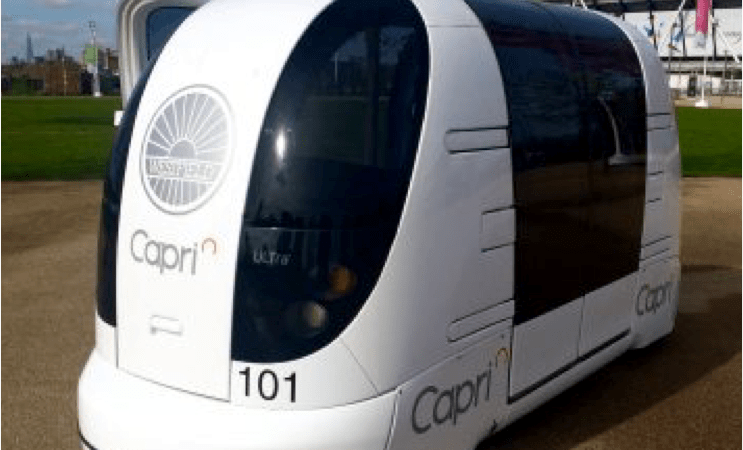 An AECOM-led consortium has secured more than £4.2 million of funding from Innovate UK and the Centre for Connected & Autonomous Vehicles (CCAV) to deliver a pilot scheme that could pave the way for the use of connected and autonomous vehicles to move people around airports, hospitals, business parks, shopping and tourist centers. The pilot project includes the design, development and testing of new autonomous and connected pods on-demand (PODs), culminating in on-road public trials at London's Queen Elizabeth Olympic Park.
Comprising 20 partnering organizations, the AECOM-led CAPRI consortium brings together academic institutions, businesses, SMEs and public sector authorities with a range of skills, knowledge and needs in the connected and autonomous vehicles (CAVs) arena. The project will include the development of the next generation of PODs, as well as the systems and technologies that will allow the vehicles to navigate safely and seamlessly in both pedestrian and road environments.
read more : https://www.aecom.com/projects/connected-autonomous-pod-road-implementation-capri/
15 novembre 2018
Looking ahead: Designing for in-car HMI
Hard and soft interactions
Before we discuss our thoughts on the best approach for in-car interactions, we will touch upon the types of interactions that exist in the in-car environment.
In-car interactions can be split into two distinct types: hard and soft.
Hard interactions can be defined as deliberate manipulative actions performed by the driver. Examples are: changing the drive position using a button, using an infotainment system via a GUI or inputting location data into the sat-nav.
Soft interactions can be defined as the actions performed by the machine as non-deliberate inputs provided by the user. Self-cancelling turn signals are an example of a soft interaction — where the machine autocompletes a sequence of actions without any user input.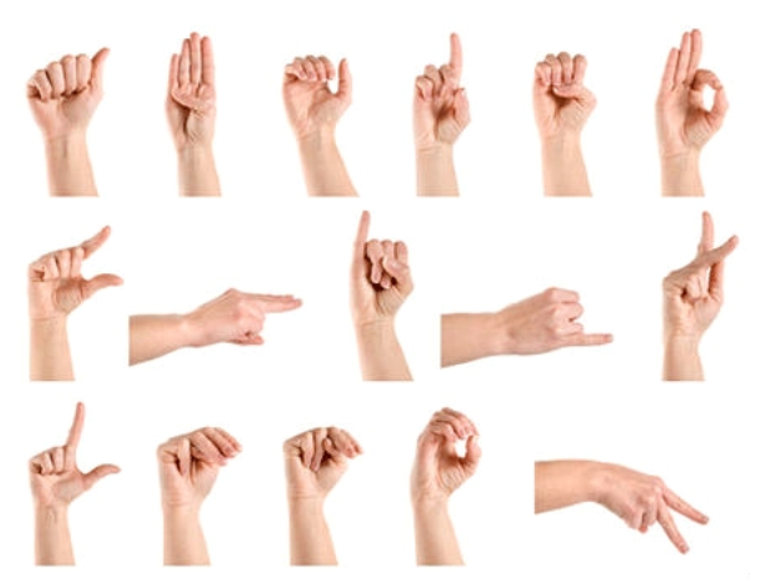 read more : https://www.itproportal.com/2014/09/09/looking-ahead-designing-car-hmi/
14 novembre 2018
Can ADAS Put the Fun Back into Driving?
Porsche doubles down on advanced driver-assistance systems (ADAS), but sees challenges as the complexity grows.
For a company best known for the driving performance of its sports cars, Porsche doesn't consider it a contradiction to consider the ongoing development of assisted-driving technologies as core to its strategy.
In fact, the automaker is doubling down on enhanced ADAS capabilities in combination with cloud-based services and seeking—all in the pursuit of creating a better experience with the customer behind the wheel.
read more : https://www.electronicdesign.com/automotive/can-adas-put-fun-back-driving
13 novembre 2018
ADAS and Autonomous Driving Technology in Trucks and Commercial Vehicles
A wide variety of Advanced Driver Assistance Systems (ADAS) have enjoyed impressive growth in consumer vehicles, progressing from being the preserve of luxury vehicles to being offered in sub-US$500 packages by mass-market players such as Toyota. Simultaneously, the capacities of these systems have expanded, with combined functions allowing the first glimpses of automation in production vehicles. At the same time, however, the market for commercial ADAS has remained surprisingly sluggish, a trend made more curious by the strong case for ADAS in commercial vehicles. These vehicles tend to be significantly larger and heavier than their consumer counterparts, with more compromised visibility and greater annual mileage. This analysis examines the barriers to commercial ADAS penetration, how they have been relaxed in recent years, and what factors will fleet operator adoption in future.
Another significant growth opportunity in commercial vehicles is highly automated driving. This report examines a broad spectrum of vehicle automation: from analyzing the supporting technology and business case for truck platoons through to a frank discussion of the likelihood of driverless commercial vehicles on public roads.
Read more : https://www.abiresearch.com/market-research/product/1022042-adas-and-autonomous-driving-technology-in-/
12 novembre 2018
Why insurance companies want your telematics data
MISSISSAUGA, Ont. -- Insurance companies love data. They really do. And they're very good at analyzing and interpreting data. So, it should come as little surprise that insurance providers are looking for ways to tap into the telematics...
MISSISSAUGA, Ont. — Insurance companies love data. They really do. And they're very good at analyzing and interpreting data. So, it should come as little surprise that insurance providers are looking for ways to tap into the telematics data being generated by their fleet customers.
The term telematics is loosely defined as driver behaviour or vehicle performance data that's transmitted from a vehicle to a Web site or other device for analysis. The term insurance telematics is just now entering the Canadian trucking industry's dialect, though in other parts of the world such as Europe, it's practically mainstream.
Scott Cober, vice-president, national leader with Marsh Canada's trucking practice, told the Toronto chapter of the Fleet Safety Council yesterday that by 2017, there will be 89 million users of usage-based insurance around the world. Usage-based insurance, or UBI, can be broken down into two categories: Pay As You Drive (where premiums are set based on mileage driven) or Pay How You Drive (where premiums reflect driving behaviour, as measured by onboard telematics).
Read more : https://www.trucknews.com/health-safety/why-insurance-companies-want-your-telematics-data/1002000626/
11 novembre 2018
To Make Self-Driving Cars Safe, We Also Need Better Roads and Infrastructure
The big question around self-driving cars, for many people, is: When will the technology be ready? In other words, when will autonomous vehicles be safe enough to operate on their own? But there has been far less attention paid to two equally important questions: When will the driving environment be ready to accommodate self-driving cars? And where will this technology work best?
Self-driving cars are the most challenging automation project ever undertaken. Driving requires a great deal of processing and decision making, which must be automated. On top of that, there are many unpredictable external factors that must be accounted for, and therefore many ways in which the driving environment must change.
read more : https://hbr.org/2018/08/to-make-self-driving-cars-safe-we-also-need-better-roads-and-infrastructure
10 novembre 2018
Radar and Ultrasonic Sensors Strengthen ADAS Object Detection
According to the National Safety Council (NSC), as many as 40,000 people died in motor vehicle crashes in the U.S. in 2016, the highest total in more than a decade. Among the main causes were speeding, driving while impaired, and texting while driving. Including the 4.6 million people injured, the total costs from medical expenses, lost wages and productivity, and property damage could exceed $432 billion.
To help improve road safety and satisfy increasingly stringent government regulations, automakers are adding a range of diverse technologies to their new models that help drivers avoid accidents, both at high speeds and when backing up or parking. These systems can be grouped into the category of advanced driver-assistance systems (ADAS). In addition to increasing safety, ADAS applications improve comfort, convenience, and energy efficiency.
Typical ADAS features include blind-spot and lane-departure warning, forward collision and rear cross-traffic warning, automatic emergency breaking, lane-keep assist, and adaptive cruise control.
read more : https://www.electronicdesign.com/automotive/radar-and-ultrasonic-sensors-strengthen-adas-object-detection
09 novembre 2018
European commission : connected cars
The European automotive industry experiences substantial business opportunities in the coming years, especially by means of Digital Platforms and Big Data. Yet, traditional Original Equipement Manufacturers are facing fierce competition from digital players which are also attracted by these opportunities
read more : https://ec.europa.eu/growth/tools-databases/dem/monitor/tags/connected-cars
08 novembre 2018
South Korea's push for driverless vehicles brings large autonomous bus trials to the streets
KT's 45-seat self-driving bus is experiencing test-drives on public roads in Seoul after their application was approved by Ministry of Land, Infrastructure and Transport…
South Korean telecom giant KT Corporation has gained government approval to test-drive a 45-seat autonomous bus on public roads.
The bus can freely access both highways and city roads in Seoul, and has already successfully completed a four hour test-drive on two major thoroughfares, Gangnam Boulevard and Teheran Road.
The 12m long, 2.5m wide bus incorporates 5G and LTE-based vehicle to everything (V2X) technology that supports the vehicle's self-driving capabilities. This refers to the passing of information from a vehicle to any entity that may affect it; improving safety and mobility.
Alongside the usual application of sensors and cameras, V2X enhances driving safety by accessing the KT wireless network which supplies high-precision location data. The network also provides the bus with advanced capabilities to detect obstacles in blind spots, calculate distances between stoplights and complete real-time decision-making.
Read more : https://www.intelligenttransport.com/transport-news/64044/south-korea-driverless-bus-trial/
07 novembre 2018
Google sibling Waymo launches fully autonomous ride-hailing service
Alphabet's self-driving car firm beats Uber to be first to offer robot taxis without humans behind the wheel to take over in an emergency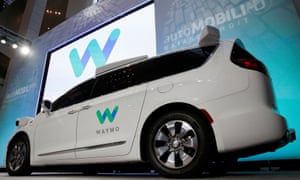 Waymo's self-driving Chrysler Pacifica minivans will start picking up passengers without a human behind the wheel, even for emergencies, in the next few months, as the Google-sibling steps up war with Uber.
Waymo, formerly known as Google's self-driving car, is launching a fully autonomous Uber-like ride-hailing service with no human driver behind the wheel, after testing the vehicles on public roads in Arizona.
Waymo, which is owned by Google parent Alphabet, said members of the public will begin riding in its fleet of modified Fiat Chrysler Pacifica minivans outfitted with self-driving technology in the next few months. Passengers will initially be accompanied in the back seat by a Waymo employee, but will eventually travel alone in the robotic car.
The service will first be available to those who are already part of the company's public trial already under way in Phoenix. Rides will be free to start with, but Waymo expects to begin charging for journeys at some point.
Read more : https://www.theguardian.com/technology/2017/nov/07/google-waymo-announces-fully-autonomous-ride-hailing-service-uber-alphabet