27 août 2016
Daimler strategic focus areas
26 août 2016
credit photo : John F. Martin / Delphi Automotive
Automakers are on two separate paths to creating self-driving cars.
Some, like General Motors Co. and Ford Motor Co., have enough cash reserves that they are developing their own proprietary autonomous systems in close partnership with technology companies. Others are waiting to buy off-the-shelf systems like the fully autonomous one announced by Delphi Automotive PLC and Mobileye NV, which they said Tuesday will be ready for any automaker to purchase by 2019.
Both approaches have advantages and disadvantages: Automakers who create their own systems can potentially be first to market and have the authority to adapt and change the technology to suit their specific needs. Automakers who wait for a turnkey approach, however, avoid some of the risk of failure and potentially save hundreds of millions in research and development.
A number of automakers have spent the past year acquiring resources for their own systems.
Ford last week vowed it would put a fully autonomous car on the road in 2021. It is working with Velodyne, Pivotal, Civil Maps and other companies to make it a reality.
GM earlier this year invested $500 million in ride-hailing service Lyft, and the two companies are working to deploy autonomous Chevrolet Bolts being tested in California and Arizona. GM purchased Cruise Automation to help it develop autonomous software.
Other automakers have announced similar proprietary plans. Kia has promised driverless cars by 2030 and Toyota invested $1 billion in a research institute to study autonomous vehicles and artificial intelligence.
Analysts say there's a natural desire to develop autonomous cars in-house, in part for the bragging rights of possibly being the first automaker to do it, and also for the ability to update and evolve quicker than with a generic one-size-fits-all supplier system.
Continental AG has tested autonomous technology and plans to deploy a fully driverless car by 2025. Robert Bosch LLC recently showcased a number of self-driving technologies, including an autonomous parking feature that will go into production by the end of the decade.
Delphi and Mobileye executives on Tuesday argued that their system would give car companies a step up on the competition because of its cost-effectiveness. Wall Street analysts like Citi Investment analyst Itay Michaeli agreed.
Delphi CEO Kevin Clark said the two suppliers are combining to pour "hundreds of millions" of dollars into the project.
The proposed system would include a steering wheel and pedals, allowing for the possibility of a driver taking over in an emergency. New mapping software and hardware from Mobileye would work with a Delphi control module that uses data from its cameras, LiDAR (light-detection and ranging system) and radar to make driving decisions.
The two companies will showcase the fully autonomous vehicle system at the upcoming CES technology trade show in Las Vegas in January, and will begin fleet testing in Singapore and a number of other regions shortly thereafter.
Delphi has been testing self-driving technology for years, and Mobileye recently worked on Tesla's Autopilot system before ending their partnership after a fatality involving the technology.
read more: http://www.detroitnews.com/story/business/autos/2016/08/23/opposite-strategies-fuel-driverless-car-development/89239658/
The Issue of 'Self-Driving' Is Back as China Sees First Tesla Autopilot Crash
The driver who crashed says Tesla's sales staff promoted the system as "self-driving."
Tesla TSLA 0.12% said on Wednesday that one of its cars had crashed in Beijing while in "autopilot" mode, with the driver contending sales staff sold the function as "self-driving," overplaying its actual capabilities.
Tesla said it had reviewed data to confirm the car was in autopilot mode, a system that takes control of steering and braking in certain conditions.
The company, which is investigating the crash in China's capital last week, also said it was the driver's responsibility to maintain control of the vehicle. In this case, it said, the driver's hands were not detected on the steering wheel.
The crash, Tesla's first known such incident in China, comes months after a fatal accident in Florida, which turned up pressure on auto industry executives and regulators to tighten rules on automated driving technology.
read more : http://fortune.com/2016/08/10/tesla-autopilot-crash-beijing-china/
25 août 2016
Mid-afternoon on July 26, attorney Joshua Neally got into his Tesla Model X near his downtown Springfield law office to make the drive home to Branson. It was his daughter's 4th birthday, and they had plans for the evening.He took Chestnut Expressway, merged onto U.S. 65 and drove south out of Springfield city limits. Then things got worse. "It was excruciating pain," Neally told the News-Leader Friday. "I've never had such pain in my life." His breathing was limited. He struggled to place a call to his wife, and gasped in pain during their conversation. At times, Neally said, he couldn't see.
The drive, however, didn't end in a crash, or with Neally pulling over to the side of the road, although he concedes the latter might have been the recommended practice. Instead, he told the News-Leader, he successfully drove to a CoxHealth facility in Branson for treatment — thanks to the fact that the vehicle was doing most of the work.
Teslas have an autopilot mode, during which, according to the company, vehicles use their "unique combination of cameras, radar, ultrasonic sensors and data to automatically steer down the highway, change lanes, and adjust speed in response to traffic."
Neally said the self-driving mode is designed for divided highways, not city streets. Once the driver initiates the mode, the vehicle maintains its lane and slows down if another car merges in. If the driver wants to pass, Neally said, he or she hits the blinker, and the car takes over from there.
Every four minutes, Neally said, the driver must grab the steering wheel to signal to the vehicle that he or she is aware.
"It's more like the ultimate cruise control," Neally said.
Neally said he turned on the autopilot mode after getting on U.S. 65, and the Tesla kept driving at highway speeds as the pain struck and he talked to his wife.
At first, Neally still thought it might be a pulled muscle, and the pain might pass. But he ultimately decided to head for the emergency room. The worst pain hit him just past Highlandville; the final miles into Branson seemed endless.
By the time he made it to his exit, Neally said, "the pain had subsided enough that I could see." He manually drove the car the few blocks to the hospital, getting there around 4:45 p.m.
Neally left five hours later, after learning he'd suffered a pulmonary embolism, a blockage of an artery in the lungs. He was given blood thinners to take.
Tesla's autopilot mode attracted attention in June, when the company revealed the National Highway Transportation Safety Administration was investigating the death of a 40-year-old man who was driving on autopilot.
Neally said the situation didn't necessarily change his perception of autopilot, and believes the company has made it clear that drivers need to monitor the vehicle's activity. Still, he acknowledged that friends ask what he does when the car is doing the driving, and that he will at times check email or send text messages on his phone.
After the medical scare, Neally heard from a Tesla employee checking on his loan paperwork — he'd only had the car for about a week. He told the employee what happened, and the story made its way to the company's communications team.
Online news outlet Slate was the first to report on Neally's harrowing drive, as part of a broader story about Tesla's autopilot feature.
"Neally's experience is unusual," reporter Will Oremus wrote. "It doesn't prove autopilot's worth as a safety feature any more than Brown's death disproves it. Yet Neally's story is the latest of several that have emerged since the Florida crash to paint a fuller picture of autopilot's merits, in addition to its by now highly publicized dangers."
"These stories provide at least a measure of anecdotal support for Tesla's claims that its own data show autopilot — imperfect as it is — is already significantly safer than the average human driver," he continued.
If Neally was driving a traditional car, he said, he might have been able to pull over and call an ambulance. But he doesn't think he would've gotten to the hospital any faster than he did using the autopilot.
"I definitely believe it helped me," he said.
Neally's daughter was able to spend time with friends while he was at the hospital. The family went out to celebrate on a later date.
OLDER DRIVERS AND ADAS
: Which Systems Improve Road Safety?
In the coming decades, the number of older drivers that experiences difficulties in traffic as a result of functional limitations will strongly increase. Advanced Driver Assistance Systems (ADAS) could resolve some of these difficulties, by providing personal assistance in a road environment that does not always allow for the possibilities and limitations of the older road user. As a result, ADAS would extend the older adult's safe mobility as a driver.
The aim of this paper is to identify the driver tasks for which assistance is most desirable from a road safety perspective. It is assumed that the most promising ADAS in this respect are those that support the relative weaknesses of the older driver. ADAS should not take over the tasks the older driver is actually quite good at. To identify the strengths and weaknesses of the older driver, a literature review is conducted. Various theoretical perspectives are examined, among wich the human factors approach, cognitive psychology, and game theory. This results in a list of the relative weaknesses of the older driver. To further specify the kinds of support most needed, we look at the relation between the weaknesses identified, the problems that older drivers encounter in traffic as a result of these weaknesses, and the resulting number of crashes. This amounts to a shortlist of desired types of support.
Next, based on the available literature, relevant ADAS are discussed in terms of their availability, their effects on safety and the willingness of older drivers to use and buy them. One of the conclusions is that only very few of the types of support that are thought to be most beneficial to the safety of older drivers are provided by the ADAS that are currently available.
Read more : http://www.sciencedirect.com/science/article/pii/S0386111214601515
24 août 2016
Autonomous Cars Likely To Increase Congestion
Congestion is a serious issue in developed countries, but autonomous cars are likely to be as much a part of the problem as part of the solution. Consider these US numbers from a study published in late 2015:
The top 30 bottlenecks are each responsible for more than one million hours of lost time annually. Drivers stuck on these roads experience total delays of about 91 million hours every year, the equivalent of 45,500 person-work years. The lost value of time to the economy from congestion just in this handful of locations is upwards of $2.4 billion annually.
Many advocates frequently allude to traffic congestion as one of the key things which autonomous cars will help solve, but it's worth looking at the actual causes of congestion and how likely patterns of autonomous car use will play out in the real world. As this graphic from the US Department of Transport's 2012 Urban Congestion Trends report shows, 40% of congestion comes from bottlenecks. While there are other contributors, the biggest single contributor to bottlenecks is too many cars on the road. Almost everything that can be done to the roads will drive only marginal improvements, while increases in car miles traveled will have a direct and non-linear increase in congestion.
Typically, autonomous car advocates point to two elements which will definitely decrease congestion, but ignore the factors which are likely to increase it.
Reducing collisions reduces congestion — One major advantage of autonomous cars is that they won't get in accidents with anything like the frequency or severity of human-driven cars. This will reduce overall congestion, while also seriously reducing the number of auto body repair and paint shops required. But they will still get in collisions. The evidence on this is fairly clear:
The Insurance Institute for Highway Safety (IIHS) has seen a 7 percent reduction in crashes for vehicles with a basic forward-collision warning system, and a 14 to 15 percent reduction for those with automatic braking.
That's excellent, but the automatic braking is one of the primary collision avoidance tools for cars, and it achieves only 14% to 15%. Further, traffic collisions contribute only 25% to congestion. Solutions which decrease collisions but increase road miles traveled as well could have a larger impact with the road miles than with the collisions.
Read more : http://cleantechnica.com/2016/01/17/autonomous-cars-likely-increase-congestion/
23 août 2016
PSA Group : Traffic Jam Chauffeur, autonomous driving in traffic jams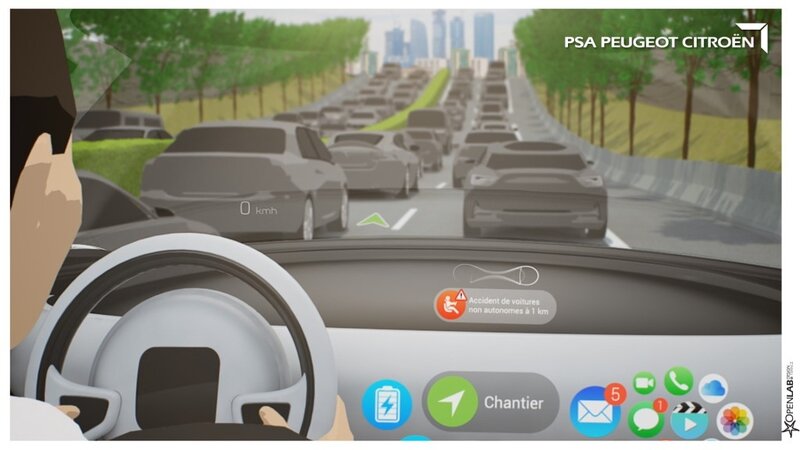 Traffic Jam Assist: free time for the driver
The main innovation of Traffic Jam Chauffeur is that it does not require constant supervision. As a result, the driver is free to undertake a secondary activity, such as talking to passengers or reading a book. In this way, the system creates free time for the driver while taking the stress out of tiresome or monotonous driving situations. The risk of accidents caused by human error is also reduced.
read more : http://www.psa-peugeot-citroen.com/en/featured-content/autonomous-car/autonomous-driving-traffic-jam
22 août 2016
Popular driver-assist technologies help make vehicles considerably more appealing to their owners, according to the J.D. Power 2016 U.S. Automotive Performance, Execution and Layout (APEAL) Study,SM released today.
The study finds that new vehicles equipped with safety features such as blind spot monitoring and low speed collision avoidance have overall APEAL scores substantially higher than similar vehicles without the technologies. Overall APEAL scores are higher among the 41% of owners whose vehicles have blind spot monitoring than among those whose vehicles do not have this technology (821 vs. 787, respectively). Similarly, APEAL scores are higher among the 30% of owners whose vehicles have collision avoidance technology than among those whose vehicles do not have this technology (828 vs. 790, respectively).
"Technology-enabled safety features help drivers feel more comfortable and confident while driving their vehicles," said Renee Stephens, vice president of U.S. automotive quality at J.D. Power. "These features are also 'gateway technologies' to autonomous driving capabilities, so the continued level of consumer interest in them will be a critical metric to watch as the industry evolves toward including more automation in new vehicles."
Launches Critical to Vehicle Appeal
The overall industry APEAL score improves by 3 points to 801, helped by the launch of many new vehicles. In 2016, 22 of the 30 all-new or major redesigned models included in the study score higher than their respective segment average. Over the past 10 years, newly launched vehicles have scored an average of 29 index points higher than their segment average.
"The key to successful models is to launch with very high appeal and limit the decline that often comes in subsequent years," said Stephens. "As automakers continue to add more content, including advanced technologies, to their vehicles, one key way to maintain appeal is to design technology that is easily upgradable and intuitive. Intuitive designs never go out of style. For example, for infotainment systems, intuitive design may mean simplification: bigger buttons, bigger screens and menus that are laid out in a manner that is easy for the driver to understand."
More key findings of the study include:
APEAL Affects Advocacy: Among owners whose vehicles have average or above-average APEAL scores (801 or higher) and who report no problems with their vehicle in the first 90 days of ownership, 90% say they "definitely will" recommend their vehicle to others. In contrast, among owners whose vehicle has low APEAL scores (800 or lower), even when their vehicle is problem-free, advocacy drops to 64%. Among those who report one or more problems with their vehicle, advocacy plummets to 49%.1
Navigation Nightmares: Factory-installed navigation systems remain a challenge for vehicle owners. Two of the lowest-rated vehicle attributes are related to the navigation system: usefulness of the navigation features and ease of using the vehicle's navigation system.
Saving Gas: Nine of the 10 categories improve in 2016, with fuel economy posting the largest gain (+14 points) year over year. Audio/communication/entertainment/navigation (ACEN) and visibility and safety also make notable gains of 6 points and 4 points, respectively.
Transmissions Not So Smooth: Engine/transmission is the only category to decline (-1 point) this year, with the largest attribute decline in transmission smoothness when shifting, as penetration of 8- and 9-speed automatic transmissions increases.
Highest-Ranked Nameplates and Models
Porsche ranks highest overall in APEAL for a 12th consecutive year, with a score of 877 index points. BMW ranks second with 859, Jaguar and Mercedes-Benz rank third in a tie at 852, and Land Rover, Lexus and Lincoln rank fifth in a tie at 843. Volkswagen (809)ranks highest among non-premium brands, followed by MINI (808), Kia (807), Ford (803), Ram (803) and GMC (802).
General Motors receives six segment-level awards, followed by Hyundai Motor Company with five and BMW AG and Volkswagen AG with four each. Nissan Motor Co., Ltd., and Toyota Motor Corporation each have two models that rank highest in their respective segments.
The segment-level APEAL awards by corporation are:
Other models receiving awards are Land Rover Range Rover and smart fortwo. The BMW 7 Series is the highest-scoring model in the study in 2016, although no award is presented in the large premium car segment as there are insufficient models represented.
About the Study
The industry benchmark study, now in its 21st year, measures owners' emotional attachment and level of excitement across 77 attributes, ranging from the power they feel when they step on the gas to the sense of comfort and luxury they feel when climbing into the driver's seat. These attributes combine into an overall APEAL Index score that is measured on a 1,000-point scale. The importance of these results cannot be overstated. Year after year, the study has shown that higher APEAL leads to significantly higher advocacy and customer loyalty.
The APEAL Study is used extensively by manufacturers worldwide to help them design and develop more appealing vehicles and by consumers to help them in their purchase decisions. It complements the J.D. Power Initial Quality StudySM (IQS), which focuses on problems experienced by owners during the first 90 days of ownership. The 2016 U.S. APEAL Study is based on responses gathered from February through May 2016 from more than 80,000 purchasers and lessees of new 2016 model-year cars and light trucks who were surveyed after 90 days of ownership.
read more : www.jdpower.com/performance.
Accident fatalities in a TESLA car might have been avoided by using software modules of NEXYAD : the time for monitoring circuit has come.
by NEXYAD
Passions run around the issue of autonomous vehicles, or semi-autonomous. Recently with a TESLA car there has been a fatal
accident while on autopilot mode. NEXYAD studied traffic safety for twenty years, and we give some elements of reflection on this
type of accident.
Processing circuit, informing auti-pilot systems, control, etc ... from perception, data fusion, decision-making, and automatic control of actuators,
are usually very well designed, and based on high-performance modules. But unfortunately, this is not enough to void the the risk of accidents.
Indeed, for the treatment of this risk, it lacks a parallel circuit (oarallel and independent) called "monitoring" circuit.
To understand this need for a monitoring circuit, one must first understand the level of complexity of a road scene viewed from a camera.
The variability of road scenes is actually much more than what a normal person comes to Imagine. Indeed, a color image, which has eight bits
for each color (then, 24-bit, as there are 3 colors) may encode 224 different color levels per pixel (more than 65,000 different possible values).
HD video has more than 2 million pixels.
This means that the matrix of HD 8-bit color image may encode more than 65 000 2 000 000 images !
This huge number is simply unimaginable.
This raises the question of the validation process of driver assistance systems (ADAS) based on cameras. It really is impossible to test all possible
cases of road scenes ! Even one or ten million kilometers of testing represents a negligeable part of possible cases !
And please do not think that you can easily reduce this complexity, assuming that road scenes have a "SPECIFIC SHAPE" (the road in front of the car).
You may then be surprised ifever a spider settled in front of the camera lens ... or if the car is behind a truck or bus with an adds poster (and in such a
case, all images are possible, including the image of a straight road in the desert, while the actual road, the one on which the vehicle sets, turns !).
Example : "transparent" trucks proposed by Samsung

réf : http://www.dailymail.co.uk/sciencetech/article-3431793/Samsung-s-transparent-Safety-Trucks-hit-roads-Vehicles-fitted-huge-screens-drivers-road-ahead-make-overtaking-safer.html
Completeness of validation database is impossible, however, there is a solution to use in such a case. First, build the validation database using
a methodology (NEXYAD has been publishing the « AGENDA » methodology in the field of ADAS validation, see
http://groupementadas.canalblog.com/tag/Methodology%20Agenda ). And second, use in real time a parallel circuit of « monitoring » that has the role of « closing »
the open world. In other words, it is necessary that all cases already met in the validation process are used to create a kind of "confined space" called "known space".
Then, in real time while vehicle is driving, one check if the current case (what is seen NOW by cameras, and other sensors) is INSIDE this « known space »
so that the built-in intelligence to know if the road scene meets cases in which it can react properly, or if the road scene is very different (unknown case).
In the second case, it is obvious that embedded intelligence must take default decisions : slowdown, warns the driver, etc ...
Therefore, in parallel of the construction of the main auto-pilot chain of perception, intelligence and control , it is necessary to build a second circuit for case monitoring.
NEXYAD has been developing three software modules aimed at achieving this kind of monitoring circuit.
. Visibility measurement with VisiNex onboard:
Visibility can vary greatly on road scenes : more or less light from the sky, rain, fog lights, glare, objects (vehicles, pedestrians) of the same color as the road or OF the sky, etc ...
VisiNex onboard measures the visibility of the road scene. The standard model of visibility integrated into VisiNex is the human vision (ViSiNex gives results 100% correlated
with a human panel marks). VisiNex can predict, given the characteristics of the image (brightness, contrast, signal report noise, etc ...), if a human observer can detect
whether or not the objects in the image. Indeed, vision systems all require a minimum image quality to be able to "see"/detect. Most part of time, Machine vision systems have
greater needs than human vision (except night vision using infra-red). NEXYAD is able to « test » an artificial vision system in terms of efficiency, on a database that samples visibility
through design plans (we can test Mobileye, or NEXYAD modules such as RoadNex – road detection-,ObstaNex – obstaclesdetection - , …). Then NEXYAD build the « space of known
visibility situations ». If an image leads to visibility situation out of bounds in such a space, then
it means that no one knows if the camera-based detection system is able or not to detect obstacles properly (even if we don't know how the detection module works : what kinds of
algorithms, etc) !
In such a case, no detection does not mean no obstacle, it means, « I don't know ». And this applies as well when using NEXYAD detection modules, or MOBILEYE ones, or any other
computer vision-based detector : VisiNex Onboard does not need to know the detection algorithms because it is a functional approach.
, Statistical closure of the space generated by the set of sensors (cameras, lidar, radar, etc ...):
It is rare that ADAS are based only on a camera. One often use other sensors, such as of LIDAR, RADAR, etc.
NB: by adding sensors, one increases the overall complexity of the perception signals ! The idea in this case is to use what car manufacturers use to call "data fusion" .
One after the other, sensors may be tricked while the others continue to operate efficiently : that's the key idea.
For example, in the case of very poor visibility, cameras (in the visible spectrum) are inoperative : ie. by night under heavy rain crossing other cars ligntings. The radar, it is not
supposed to be affected in such a case. But if infrastructure contains a lot of metal (ex : toll, metal bridge, …), then the radar will be dazzled, not the camera.
The idea of using a variety of sensors, and then combine the data is correct. NB : one ca see that you need a third sensor if you want to cope with poor visibility on a metal
bridge (visible spectre cameras are blind and radar is dazzled) : lidar, infrared, etc …
But such a « data fusion system » should be tested anyway... and as we explained before, validation would need quite an infinite number of tests.
NEXYAD developed a statistical data closure system that allows you know if a multi-sensors perception system sis currently meeting or not a « known case » : ReliaNex.
With ReliaNex, if the vehicle is experiencing a situation similar to the ones already encountered during the test, then your data fusion system wil be considered as reliable.
If not, then ReliaNex will warn you that reliability of your datafusion system is very low.
Again, it is possible then to apply default strategies : warn the driver, slow down the car, …
. Onboard real time risk assessment :
SafetyNex NEXYAD module calculates the risk taken by the driver : the driver can be a human being or a robot (auto-pilot).
It gathers all the risk factors, including the speed of the vehicle, danger of infrastructure, points of interest (school, ...),
Time to collision, reliabilities, etc …
NB: SafetyNex was selected in June 2016 by BMW during BMW Tech Date Challenge.
Read: http://nexyad.net/Automotive-Transportation/?p=2472
Read more : http://www.nexyad.net/automotive-Transportation
21 août 2016
BMW's French subsidiary has selected three innovative companies to develop the mobility of the future. The start-up Nexyad is one of them.
Nexyad has developed SafetyNex an APP onboard real-time that estimates the risk in driving. Based on artificial intelligence, the system can calculate at every moment the risk taken by the driver, by comparing the driving behavior (speed, acceleration, etc.) to the difficulties of the road (crossroads, school, turns tight, etc).
Read more : http://safecarnews.com/france-bmw-selects-start-up-nexyad-for-risk-estimation-ju7232/#comment-8426