22 février 2020
Usage-Based Insurance Accelerates In the United States
As UBI programs continue to gain popularity across the United States, driving behaviors, miles driven and time of day travelled will begin to replace traditional auto insurance.
Lately, it's been hard to ignore the traction usage-based insurance (UBI) has been gaining in the United States. According to PTOLEMUS, a Brussels-based research and strategy consulting firm focused on mobility, of the 875 million auto insurance policies, about 20 million were usage-based last year. Acumen Research and Consulting, a global market research firm found the global usage-based insurance market growth is estimated to grow at CAGR above 29% over the forecast time frame 2019-2026 and reach the market value of $190 billion by 2026. The future of automobile insurance is rapidly transforming away from traditional auto insurance to premium auto insurance programs powered by telematics data.
Statistical evidence supports the argument that drivers perform better and follow safer practices when enrolled in a insurance telematics program, with the understanding that their driving performance is being analyzed. Good driving behavior can be supported in a number of different ways in this type of program, reinforcing habits that can lower the frequency and severity of accidents and claims. For example, if feedback from a smartphone app can point out to a driver that his or her late-braking behavior is likely to result in rear-ending another vehicle, the driver will often respond to this information by changing this behavior and braking earlier. Recognizing problem driving behaviors and their corresponding relationship to accidents can be a strong motivator to improve driver behavior.
Read more : https://www.intellimec.com/insights/usage-based-insurance-program-usa
21 février 2020
WAYMO'S DRIVERLESS CAR: GHOST-RIDING IN THE BACK SEAT OF A ROBOT TAXI
Encountering construction, a wrong turn, and a flock of pigeons in the world's only fully driverless car.
I'm in the middle seat of a Chrysler Pacifica minivan, heading north on Dobson Road in Chandler, Arizona, when I notice we may have taken a wrong turn. Under normal circumstances, I would just lean forward and ask the driver for an explanation. But in this case, that's not possible. There is, after all, no driver to ask.
Last October, Alphabet's self-driving subsidiary Waymo emailed its customers in the suburbs of Phoenix to let them know that "completely driverless Waymo cars are on the way." For several years, Waymo has offered its autonomous taxi service to a small group of people, but the rides typically included a safety driver behind the steering wheel. Now, Waymo is saying more of those rides will take place sans safety driver, a sign that the company is growing confident in the accuracy of its technology.
Weeks later, I'm in one of the company's driverless minivans going the wrong way. But before I can ponder my new life as a victim of robot kidnapping, the vehicle realizes its mistake and reroutes. Rather than taking a left on West Baseline Road, we ended up going right. (A spokesperson later confirmed that the vehicle determined it couldn't get over in time to make the left, and instantly rerouted.) A quick detour through a residential neighborhood puts us back on course. It's a minor error, but I can't help but wonder what other surprises await me during my brief trip in one of the world's only fully driverless vehicles operating on public roads today.
Read more : https://www.theverge.com/2019/12/9/21000085/waymo-fully-driverless-car-self-driving-ride-hail-service-phoenix-arizona
20 février 2020
Elon Musk: Tesla's Full Self-Driving 'feature-complete' is coming 'soon'
Tesla missed Elon Musk's deadline to release what he calls Full Self-Driving "feature-complete" out "at least in the early access program" by the end of last year, but the CEO says that it is still coming '"soon."
Autopilot is currently meant for highway driving, and the new Smart Summon, which Tesla recently released in its V10 software update, handles low-speed driving in parking lots.
When Musk talks about a "feature-complete" version of Tesla's full self-driving system, he means closing the gap between the two features with city driving capability.
The CEO said about the term during an earnings call last year:
Yeah, feature-complete, I mean, it's the car able to drive from one's house to work, most likely without interventions. So it will still be supervised, but it will be able to drive — it will fill in the gap from low-speed autonomy with Summon. You've got high-speed autonomy on the highway, and intermediate speed autonomy, which really just means traffic lights and stop signs.
So feature-complete means it's most likely able to do that without intervention, without human intervention, but it would still be supervised. And I've gone through this timeline before several times, but it is often misconstrued that there's three major levels to autonomy. There's the car being able to be autonomous, but requiring supervision and intervention at times. That's feature complete. Then it doesn't mean like every scenario, everywhere on earth, including every corner case, it just means most of the time.
At the time, Musk said that this version of full self-driving would "at least be in the early access program by the end of the year."
The early access program is a now quite large group of Tesla owners who get new software updates early in exchange for providing feedback to Tesla.
No one in the early access program has reported receiving what Musk described as "feature-complete," but the CEO says that it is still coming "soon" in a Tweet this weekend:
Read more : https://electrek.co/2020/01/13/tesla-full-self-driving-feature-complete-soon-elon-musk/
19 février 2020
It's 2020. Where are our self-driving cars?
When it comes to self-driving cars, the future was supposed to be now.
In 2020, you'll be a "permanent backseat driver," the Guardian predicted in 2015. "10 million self-driving cars will be on the road by 2020," blared a Business Insider headline from 2016. Those declarations were accompanied by announcements from General Motors, Google's Waymo, Toyota, and Honda that they'd be making self-driving cars by 2020. Elon Musk forecast that Tesla would do it by 2018 — and then, when that failed, by 2020.
But the year is here — and the self-driving cars aren't.
Despite extraordinary efforts from many of the leading names in tech and in automaking, fully autonomous cars are still out of reach except in special trial programs. You can buy a car that will automatically brake for you when it anticipates a collision, or one that helps keep you in your lane, or even a Tesla Model S (which — disclosure — my partner and I own) whose Autopilot mostly handles highway driving.
But almost every one of the above predictions has been rolled back as the engineering teams at those companies struggle to make self-driving cars work properly.
What happened? Here are nine questions you might have had about this long-promised technology, and why the future we were promised still hasn't arrived.
1) How exactly do self-driving cars work?
Engineers have been attempting prototypes of self-driving cars for decades. The idea behind it is really simple: Outfit a car with cameras that can track all the objects around it and have the car react if it's about to steer into one. Teach in-car computers the rules of the road and set them loose to navigate to their own destination.
This simple description elides a whole lot of complexity. Driving is one of the more complicated activities humans routinely do. Following a list of rules of the road isn't enough to drive as well as a human does, because we do things like make eye contact with others to confirm who has the right of way, react to weather conditions, and otherwise make judgment calls that are difficult to encode in hard-and-fast rules.
John Krafcik, CEO of Waymo, presents a self-driving car at Wed Summit in Lisbon, Portugal, on November 7, 2017. Horacio Villalobos/Corbis/Getty Images
And even the simple parts of driving — like tracking the objects around a car on the road — are actually much trickier than they sound. Take Google's sister company Waymo, the industry leader in self-driving cars. Waymo's cars, which are fairly typical of other self-driving cars, use high-resolution cameras and lidar (light detection and ranging), a way of estimating distances to objects by bouncing light and sound off things.
Read more : https://www.vox.com/future-perfect/2020/2/14/21063487/self-driving-cars-autonomous-vehicles-waymo-cruise-uber
18 février 2020
Methodologies to assess usability and safety of ADAS and automated vehicle
In the framework of future innovation and for the sake of road safety, there is a great hope in fully supporting, or even replacing, the human driver by reliable technology. But, due to the novelty of this context, an important care will have to be devoted to investigate drivers' expectation, needs, behavior and functional abilities to reach this goal. In this context, this paper reviews several human factors issues related to partial and fully automated vehicles, with discussion of strengths and weaknesses of methods investigating driver automation acceptability, trust, situation awareness and workload. Main results of these parameters in relation to automated driving are presented and relevant methodologies to investigate these human variables are discussed in the perspective of real road experiments context.
Read more : https://www.sciencedirect.com/science/article/pii/S2405896316328646
17 février 2020
The Deployment of Advanced Driver Assistance Systems in Europe
Advanced driver assistance systems (ADASs) are expected to significantly enhance driving safety, comfort and efficiency. This paper analyses the deployment of the ADASs in EU 28, in relation to the countries GDPs and fatalities. In addition, we explored the relation of ADASs sold with vehicle price and mass. For the analysis two sets of data were used. The first was obtained from the iMobility 2013 iCar implementation status survey, on the EU 28 ADASs deployment rates for vehicles sold in 2012. The second was derived from of a Dutch leasing company and contains information on the number and type of ADASs ordered for the Dutch and German market in 2013-2014. Results show that the deployment rate averaged over EU 28 is 2.7-12.6% for five safety related ADASs and 23% for eco driving support. At country level, results indicate that in richer countries the ADAS deployment rates are significantly higher (ρ = .758, p < .001, N = 27), compared to poorer countries. In addition, results reveal that in countries with lower number of road fatalities the ADAS deployment rates are again significantly higher (ρ = .-598, p < .01, N = 25), compared to countries with higher number of road fatalities. The leasing company data showed significant correlations between the price of vehicles and type of ADASs on board. Premium vehicles are significantly more equipped with Adaptive Cruise Control and Emergency Braking, compared to the mass market vehicles, with correlations ρ = .585 (p < .001) and ρ = .558 (p < .001) respectively. However, only 13% of premium vehicles were purchased with a complete set of ADAS.
Read more : https://www.researchgate.net/publication/315488524_The_Deployment_of_Advanced_Driver_Assistance_Systems_in_Europe
16 février 2020
ROAD SAFETY IN THE EUROPEAN UNION
The road safety situation differs widely between Member States. Some of them report substantial progress, while others are still performing significantly below the EU average. However, the gap between the worst- and the best-performing EU Member States has been narrowing year after year. In 2017, none of the Member States registered a fatality rate higher than 100 deaths per million inhabitants, and eight of them recorded a fatality rate lower than 40 deaths per million inhabitants.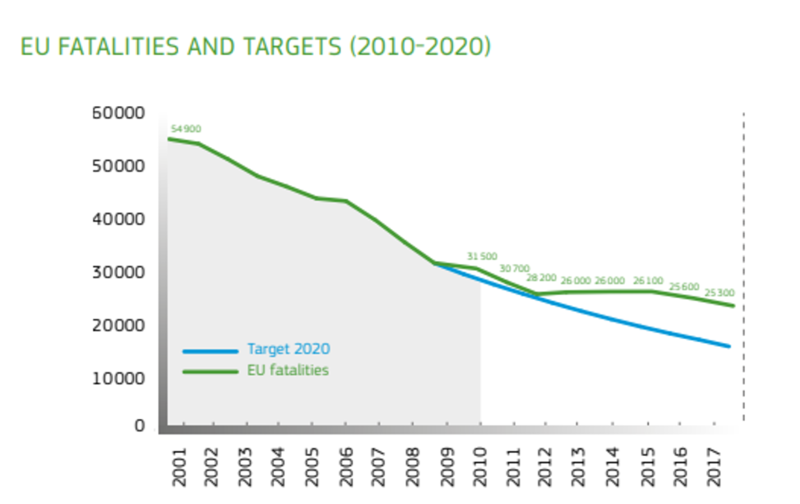 In 2017, the EU's best road-safety performers were Sweden (25), the UK (27), the Netherlands (31), Denmark (32), Estonia (36) and Ireland (33). On the other hand, the highest fatality rates were registered in Romania (98) and Bulgaria (96), followed by Croatia (80). From the beginning of the decade, the highest drops in the number of road deaths were recorded in Greece (-41%), Estonia (-39%), Latvia (-38%) and Lithuania (-36%). The EU average decrease was 20%.
Read more : https://ec.europa.eu/transport/road_safety/sites/roadsafety/files/vademecum_2018.pdf
Read more : https://ec.europa.eu/transport/road_safety/sites/roadsafety/files/vademecum_2018.pdf
15 février 2020
Is Tesla getting closer to a fully self-driving car?
According to Chief Executive Elon Musk, a "feature-complete" version of Tesla's full self-driving car capabilities could be available in an early access program to some drivers before the year is over. Musk said there was no guarantee that the full self-driving technology for Teslas would come out in the next few months, but that the company was "on track" to make such a development a reality in the near future.
But even if Tesla rolls out "feature-complete" self-driving in a testing program by the end of December, Musk said drivers will still need to keep their hands on, or very near, their steering wheels until a fully functional self-driving car is a reality. And Musk said such a vehicle won't be around until the end of 2020 at the earliest.
Musk made his latest comments about Teslas being able to eventually drive themselves during the company's third-quarter earnings call on Wednesday. He tried to clear up some of the confusion that has come with the company's use of the team "feature-complete" to describe what a Tesla could do without a driver holding onto a car's steering wheel.
"It's the car (being) able to drive from one's house to work, most likely without interventions. So it will still be supervised, but it will be able to drive," Musk said. The technology would build upon the "low-speed autonomy" that Teslas can now have with Smart Summon, a feature that allows Tesla drivers to remotely call their cars to leave parking spots and pick them up at a curbside within a parking lot.
Read more : https://www.mercurynews.com/2019/10/24/is-tesla-getting-closer-to-a-fully-self-driving-car/
14 février 2020
Enhancements of V2X Communication in Support of Cooperative Autonomous Driving
Two emerging technologies in the automotive domain are autonomous vehicles and V2X communication. Even though these technologies are usually considered separately, their combination enables two key cooperative features: sensing and maneuvering. Cooperative sensing allows vehicles to exchange information gathered from local sensors. Cooperative maneuvering permits inter-vehicle coordination of maneuvers. These features enable the creation of cooperative autonomous vehicles, which may greatly improve traffic safety, efficiency, and driver comfort. The first generation V2X communication systems with the corresponding standards, such as Release 1 from ETSI, have been designed mainly for driver warning applications in the context of road safety and traffic efficiency, and do not target use cases for autonomous driving. This article presents the design of core functionalities for cooperative autonomous driving and addresses the required evolution of communication standards in order to support a selected number of autonomous driving use cases. The article describes the targeted use cases, identifies their communication requirements, and analyzes the current V2X communication standards from ETSI for missing features. The result is a set of specifications for the amendment and extension of the standards in support of cooperative autonomous driving.
Read more : https://www.researchgate.net/publication/291019002_Enhancements_of_V2X_Communication_in_Support_of_Cooperative_Autonomous_Driving
13 février 2020
Ducati are revolutionising how we think about motorcycles
Ducati is revolutionising its motorcycles after announcing that it is developing a new state of the art ARAS radar system in its bikes.
Safety is a continuous concern for bikers. After finalising the ARAS radar system, the company will have successfully taken one of the most discussed topics in the motorcycling world and turned it into one of the biggest selling points. After all, who doesn't want to ride a radar-equipped wheeled rocket?
But what exactly does this ARAS radar system do?
The Advanced Rider Assistance Systems (ARAS) uses sensors in both the front and the back of the motorcycle to warn riders of potential dangers that may exist on the road. It does this by using an advanced user interface and alerting riders of possible dangers in areas such as blind spots.
A blind spot is commonly used to refer to the section of the road not seen in the wing mirrors by the rider. Not checking this area is often attributed to many road collisions.
Does it do anything else?
Actually, Yes! The front-facing radar itself is something to be excited about! Ducati announced that the system would sense vehicles in the front of your bike which will be instrumental in adaptive cruise control.
This effectively means the system will allow riders to follow other vehicles at a safe distance with the convenience of an easy ride. Life has just become a lot safer and easier to be on the road.
But why have Ducati decided to put radars in motorcycles?
Motorcycle deaths and injuries are constantly on the rise and motorcycle sales appear to fall every year. It's clear that consumers want the same need for speed without the fatalities.
Ducati made the decision to address new safety procedures as part of its 'Safety Road Map 2025'. The first step of which, is to implement ABS as standard in all their new motorcycles. ABS is an electronic braking system allowing bikers to use full braking control even when cornering.
The company additionally looked into the idea of motorcycle airbags which interacted with the motorcycle in 2014. Once the vehicle detected a crash using sensors, the airbag would deploy ensuring maximum safety for the rider.
Do you not think that bike companies are removing the skills necessary to be a biker?
When new technology is implemented in the motorcycling industry, it's always a controversial topic with bikers. Whilst the prospects of a semi-autonomous bike is highly attractive, many argue that the industry is removing the skill and passion that comes with owning a motorcycle.
However, it doesn't seem that long ago when Kawasaki debuted its fuel injected motorcycles back in the 1980's. The systems didn't reach full popularity until the early 2000's. Today many bike owners today couldn't imagine the prospect of nostalgically having to choke your bike and warm up your engine in the early winter mornings.
Read more : https://www.antonaslant.com/news/ducati-bikes-using-aras-radars/