09 avril 2020
Real time driving risk assessment for autonomous driving systems improvement
Autonomous driving systems usually have the following structure:
This chain takes a road scene and delivers an action: for 1 road scene, 1 action.
Then, if the road scene is different from those imagined by engineers, the action is potentially wrong and it is dangerous. This chain cannot adapt to new unknown situations.
NEXYAD has developed a unique innovative Global Road Safety platform that computes in real tim at each moment (20 times per second), the driving risk that vehicle is taking in its environment.
This driving risk varies from 0 to 100 and calibration was made to represent more then 95% beyond 90.
First application of this NEXYAD technology is to alert driver when risk riss a little too much, and it has been validated that vocal alerts on risk threshold can reduce accident rate by 20%, saving more than 200€ per year per vehicle and saving lives.
The idea for Autonomous Driving systems is to make sure that this AD system is "aware" of the current driving risk. Being aware of the driving risk, AD system can then ADAPT its action in order to keep risk under a max acceptable value.
Then, for the first time, an autonomous vehicle can become adaptive to completely new unknown situations. This is a good lead to go from autonomy level 3 to level 5.
New structure is then: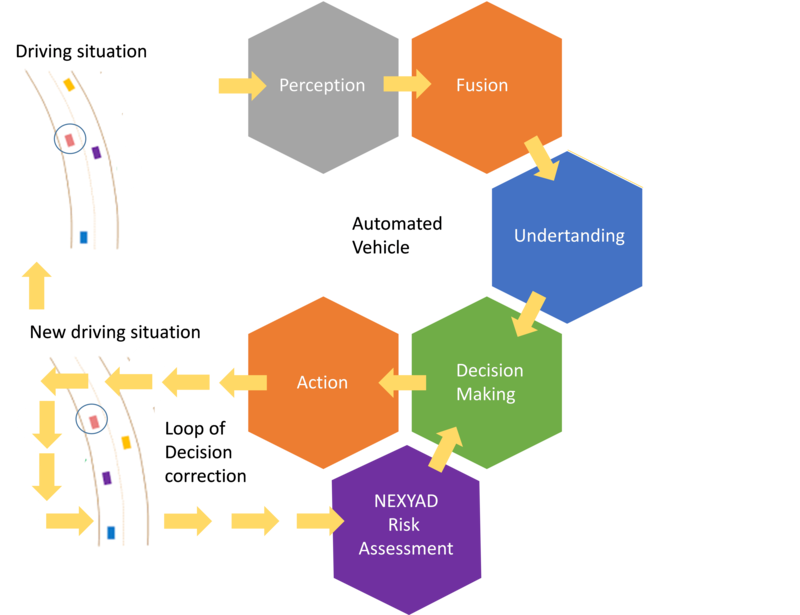 Autonomous car manufacturers (i.e. TESLA, VOLVO, ...) can now use this technology and greatly improve their vehicles without any complexification of their level 3 AD system.
Read more: https://nexyad.net/Automotive-Transportation/?p=6272
08 avril 2020
The Nikola Two tractor on display at CES. Nikola has partnered with Ryder System for maintenance and distribution of its zero-emissions trucks. (Seth Clevenger/Transport Topics)
Highlighting the role of technology in freight transportation could broaden the industry's appeal to a new generation of workers and entrepreneurs who just might consider careers in this essential business.
Read more : https://www.ttnews.com/categories/telematics
07 avril 2020
ADAS Application: Automatic Emergency Braking
Active Safety, Advanced Driver Assistance Systems (ADAS) are now being introduced to the marketplace as they serve as key enablers for anticipated autonomous driving systems. Automatic Emergency Braking (AEB) is one ADAS application which is either in the marketplace presently or under development as nearly all automakers have pledged to offer this technology by the year 2022. This one-day course is designed to provide an overview of the typical ADAS AEB system from multiple perspectives. A technical overview of the development cycle processes specific to AEB, including system level requirements and design architecture will be presented as well as design considerations for AEB from a functional safety (ISO‐26262) perspective. A general overview of algorithm concepts for the various AEB subsystems will be demonstrated followed by a review of AEB system test and validation methods. Finally, discussion is facilitated toward understanding customer perception and acceptance of AEB at present. The participant should obtain a fundamental understanding of design principles and functional composition for a typical AEB system.

Learning Objectives
By attending this seminar, you will be able to:
Describe AEB features / functionality as provided by most OEMs, including the capabilities and limitations of typical AEB systems
Identify key principles of vehicle dynamics and system engineering disciplines which are integral to AEB system development
Describe the general activities required for driving and braking tasks and comment on how these form the bases for AEB system requirements
Identify AEB system architectures and subsystem composition and describe the function and purpose of each subcomponent
Identify functional safety (ISO 26262) implications specific to AEB including review of basic hazard and risk analysis examples
Explain algorithm concepts and functions for each of the AEB subsystems
Critically examine various methods and levels of testing specific to AEB
Describe the current state of AEB development from a consumer perspective
Read more : https://www.sae.org/learn/content/c1704/
06 avril 2020
ADAS Market by System (ACC, AFL, DMS, NVS, IPA, PDS, TJA, FCW, CTA, RSR, LDWS, AEB, & BSD), Component (Radar, LiDAR, Ultrasonic, and Camera Unit), Vehicle (PC, LCV, Buses, & Trucks), Offering (Hardware, Software), EV and Region - Global Forecast to 2027
The ADAS Market (advanced driver assistance system) is estimated to be USD 30.0 billion in 2019 and is projected to reach USD 134.9 billion by 2027, at a CAGR of 20.7% during the forecast period. ADAS technology improves the driving experience, while enhancing the vehicle and pedestrian safety. It is becoming an integral part of modern automobiles and is being adopted in passenger cars as well as commercial vehicles.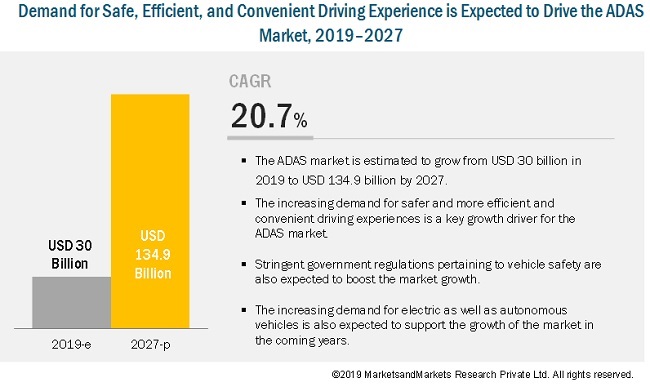 "AEB segment to hold the largest share of the ADAS market, by system"
Governments of developed countries have mandated the fitment of AEB in buses & trucks. For instance, Regulation No 661/2009 of the European Parliament and of the Council (dated 13 July 2009) mandated the inclusion of AEB system in buses & trucks. It also stipulated the standard fitment of LDW in the same vehicle categories and with the same deadlines as autonomous emergency braking systems. The system is expected to be equipped in all new commercial vehicles above 3.5 tons and buses from November 2013, and in all vehicles of these categories sold in the European Union from November 2015. In 2018, the South Korean government mandated AEB from January 2019 in all new passenger vehicles. These mandates will drive the growth of the AEB market in the near future.
"Software: The fastest growing offering type of the ADAS market"
The software segment is estimated to be the fastest growing segment of the ADAS market, by offering. The main purpose of the software is to communicate autonomously with other devices. The increase in software content in the advanced applications of the vehicle is expected to drive the software segment of the ADAS market.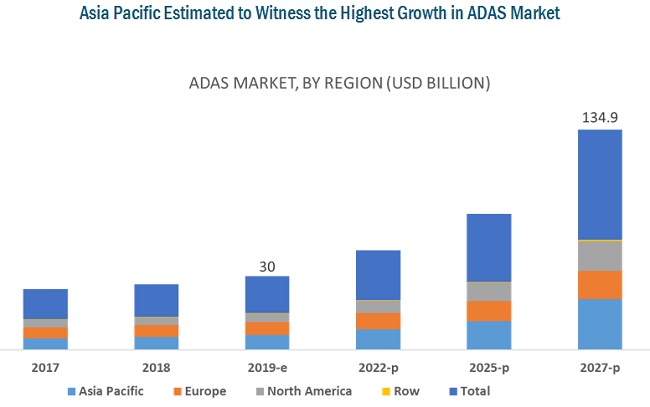 Market dynamics
Drivers
Government regulations pertaining to vehicle safety
Safety features have become an important prerequisite for automotive consumers across the world. Most of the accidents are caused by driver distraction or lack of concentration due to drowsiness. The demand for ADAS is increasing at a rapid pace, especially in emerging countries such as India and China. The increased demand for safety systems in the emerging markets can be attributed to the improving road safety standards, supporting legislation, and consumer awareness.
Rise in the demand for a safe, efficient, and convenient driving experience
The automotive industry is witnessing a rapid evolution of safety features. The growth rate of safety features is expected to increase exponentially in the coming years. The main objective behind the implementation of these features in the vehicle is to provide a safer, efficient, and convenient driving experience.
Restraints
Non-Availability of required infrastructure in developing countries
Advanced driver assistance systems require basic infrastructure such as well-organized roads, lane marking, and availability of GPS for effective functioning. Also, V2V and V2X communications require adequate connectivity infrastructure. Lack of information technology communication infrastructure in developing regions and lag in government norms are the major restraints for the growth of ADAS in developing regions. Also, poor infrastructure outside the urban areas, cost considerations, and poor driving training or driving discipline restrain the growth of the ADAS market in these countries.
opportunities
Advent of autonomous vehicles
Autonomous and semi-autonomous vehicles have the potential to reduce the traffic congestion. Auto manufacturers have started to roll out vehicles with semi-autonomous vehicle technology, which is seen as the intermediate step toward autonomous driving.
Read more: https://www.marketsandmarkets.com/Market-Reports/driver-assistance-systems-market-1201.html?gclid=EAIaIQobChMI4qLdko_J6AIVEkPTCh27bgc7EAAYASAAEgLpufD_BwE
05 avril 2020
Dubai trials driverless vehicles at Expo 2020 site
RTA has started the trial run of an autonomous vehicle at the site of Expo 2020 Dubai. The vehicle is used to commute individuals on a dedicated path from the main entrance to staff offices.
"The trial run, which will last for three months, includes testing autonomous technologies, ensuring high safety of individuals and protecting surrounding properties. It illustrates the RTA's keenness to adopting highly efficient, safe and reliable technologies in delivering smart services," Ahmed Bahrozyan, CEO of Public Transport Agency, said.
Dubai's ambitious self-driving transport strategy aims at transforming 25 per cent of total mobility journeys in the emirate to self-driving modes by 2030. "Trialling an autonomous vehicle at the Expo site is an achievement. It adds to our efforts to expanding the presence of autonomous vehicles at various Dubai hotspots," Bahrozyan added.
Read more: https://www.khaleejtimes.com/news/transport/dubai-trials-driverless-vehicles-at-expo-2020-site
04 avril 2020
A Human Factors Perspective on Automated Driving
Automated driving can fundamentally change road transportation and improve quality of life. However, at present, the role of humans in automated vehicles (AVs) is not clearly established. Interviews were conducted in April and May 2015 with twelve expert researchers in the field of Human Factors (HF) of automated driving to identify commonalities and distinctive perspectives regarding HF challenges in the development of AVs. The experts indicated that an AV up to SAE Level 4 should inform its driver about the AV's capabilities and operational status, and ensure safety while changing between automated and manual modes. HF research should particularly address interactions between AVs, human drivers, and vulnerable road users. Additionally, driver training programs may have to be modified to ensure that humans are capable of using AVs. Finally, a reflection on the interviews is provided, showing discordance between the interviewees' statements—which appear to be in line with a long history of human factors research—and the rapid development of automation technology. We expect our perspective to be instrumental for stakeholders involved in AV development and instructive to other parties.
Read more: https://www.researchgate.net/publication/313367679_A_Human_Factors_Perspective_on_Automated_Driving
03 avril 2020
THE FUTURE TRENDS OF USAGE BASED INSURANCE AND TELEMATICS
3 REASONS USAGE BASED INSURANCE IS DRIVING BILLIONS OF DOLLARS IN GLOBAL TELEMATICS MARKET GROWTH
It's not hard to understand and forecast why usage based insurance (UBI) — otherwise known as behaviour-based insurance or pay-as-you-drive (PAYD) — is becoming popular among North American drivers and rest of the world. With improved governmental regulations and technology market penetration the industry estimates the automotive telematics market is expected to grow at a CAGR of 23 – 24 % over the next few years.
By using cutting-edge technology to closely monitor the driving behaviour of automotive insurance customers, insurance providers are being given a more accurate picture of how their clients drive. The result: many drivers are being rewarded for their good on-road behaviour through declining premiums and more money in their wallets at the end of the month.
Given this situation and the upward market trend of telematics reaching over $100 billion by 2022, it's not particularly surprising that some insurance companies, such as Progressive, have seen usage based insurance programs become steadily more popular over the last couple of years. Today, Progressive has over 25 Billion miles logged through Snapshot and roughly 19,000,000 policies in force.
The rising satisfaction and retention of UBI isn't just due to the fact that more drivers are saving money on their automotive insurance. It's also the result of rapidly evolving automotive telematics technology, the hardware and software involved in helping insurance companies track driver behaviour in a safe, secure, and accurate way.
When automotive telematics and usage based insurance emerged a few years ago, most insurance providers used wireless devices that plugged into a vehicle's on-board diagnostics (or OBD-II) port to receive information about a driver's on-road behaviour. However, over the past year or so this approach has changed, with more and more insurance providers taking advantage of significant enhancements in smartphone technology. Today, smartphone telematics — and specifically the sensors found inside most popular smartphones from companies like Apple and Samsung — can help insurance providers understand more than ever about their customers' driving habits.
Read more: https://ims.tech/opinion/usage-based-insurance-trends/
02 avril 2020
ADAS: When it is too late for detection then you understand that key feature is anticipation
Car industry is focused on sharp detection and very quick appropriate reaction in emergency situations. But emergency situations happen rarely, and NEXYAD team thought that bringing anticipation (skills to avoid emergency situations as much as possible) is a good way to reduc accident rate.
They bring a Global Road Safety platform that includes real time driving risk assessment with their SafetyNex technology.
When risk starts to ris a little too much then it is time to slowdown the car (ACC or Autonomous Driving) or alert driver (cockpit HMI of a normal car, or car telematics).
Here is an example of what anticipation can bring because it i too late for detection:
Learn more: https://nexyad.net/Automotive-Transportation/
01 avril 2020
Driving forward: What's the state of autonomous vehicles today?
Autonomous vehicles are gradually finding their way onto our roads. Earlier this year, Waymo, the self-driving unit of Google's sister-company Alphabet, carried out successful trials of autonomous taxis in California, transporting over 6,200 people in the first month and many thousands since. They're proving a practical business case for autonomous vehicles.
Also in the U.S., Walmart is using autonomous cargo vans to deliver groceries in Arizona, while Pizza Hut is working with Toyota on a driverless electric delivery vehicle that even has a mobile kitchen in it to cook pizzas en route to your house.
Renault is one traditional car manufacturer making great strides in autonomous vehicles. Having been the company behind the Symbol in 2017, the first vehicle designed for mind-off automation, Renault recently announced it was conducting tests of on-demand car services in Paris and partnering with Waymo to investigate driverless transportation possibilities to and from Charles de Gaulle Airport. Renault's Valerie Pecresse has said that the company is "investing 100 million euros in autonomous vehicle infrastructure and [we hope] that we will be able to bring this project to a successful conclusion for the Paris Olympic Games."
Tesla is also making big steps forward in taking autonomy into mainstream use, both in terms of real world use cases and potential monetization of self-driving technologies. Tesla has supplied customers with more than 780,000 vehicles since launching, the majority of which arrive with pre-installed, self-driving capabilities available to users who purchase the requisite software. Tesla autonomous vehicles have logged huge levels of miles driven since their introduction, growing from 0.1 billion miles in May 2016 to an estimated 1.88 billion miles as of October 2019.
Ford is another manufacturer with deployments already in play, with self-driving vehicles being tested in Pittsburgh, Palo Alto, Miami, Washington D.C. and Detroit, with Austin, Texas joining them soon. Together with its partner Argo AI, Ford has plans to trial its fleet of self-driving cars in Austin with a view towards launching a wider-reaching autonomous taxi and delivery service in 2021.
Autonomous vehicles in first gear
There are a few things slowing autonomous vehicle deployments, ranging from regulation issues to business models to the technology itself. In terms of regulation for example, Waymo might have demonstrated a viable autonomous taxi service for places in California and wants to deploy it more widely as soon as possible, but the state's government isn't making it simple: California has said Waymo has to offer the service for free. Some industry analysts see this attitude as jeopardizing California's reputation as the world leader in driverless technology.
GM subsidiary Cruise, which GM bought for $1 billion in 2016, has also experienced delays to its deployments in New York, after safety concerns kept the company from gaining regulatory approval from the state government.
Read more: https://www.orange-business.com/en/blogs/driving-forward-whats-state-autonomous-vehicles-today
31 mars 2020
Automated and Autonomous Driving. Legal Framework
Automated and autonomous driving represent a vital part of the mobility of the future. One glance at the new S-Class shows: today´s vehicles can already take the strain off drivers in many situations, and technological progress is moving fast. However, there are still unresolved issues on our way to autonomous driving, including the legal framework.
Automated or autonomous - these two terms distinguish two development stages within the context of autonomously driving vehicles. Modern assistance and partially automated systems support drivers, but they do not replace them. For instance, this includes the Stop&Go Pilot or Active Lane Changing Assist. In future, autonomous systems will go one step further: drivers will become mere passengers. The difference between automate and autonomous driving is also legally relevant.
Read more: https://www.daimler.com/innovation/case/autonomous/legal-framework.html