28 septembre 2020
Mercedes-Benz and NVIDIA, the global leader in accelerated computing, plan to enter into a cooperation to create a revolutionary in-vehicle computing system and AI computing infrastructure.The new software-defined architecture will be built on the NVIDIA DRIVE™ platform and will be standard in Mercedes-Benz's next-generation fleet, enabling state-of-the-art automated driving functionalities. A primary feature will be the ability to automate driving of regular routes from address to address. In addition, there will be numerous future safety and convenience applications. Customers will be able to purchase and add capabilities, software applications and subscription services through over-the-air software updates during the life of the car.
Read more:https://www.autoconnectedcar.com/2020/06/nvidia-powers-mercedes-benz-into-software-updated-autonmous-future/
25 septembre 2020
Foresight Autonomous Holdings Ltd. (Nasdaq and TASE: FRSX), an innovator in automotive vision systems, announced that its wholly owned subsidiary, Eye-Net Mobile Ltd., has received a notice of allowance from the United States Patent and Trademark Office for patent application No. 16/496,826, for "system and method for preventing car accidents and collisions between vehicles and pedestrians."
The patented technology involves an accident prevention system that predicts collisions between vehicles and pedestrians. The system is comprised of a dedicated software application installed on a number of mobile devices carried by pedestrians or users riding in a vehicle. Each of the installed mobile devices detects its location and transmits it to a geographic server. The server sends the location of other mobile devices in the same geographic territory, effectively making each device aware of other users around it. The dedicated software uses advanced proprietary algorithms that detect the user's direction of travel, search for potential collisions and issue a collision alert to mobile users who are of high probability of collision.
Read more :https://www.autoconnectedcar.com/2020/08/collision-prediction-prevention-system-patented/
17 septembre 2020
r
1: The Dojo Neural Net Training Center
Tesla is developing a NN training computer called Dojo to process truly vast amounts of video data.
2: Dramatically Better Autopilot
"The FSD improvement will come as a quantum leap, because it's a fundamental architectural rewrite, not an incremental tweak. I drive the bleeding edge alpha build in my car personally. Almost at zero interventions between home & work. Limited public release in 6 to 10 weeks." says Elon Musk
3. Avoiding Potholes!
4. And Roundabouts! (Sort of …)
5: What is the Problem with Current Autopilot/FSD?
Autopilot was trapped in a local maximum, labeling single camera images uncorrelated in time. Now, it is not.
6. Dojo will Enable Quicker NN Learning & "Operation Vacation"
7. It's an exaFLOP. For Realz.
9. Regulatory Approval?
10. Goat Honks.
Read more:
16 septembre 2020
When thinking of being a 10 times better driver — better in solving difficult situations — we get a completely different picture. In that case, we can remove all the victims of DUI, texting, dozing off while driving, disciplining the kids in the back seat, or plain stupid behavior like reckless speeding. That is about 90% of all accidents.
The other ~10% of accidents are the result of the driver not being fast enough, not being experienced enough, having only 2 eyes (with none in the back of his head), and other normal human limitations that prevent the driver from resolving a complex situation in time to avoid an accident.
Again, we can replace all drivers in the USA with these 10-times-better robotdrivers. There will be fatalities, but how many we don't know. It will be a fraction of the 4,000 that human drivers could not avoid.
This time the accidents will be in situations a human driver also would have failed. Because a 10 times better AI driver is a robot that can solve all problems a human can solve and then some. The robot is never distracted. It has 360 degree vision. It can monitor multiple difficult situations at the same time. It reacts in milliseconds. As soon as the accident is unavoidable, it will call 911.
What it cannot do is get out of the vehicle and help the victims.
Read more:
15 septembre 2020
Hao Zheng, co-founder and CEO of RoboK, said, "Advanced driving features, which range from collision avoidance and automatic lane-keeping through to fully automated driving, require miles of road test driving to ensure their safety. Although simulation provides a resource-efficient alternative it can be time-consuming. To accurately and realistically simulate all elements in the entire system it can take many hours to run and process even a single driving scenario.
"We have reduced the computation time by developing a significant new method for fusing raw data directly from a range of sensors, such as cameras, radars, GPS and IMU, as well as for performing depth estimation to gain 3D information, all running on low-power computing platforms. This significantly reduces the memory and computing requirement. When this is combined with our novel and highly optimized AI-based perception modules, intelligent insights can be gained rapidly and efficiently, which is vital for fast decision-making."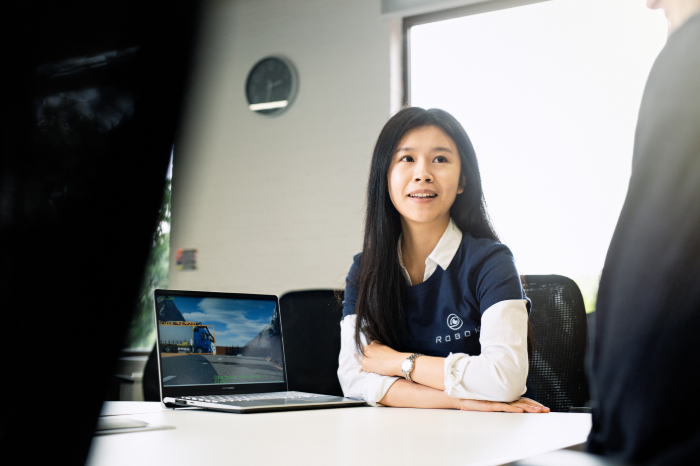 14 septembre 2020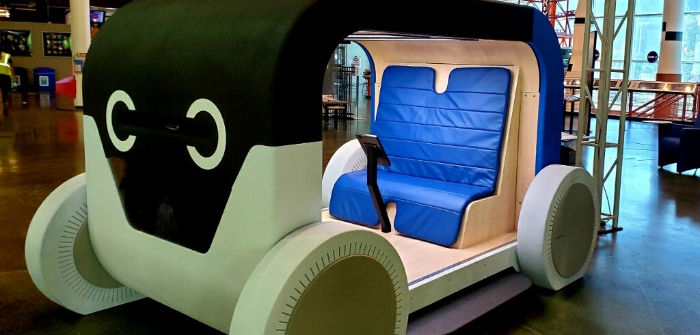 Ford Motor Company has partnered with the Michigan Science Center (MiSci) to educate the community on the future of transportation, creating MiSci's first AV exhibit. Built by Ford engineers and developers working closely with MiSci, the installation resembles a vehicle of the future that guests can engage with and explore inside to learn about AVs through interactive displays and a simulation.
The exhibit shows how AVs operate and make decisions without a human driver, using data that is collected through 3D maps, cameras, sensors and lidar. It also includes an interactive lidar simulation to show how an autonomous vehicle sees the environment around it, such as pedestrians and other cars, as it drives. Users will even be able to take a photo of their experience to keep and share digitally.
read more: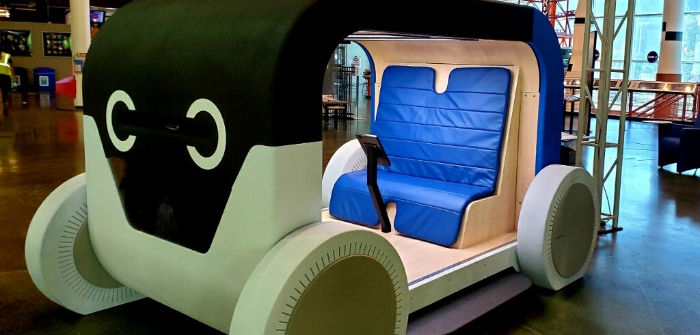 11 septembre 2020
The automotive sector is transforming at a rapid pace. Autonomous vehicles are gaining attraction from consumers all around the world. Many automotive and tech companies are involved in the autonomous vehicles market. In an exclusive interview with Smart Industry News, David Cheskis, Vice-President of Product Management, LeddarTech, talks about the trends in the autonomous vehicles market that we will experience in the next few years.
According to him "There are several factors driving the growth of autonomous vehicles, including the current desire for autonomous delivery vehicles during the COVID-19 pandemic. We need this capability today in order to get food and medical supplies to people while reducing the possibility of spreading the virus. That's not what people expected to drive the adoption of autonomous vehicles, but it is certainly having a huge impact on society today.
Overall, the adoption of autonomous vehicles is being driven by technology readiness, market opportunities, policy, and consumer acceptance. This trend will continue to grow and accelerate as more applications arise and we all get more excited about how our lives are changing with autonomous vehicles rather than just viewing it as a technology of the future."
read more :
Autonomous Vehicles Will Only Accelerate the Trend of Ride Sharing
The automotive sector is transforming at a rapid pace. Autonomous vehicles are gaining attraction from consumers all around the world. Many automotive and tech companies are involved in the autonomous vehicles market. In an exclusive interview with Smart Industry News, David Cheskis, Vice-President of Product Management, LeddarTech, talks about the trends in the autonomous vehicles market that we will experience in the next few years.
https://www.smartindustrynews.com
10 septembre 2020
Holo launched their new pilot project with autonomous buses in copenhagen's Nordhavn district on August 3rd. Despite Covid -19 precautions, the new service had a thrilling start.
The citizens of Copenhagen can look forward to jumping on a self-driving minibus, when the seafront area Nordhavn becomes part of the large EU-funded research and innovation project AVENUE. The self-driving bus will show how new technology can connect an urban area in a safe and sustainable way.
Parallel with Luxembourg, Geneva and Lyon, Copenhagen will be one of the cities where the self-driving mobility solutions of the future is demonstrated and implemented. Sustainability and innovation is in focus in the Nordhavn district, so it makes perfect sense to start building a sustainable transport platform in Nordhavn as well.
Read more:
09 septembre 2020
Among the first ever cameras to offer the capability of a 100-degree horizontal field of view, the S-Cam4.8 represents another important step forward in meeting future Euro NCAP 5-Star Safety Ratings and IIHS Top Safety Pick+ requirements as well as General Safety Regulations that require increasingly stringent test protocols for safety critical systems.
"The S-Cam 4.8 will offer ZF customers the opportunity to further refine systems like Automatic Emergency Braking for pedestrians and cyclists while offering best-in-class lane keeping system performance," said Christophe Marnat, executive vice president and general manager of ZF's Electronics and ADAS division. "It will also offer the prospect of more semi-automated driving convenience functions like Highway Driving and Traffic Jam Assist, and ZF can provide these technologies across the full spectrum of light vehicles."
read more:
World's leading automotive camera producer ZF launches next-generation ADAS cameras
New S-Cam 4.8 offers significantly expanded 100-degree field of view for enhanced AEB, lane keeping and semi-automated vehicle functions Initial launch in North America now underway Features Mobileye's EyeQ4 combining the most advanced object recognition technology with ZF's longitudinal and lateral vehicle control expertise Farmington Hills, Mich., USA / Friedrichshafen, Germany - ZF, the world's leading supplier of automotive cameras, today announced it has launched its S-Cam4.8 with enhanced vision technology from Mobileye, an Intel Company, on the new Nissan Rogue in the U.S.
https://press.zf.com
08 septembre 2020
The authors emphasize that this extended lead time means that policymakers can act now to prepare for and minimize disruptions to the millions of jobs in ground transportation and related industries that are likely to come, while also fostering greater economic opportunity and mitigating environmental impacts by building accessible mobility systems.
More information :