Connected Motorcycle Consortium
The Connected Motorcycle Consortium (CMC) is a collaboration between manufacturers, suppliers, researchers and associations to make Powered Two Wheelers (motorcycles and scooters) part of the future connected mobility.
CMC is a non-profit organisation established by key motorcycle makers with the unilateral goal to promote and develop Cooperative Intelligent Transport Systems (C-ITS) on a global scale.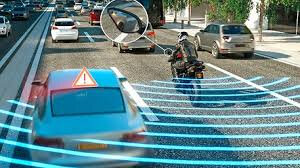 goals
CMC targets to improve motorcycle rider safety and comfort.
Connected mobility / Vehicle-to-Vehicle Communications / Cooperative Integrated Transportation Systems (C-ITS) are being developed, but motorcycle-specific safety aspects haven't been taken into consideration sufficiently so far. CMC is paving the way for motorcycle connectivity by making motorcycles part of C-ITS and connected mobility.
CMC aims to create a common basic specification for motorcycle ITS, with as many cross-manufacturer standards as possible.
Read more : https://www.cmc-info.net/