ADAS Market by System (ACC, AFL, DMS, NVS, IPA, PDS, TJA, FCW, CTA, RSR, LDWS, AEB, & BSD), Component (Radar, LiDAR, Ultrasonic, and Camera Unit), Vehicle (PC, LCV, Buses, & Trucks), Offering (Hardware, Software), EV and Region - Global Forecast to 2027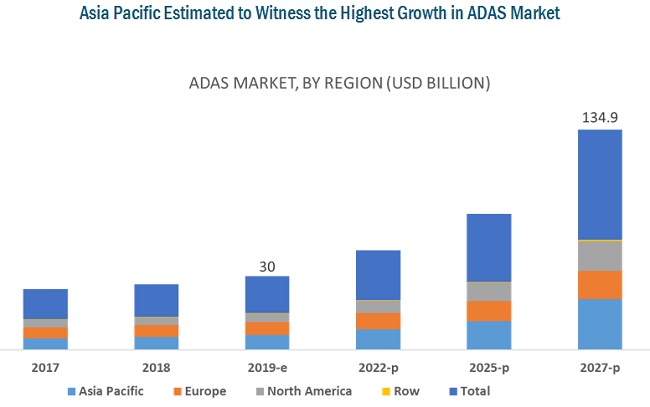 The ADAS Market (advanced driver assistance system) is estimated to be USD 30.0 billion in 2019 and is projected to reach USD 134.9 billion by 2027, at a CAGR of 20.7% during the forecast period. ADAS technology improves the driving experience, while enhancing the vehicle and pedestrian safety. It is becoming an integral part of modern automobiles and is being adopted in passenger cars as well as commercial vehicles.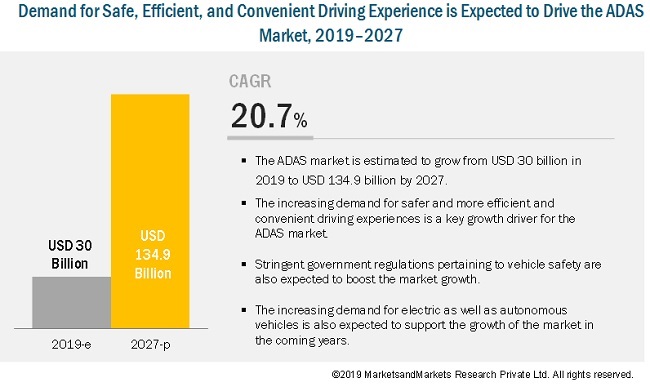 "AEB segment to hold the largest share of the ADAS market, by system"
Governments of developed countries have mandated the fitment of AEB in buses & trucks. For instance, Regulation No 661/2009 of the European Parliament and of the Council (dated 13 July 2009) mandated the inclusion of AEB system in buses & trucks. It also stipulated the standard fitment of LDW in the same vehicle categories and with the same deadlines as autonomous emergency braking systems. The system is expected to be equipped in all new commercial vehicles above 3.5 tons and buses from November 2013, and in all vehicles of these categories sold in the European Union from November 2015. In 2018, the South Korean government mandated AEB from January 2019 in all new passenger vehicles. These mandates will drive the growth of the AEB market in the near future.
"Software: The fastest growing offering type of the ADAS market"
The software segment is estimated to be the fastest growing segment of the ADAS market, by offering. The main purpose of the software is to communicate autonomously with other devices. The increase in software content in the advanced applications of the vehicle is expected to drive the software segment of the ADAS market.
Read more : https://www.marketsandmarkets.com/Market-Reports/driver-assistance-systems-market-1201.html