Renault
is not
the only one to
occupy the land
in the area of
automated driving
.
Mines ParisTech
has announced
the creation
of a new international
research chair
in this area
, both
for the automotive and
aerospace
sectors
, in partnership
with industry
Valeo
, PSA
Peugeot Citroën and
Safran.
Called "
Automated
Driving
-
Drive
for You
,"
the chair
will bring together
teams
of
Robotics
Centre
Mines ParisTech
and
international academic
partners such as
the University of
Shanghai Jiao
Tong
(China),
the University of Berkeley
(California) and
the
Ecole Polytechnique Fédérale
de Lausanne
(Switzerland).
Driven by
MINES ParisTech
Foundation
, with funding
of 3.7
million euros
by industry
,
the chair
will work
for five years
on the subject of
automated driving
,
with
the following objectives:
-
Generating new knowledge
on automated
vehicles;
- Develop
embedded intelligence
systems;
-
Roll
automated
vehicles on
three
continents (Asia,
USA,
Europe).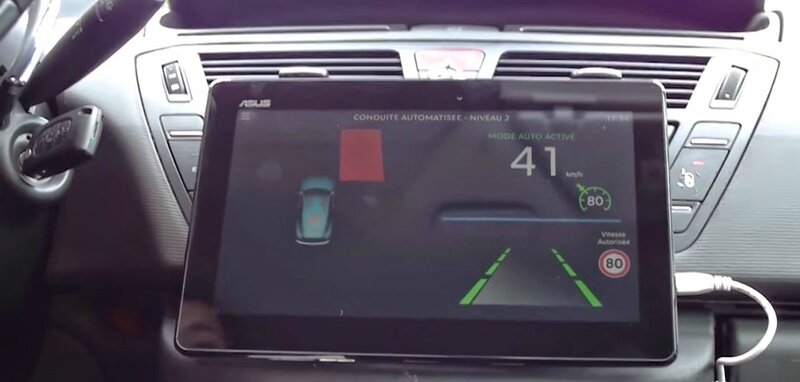 Credit Photo PSA
Renault n'est pas le seul à occuper le terrain dans le domaine de la conduite automatisée. Mines ParisTech vient d'annoncer la création d'une nouvelle chaire de recherche internationale dans ce domaine, à la fois pour les secteurs automobile et aéronautique, en partenariat avec les industriels Valeo, PSA Peugeot Citroën et Safran. Baptisée « Conduite automatisée - Drive for You », la chaire réunira des équipes du Centre de Robotique Mines ParisTech et des partenaires académiques internationaux, tels que l'Université de Shanghai Jiao Tong (Chine), l'Université de Berkeley (Californie) et l'Ecole Polytechnique Fédérale de Lausanne (Suisse).
Portée par la Fondation MINES ParisTech, avec un financement de 3,7 millions d'euros par les industriels, la chaire travaillera pendant cinq ans sur le sujet de la conduite automatisée, avec pour objectifs de :
- Faire progresser la connaissance sur les véhicules automatisés ;
- Développer les dispositifs d'intelligence embarquée ;
- Faire rouler des véhicules automatisés sur 3 continents (Asie, Etats-Unis, Europe).