Uber plans to buy 24,000 autonomous Volvo SUVs in race for driverless future
'It only becomes a commercial business when you can remove the vehicle operator from the equation,' says ride-hailing firm battling Lyft and Waymo.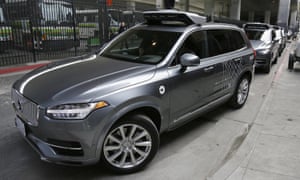 'It only becomes a commercial business when you can remove that vehicle operator from the equation,' said Jeff Miller, Uber's head of automotive alliances. Photograph: Eric Risberg/AP
Uber is planning to buy up to 24,000 self-driving cars from Volvo, the company has announced, moving from its current model of ride-sharing using freelance drivers to owning a fleet of autonomous cars.
Following the three-year self-driving partnership with Volvo, the non-binding framework could give Uber a boost in its ambitions to perfect self-driving systems to replace human drivers, following setbacks and lawsuits over trade secrets and talent.
Volvo said Monday it would provide Uber with up to 24,000 of its flagship XC90 SUVs, which retail from around £50,000, equipped with autonomous technology as part of a non-exclusive deal from 2019 to 2021. The Geely-owned car company will provide the vehicles, while Uber will provide the yet-to-be-built self-driving system, which is currently under development by Uber's Advanced Technologies Group.
The announcement follows the news that Alphabet's Waymo will launch the world's first autonomous car service in the next few months in Arizona, where it is legal to operate self-driving cars without humans behind the wheel, unlike the majority of the rest of the US and the world, which requires the safety net of a human driver.
Autonomous vehicles are seen as the logical next step for ride-hailing firms including Uber, which said it perceived the technology as an existential threat. Equally, automakers, ride-hailing firms and tech startups have been forging loose alliances in an effort to advance self-driving technology and claim a piece of what is expected to be a multi-billion-pound business.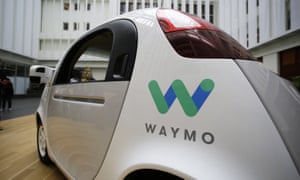 Read more : https://www.theguardian.com/technology/2017/nov/20/uber-volvo-suv-self-driving-future-business-ride-hailing-lyft-waymo