Driverless taxi debuts in Tokyo in 'world first' trial ahead of Olympics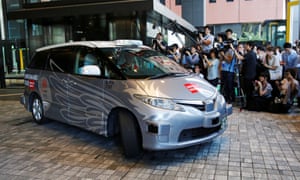 A self-driving taxi has successfully taken paying passengers through the busy streets of Tokyo, raising the prospect that the service will be ready in time to ferry athletes and tourists between sports venues and the city centre during the 2020 Summer Olympics.
ZMP, a developer of autonomous driving technology, and the taxi company Hinomaru Kotsu, claim that the road tests, which began this week, are the first in the world to involve driverless taxis and fare-paying passengers.
The trial took place as Toyota and the transport giant Uber said they were intensifying efforts to develop a self-driving vehicle, pitting themselves against rival initiatives in Japan, the US and Europe.
Read more : https://www.theguardian.com/technology/2018/aug/28/driverless-taxi-debuts-in-tokyo-in-world-first-trial-ahead-of-olympics