FOUR SHADES OF ROAD SAFETY : ANTICIPATION, ADAS, PASSIVE SAFETY
Here is a diagram of different shades of road safety. The pyramid witdh corresponds to the number of cases. "Normal" driving is the regerence, is is the most frequent situation, while fatality is fortunately an exception.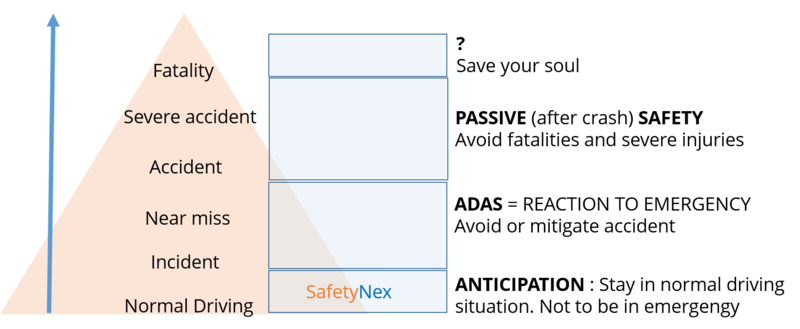 Tools among the pyramid are filters made to avoid fatality :
. SafetyNex (by NEXYAD) is today the 1st and only tool made to stay in normal driving situation (not to be in emergency).
. ADAS (Advanced Driver Assistance Systems) are made to avoid or mitigate accident by automatic sharp and fast reaction to emergency situation (detected through sensors)
. PASSIVE SAFETY (after crash) is made to mitigate severity of shock and save your life even in case of accident.
One can note that Anticipation applies on the biggest number of cases ... and this is why SafetyNex, in its low cost MVP (*) version still reduces accident rate by 20%.
(*) Minimum Viable Product
Read more : https://nexyad.net/Automotive-Transportation/NEXYAD_SafetyNex.pdf