VISION-BASED PERCEPTION KIT FOR PROJECTS OF AUTONOMOUS VEHICLE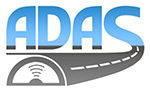 The "ADAS Groupement" of Mov'eo (imagine mobility) proposes to research laboratories (universities, laboratories), which develop autonomous vehicles demonstrators, a very effective image perception kit: camera, data/signals/images/video acquisition in real time, road detection, obstacle detection, pattern recognition over obstacles.
This kit consists of three parts:
RT-MAPS software to acquire data, signals, video, all time stamped. RT-MAPS allows you to replay data, signals, images, synchronized and can integrate processing modules.
link : http://www.intempora.com/


both RoadNex (which detects the road ahead of a vehicle from a camera), and ObstaNex (which detects obstacles in front of the vehicle from a camera and an inertial measurement unit) modules. NB: a camera may be provided with both modules.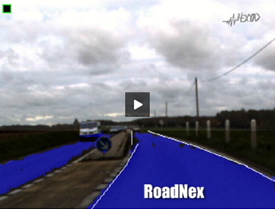 link : http://nexyad.net/Automotive-Transportation/?page_id=412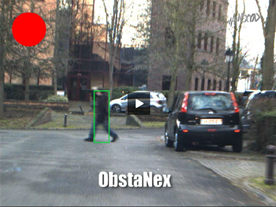 link : http://nexyad.net/Automotive-Transportation/?page_id=429
Neuro-RBF module: neural network based system to develop oneself pattern recognition applications on the obstacles detected by ObstaNex (eg recognition of signs, pedestrian, etc ...). This system will be integrated in a neural processor, in the future.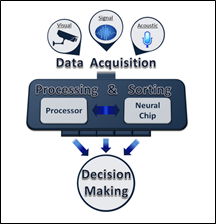 link : http://globalsensing.eu/category/sections/technology
All modules are available as executable components into RT-MAPS.
These four modules (RT-MAPS, RoadNex, ObstaNex, et Neuro-RBF) already have solid references in French universities.
Contact: groupements@pole-moveo.org
Keywords: autonomous vehicle, perception kit, camera, rt-maps, image acquisition, time stamp, real time, RoadNex, road detection, ObstaNex, obstacle detection, Neuro-RBF, neural networks, pattern recognition, pedestrians, signs, intempora, nexyad, global sensing technologies, adas, groupement adas, mov'eo, moveo