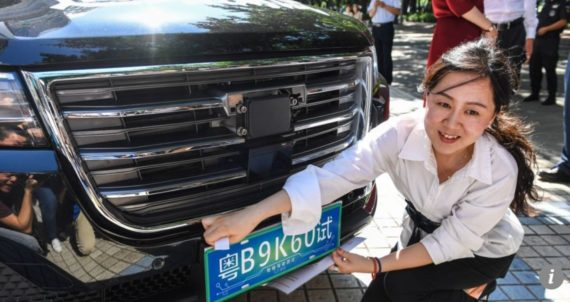 Credit: South China Morning Post
China is surging into the lead globally on every aspect of electric vehicles, battery production, autonomous cars, and solar power. The latest push involves autonomous cars and mobility services, a market that is projected to be worth $500 billion a year in China alone by 2030, according to a report in the South China Morning Post.
The number of Chinese companies pursuing autonomous driving technology is long and getting longer. Tencent, the internet giant that has a stake in Tesla, is the latest to receive permission to test its autonomous cars. The license is the first granted by the Transport Committee and Public Security and Traffic Police Bureau of Shenzhen, the southern Chinese city where Tencent has its home offices. The tests are expected to move the company's self driving car initiative from the technical stage to the application stage, according to Su Kuifeng, director of its autonomous driving laboratory.
Just a month ago, the Chinese Ministry of Industry and Information Technology (MIIT) announced new regulations that give more power to local authorities to approve testing of smart internet-connected cars. Local officials can now select areas for autonomous car testing and issue license plates, provided they file reports with MIIT every six months. Last month, Tencent joined a new partnership that is focused on developing internet-connected cars with FAW Group. It is the sixth auto manufacturer to join the alliance, which already included Changan, GAC Group, Geely, BYD, and Dongfeng Liuzhou.
Read more : https://cleantechnica.com/