Self-Driving Vehicles, Car Sharing, and the Urban Mobility Revolution
New automotive technologies and business models are converging to spark a transformative revolution on our city streets.
It's no longer a question of if but when self-driving vehicles (SDVs, also known as autonomous vehicles) will hit the road.
Multiple parties are already at work developing autonomous-driving technologies, and the trend toward putting SDVs on the road is rapidly gaining momentum across a broad front that encompasses OEMs, suppliers, mobility providers, technology companies, academic institutions, governments, and regulatory bodies.
A potentially big barrier to self-driving vehicles—consumers' acceptance of a car that drives itself—turns out to be a shrinking obstacle, and one that will likely dwindle over time as consumers gain experience and familiarity with the vehicles. The Boston Consulting Group and the World Economic Forum conducted qualitative and quantitative research among more than 5,500 consumers in 27 cities in ten countries—to date, the largest survey fully dedicated to autonomous driving.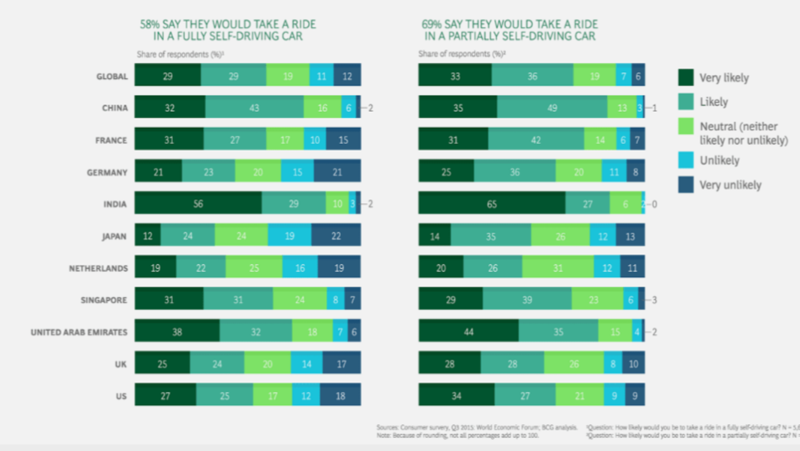 Overall, 58% of respondents said they would take a ride in an SDV, and 69% said that they would take a ride in a partially self-driving car. Consumers in Asia—home to half of the world's 100 largest cities—are among the most ready.
Consumers like convenience, and the biggest single attraction of SDVs is not having to find a parking place. More than four in ten consumers said that the number one reason for using an SDV is that it "drops me off, finds a parking spot, and parks on its own." Other attractions include being able to multitask or be more productive while traveling, the sheer novelty of SDVs, and the ability of the car to switch to self-driving mode in heavy traffic. Majorities—more often than not, substantial majorities—are willing to pay a premium of $5,000 or more for an SDV.