Buses and taxis to lead UK self-driving public transport push
London and Edinburgh projects, sharing £25m state funds, to be operational by 2021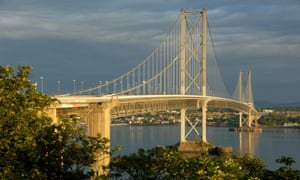 A driverless bus service in Scotland could provide up to 10,000 journeys a week across the Forth road bridge. Photograph: DouglasMcGilviray/Getty Images/iStockphoto
The first driverless public transport services on the UK's roads will be in action by 2021, the government has announced, led by an autonomous bus service crossing the Forth estuary in Scotland, and self-driving taxis in up to four London boroughs.
The services should be on the roads within three years, under three pilot schemes announced by the Department for Business, Energy and Industrial Strategy. Full-sized driverless buses will run on a 14-mile route between Fife and Edinburgh, while Addison Lee and Jaguar Land Rover will lead two separate trials of driverless taxis in London before launching public services, again by 2021.
The Scottish driverless bus service could provide up to 10,000 journeys a week across the Forth road bridge. Five single-decker buses, carrying up to 42 passengers, will be converted from manually driven to autonomous vehicles. The scheme will involve organisations from across the UK and will be led by Fusion Processing, a technology company which specialises in sensors and control systems.
In London, Addison Lee and Oxbotica, a self-driving car software company, will build on trials already carried out in Greenwich to develop a series of increasingly complex routes. The two companies aim to have driverless taxis capable of going anywhere in the borough and available for public hire by 2021.
Addison Lee said autonomous vehicles could improve mobility, air quality and road safety in London. It plans to provide ridesharing services in low-emission cars through an app.
Jaguar Land Rover will also launch a "premium mobility service" in parts of the capital, using six autonomous Land Rover Discovery cars.
The schemes will share £25m in state funding as the government pledged to maintain a "world-leading" position in autonomous vehicles.
Read more : https://www.theguardian.com/technology/2018/nov/22/buses-and-taxis-to-lead-uk-self-driving-public-transport-push